Adelaida Springs Ranch Estate Vineyard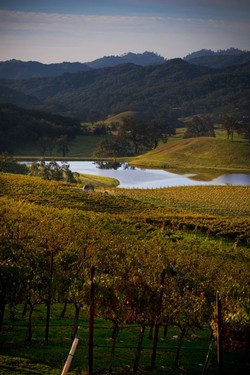 Adelaida Springs Ranch (ASR) Vineyard is the estate home of Rangeland Wines. Located 12 miles west of Paso Robles and about 12 miles from the Pacific Ocean, our 40 acre vineyard is approximately 1,700 feet above sea level in the southern Santa Lucia Range. ASR Vineyard is set in over 1000 acres of rolling, pristine oak woodland, in a mountain valley rich with wildlife, as well as grazing cattle and sheep.
View vineyard map (PDF format)
Google Satellite View Map for Adelaida Springs Ranch
ASR vineyard was originally planted to 30 acres in 2002, including 20 acres of Cabernet Sauvignon, with smaller blocks of Cabernet Franc, Merlot and Petit Verdot. The balance of the original planting is two acres of dry farmed, head trained Petite Sirah and Zinfandel. Several acres of Rhone varieties, including Syrah, were planted in 2008 and 2009.
The site faces mostly southwest and experiences hot summer days cooled by afternoon and evening sea breezes from the Templeton Gap. The exposure, altitude and largely frost-free microclimate leads to early bud break and harvest. Our Cabernet is usually harvested in September. Since the ranch is just two ridges east of the Pacific Ocean, average annual rainfall is over 30 inches. We have a rare combination of limestone, sandstone and serpentine soils which are challenging to farm but rewarding in terms of diverse wine styles and blending opportunities.
In the beginning, most of the fruit from Adelaida Springs Ranch was sold under contract to fine wineries such as Vina Robles, which still makes the award-winning ASR vineyard-designated Suendero wine, a Cabernet blend. From 2004 to 2011, we sold Cabernet and Merlot to Justin Vineyards for their Isosceles Bordeaux blend. From 2012 onward, most of that fruit has been reserved for our Rangeland label. Over the years we have sold small lots of grapes to our neighbors Thacher, Venteux, and other small wineries.
Field Crafted Wines
We believe that the finest wines are grown in the field, not just made in the winery. Maybe that comes from our years of farming experience before venturing into winemaking. We take a meticulous, natural approach to growing grapes, paying careful attention to soil conditions, limited irrigation, canopy management and sustainable vine health with a minimum of chemical inputs. We harvest small lots of fruit at that perfect moment--which makes for beautiful, field crafted wines that best express the unique terroir of our Adelaida Springs Ranch estate vineyard.