About Our Sheep
We introduced a flock of 100 Dorper sheep and two guardian dogs into the vineyard in late December, 2011. The flock has grown to over 150 breeding ewes and dozens of fat lambs. Our aim was to have the sheep consume the rich winter and spring vegetation in the vineyard, growing delicious meat, instead of resorting to expensive mowing or herbicide spraying. Our sustainable approach helps build topsoil by disturbing the soil surface and distributing animal waste as natural fertilizer. The sheep are kept in 1-2 acre, electronically fenced pens with their Great Pyreenees guardian dogs, and rotated to a new spot every few days once they've eaten the native cover crop. When bud break occurs, they are moved to pastures outside the vineyard to continue their mowing duties.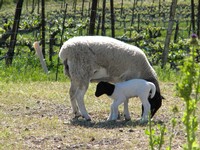 The Dorper breed hails from South Africa and was originally bred to tolerate arid conditions. It is derived from the two parent breeds: Dorset Horn and Blackhead Persian. They are self shedding and require no shearing. This handsome, stocky hair sheep breed produces only a small amount of lanolin compared to woolly breeds, making for milder, sweeter flavored lamb meat. We had our first lamb harvest in spring 2013, and plan to harvest lambs twice a year, with lamb shares available first to club wine and beef club members and then to the greater public.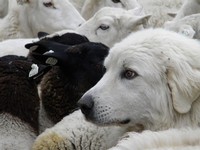 During the summer and fall when the sheep are outside of the vineyard fence (although still within an electric fence), they are particularly vulnerable to predation--coyotes, mountain lion, even eagle. The guardian dogs play a major role in keeping the sheep and their lambs safe. Currently we have two females (Mia and Daphne), and one male (Jack) who are on the job 24/7, every day of the year.