Our People
Laird Foshay
Proprietor and Winegrower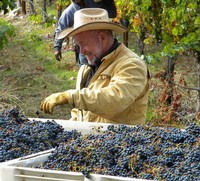 Born in Nova Scotia, Laird grew up in Palo Alto, CA. After attending UCSB, he spent 10 years publishing magazines, including Dr. Dobb's Journal, the longest continuously published small computer magazine. In the 1990s he brought investment newsletters to the Web with a startup called INVESTools. After selling that business, he moved the family to Paso Robles to start a new life on the ranch. He began by preparing the vineyard for planting in 2001 and has never really slowed down. Laird can often be found in the vineyard, fixing broken troughs or fences, or on horseback gathering cattle--when he's not hunched over his computer working on the commerce end of farming. In 2010 he became partner of J&R Meats in Paso Robles. In his spare time, he enjoys hunting, riding, reading, or just rambling on the ranch with a dog and a pair of binoculars.

Lisa Foshay
Proprietor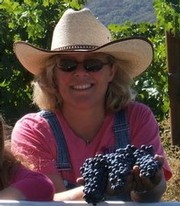 Lisa grew up in Los Gatos, studied journalism and music in college, and always dreamed of living on a ranch. She left her publishing job to be a full-time mom in 1990. Since then it's been a whirlwind of kid and family duties, working for their schools and a few favorite charities. After moving to Paso Robles her commute grew longer, but it's a much prettier drive. On the ranch she's in charge of our boxed meat program, and helps out with the vineyard and livestock, plans and organizes all events, and takes care of the books, house, garden and pets. She loves to hike, cook, garden and read, and dreams of one day having more time to write.


Paul Hinschberger
Winemaker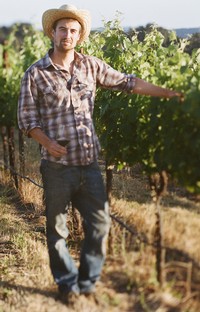 Paul's passion for wine began when he was 19, after his family opened a restaurant in Idaho called The Cellar. At the time, he was getting a business degree from the University of Montana, but in his spare time he read about (and drank) the world of wine. After graduating, he went to sommelier school to learn even more. His first harvest in 2008 was working for Grammercy Cellars and Waters Winery in Walla Walla, WA. Many wine jobs followed in Sonoma, Sebastopol, Woodsinville WA, the Willamette Valley in OR, and New Zealand. In 2013 Paul moved to Paso Robles to work as assistant winemaker for Denner. He joined Rangeland in the spring of 2015 and we are now beginning to enjoy the beautiful wines he's making. In his spare time Paul likes to backpack, disc golf, snowboard, and play his musical washboard.
Hayli Macomber
Tasting Room Associate
Hayli is a Central Coast native and grew up in Templeton, CA. She first started working in customer service at the age of 15, and has been doing it ever since. After high school, she attended San Francisco State University where she earned a B.A. in International Relations – Middle Eastern Studies, which then took her to New York City to explore career opportunities, and to check an item off her bucket list! Hayli moved back to the Central Coast in February of 2017 and began working in the tasting room at JDusi, an experience that furthered her love for wine, customer service, and simply getting to know people. She joined us in February 2018, shortly after we opened our tasting room in downtown Templeton. In her spare time, Hayli (most likely with her dog) enjoys hiking, going to the beach, upcycling, and checking all of the local wineries off her long list.
Dane Jensen
Ranch Manager
Alex Karol
Livestock Manager
Alex was born and raised in New England. His passion for the outdoors started at an early age. Skiing and surfing are what eventually led him to California: Lake Tahoe, San Diego, and finally the Central Coast. After receiving so much joy from nature through surfing and skiing and seeing our broken food system, he realized it was time to dig in and give back. In 2011 he began farming organically at Linn's Farm in Cambria, where he became their farm manager for 3 years. In 2015 he moved to Templeton and developed a passion for livestock. Working at a few different ranches in the county, growing dry farmed grains, he raised sheep, pigs and chickens on pasture. Currently, he lives with his wife on their ranch in Templeton, where they have a small flock of Navajo churro sheep. Alex also has his own sheep shearing business on the side and is working on his Masters of Agriculture-Integrated Resource Management through Colorado State online. Coming to Rangeland in November 2016, he feels lucky to spend his days herding sheep in these hills with just a stick and a dog.
Sam, Jackson & Angeline Foshay
Worker bees
There is no escaping hard work when you grow up on a family farm, and our three children have played a big role at the ranch over the last 15 years. Sam, Jackson and Angeline spent their high school and college summers laboring in the vineyard, helping out with cattle and sheep, building fences, and working in the winery during harvest. They all live away from the ranch now, but their visits home always include a few ranch chores, a hike or horseback ride, and a glass or two of wine on the back patio.