Field Crafted Wines
We believe that the finest wines are grown in the field, not just made in the winery. Maybe that comes from our years of farming experience before venturing into winemaking. We take a meticulous, natural approach to growing grapes, paying careful attention to soil conditions, limited irrigation, canopy management,and sustainable vine health with a minimum of chemical inputs. We harvest small lots of fruit at that perfect moment--which makes for beautiful, field crafted wines that best express the unique terrior of our Adelaida Springs Ranch estate vineyard.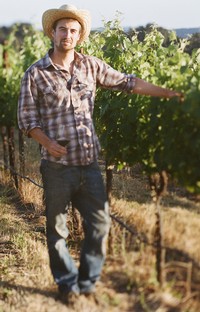 Laird helped design and install the original estate vineyard in 2002 and was even more involved as we expanded the vineyard from 30 to 40 acres in 2008. So we have learned the site--and are still learning--from the soil up. Winemaker Paul and vineyard manager Adam pay strict attention to the vines for the entire growing season, intimately aware of the needs of each varietal, each vineyard block, and sometimes each specific vineyard row. Early spring is devoted to pruning the vineyard and "mowing" with the sheep before budbreak. Late spring you'll find us shoot thinning, lifting wires and getting the vines in the best shape to grow the best grapes. Summer is spent watering the vines, arranging the canopy for optimum fruit ripening, and dropping extra grape clusters to keep the vines concentrated on ripening the highest quality grapes.
That same attention to detail drives all of our harvest decisions; we hand pick all our grapes at ideal ripeness. Sometimes, that means harvesting one vineyard block as many as half a dozen times in a season. We'll pick the early ripening morning side, or the upper part of a particular block, or a rocky corner, depending on flavors and weather conditions. And if we've done our job correctly in the field, we don't have to tinker at all in the winery. We use a noninterventionist approach there--all native yeasts and virtually no additions except sufites to preserve the wine. We want our wines to express each year's particular flavor, and always, the unique beauty of our place.