SUMMER CASE SALE CONTINUES --20% OFF BEFORE CLUB DISCOUNT!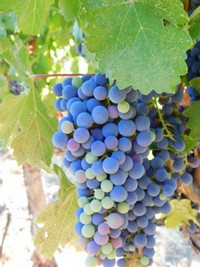 We are continuing our wine case special through the summer, until September 21. You can get 20% off--in addition to your club discount--for any full case (12 bottles) of a single wine or any 12 bottle combination of 2013 Bordeaux varietal wines: Cabernet, Watershed or Limestone Reserve Cab. These Cabernet-based wines are really hitting stride and will age for years. It's a perfect time to stock your cellar for the fall holidays and parties. For example, if you are an Estate Wine Club member and you purchase a case of our delicious 2014 Zinfandel, which retails for $420, your price is $252--a nearly $170 savings, or 40% off. To order cases, please email me, since we have to manually combine the discounts to achieve this special price. Sorry to say we are sold out of our 2016 Flora Rose. However, our delicious 2016 Chardonnay is available and should get you through the hot weather and enhance your Thanksgiving dinner too! For a full list of our current and library wines, go to www.Rangelandwines.com/wines.
BEEF BOXES IN STOCK
Our annual beef club has been packed and shipped. Lisa, our meat packin' mama, says "phew." We have some additional beef club boxes this year, available to all. Your beef, wine or lamb club discount applies to this purchase: $200 for club members, $250 for non-club members. The 25-pound box contains 6 pounds of steaks, 6 pounds of roasts, 8 pounds of ground, and 5 pounds of extras (think stew, kabobs, shanks or shortribs). We even toss in a soup bone or marrow bone package after reaching the 25 pounds. Our steers fattened beautifully on this spring's abundant grasses, and the meat is delicious. Not to mention being a nutrient-dense, anti-inflamatory superfood. To order a beef box, click here.
FREE SHIPPING FOR 20 POUNDS GROUND BEEF
Our tasty ground beef is hard to beat--mouth watering and healthy! We cook it every week--for tacos, burgers and sliders, spaghetti sauce, meatloaf and shepherd's pie. We are offering free shipping on our 20 pound boxes of ground beef (a $32 savings!) during summer, through September 21. Order here.
CATTLE WORK
We had our annual cattle branding last month and now have 54 spring calves on the books. It's a long, hot, two-day process to work all 175 of our cattle, but also a great opportunity to see the herd and assess health. The cattle benefited from our bountiful rainfall and forage this year. We are seeing more red calves from our Red Devon bull, aptly named: Red Bull. Most of the red calves were heifers, many of which we will keep for breeding. So those well-muscled genetics will expand through our herd. At any given time we have three bulls, and every few years we sell our oldest bull and procure a new one, to keep our herd healthy and diverse.
VINEYARD UPDATE
We are glad to report the vineyard is in good health with a moderate crop. This represents a nice recovery from the stressy drought years in which our crop dropped by 50%. Veraison (color change and sugars rising) is rolling through the vineyard. Vineyard manager Patrick and winemaker Paul are dropping some late ripening fruit, getting equipment ready and just starting to test grapes for sugars and pH. Soon they will be planning the first picks. We expect to start picking fruit right around Labor Day, as usual. Harvest should last 5 or 6 weeks.We always look forward to this exciting time of year, when our small, hard working crew is really put to the test of effort and judgement. It still amazes me that each annual harvest launches a wine vintage, and tells a story, that we will enjoy for many years to come.
New Wine Case Special -- 20% Off Before Club Discount!
For the first time ever, we're offering an additional 20% off any full case (12 bottles) of a single wine that you order--that's in addition to your club discount. It's a perfect time to stock your cellar for the summer parties, graduations, reunions and BBQs on your calendar. The savings are really signficant. For example, if you are an Estate Wine Club member and you purchase a case of our delicious 2013 Cabernet which retails for $480, your price is $288--a nearly $200 savings, or 40% off. To order cases, please email me, since we have to manually combine the discounts to get you this special price. Please note that the 2013 Petite Sirah (now $75) and 2013 GSM (now $65) are both almost gone, so the price on those wines has increased to library levels. The 2016 Flora Rosé is going fast, so re-order now if you want more. For a full list of our current and library wines, go to www.RangelandWines.com/wines.
Beef Club Shipping July 10
We are busy preparing for our annual beef harvest and club offering. This year's heavy rainfall resulted in abundant forage and happy, grass-fat cattle. In the next several weeks we will be harvesting our two year olds, hanging the meat for about two weeks and then cutting the beef, packing the cuts into club boxes, and shipping to our club members. We will release the beef club for pick up on July 1, with shipping starting July 10. Keep an eye on your inbox for emails regarding the billing and shipment of your club box. We still have some room in the beef club, so if If you'd like to join, sign up here.
The Spring of Springs at the Springs Ranch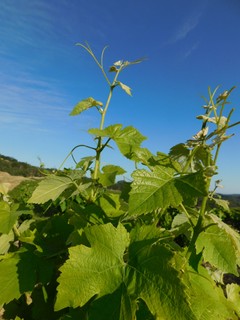 Spring has always been a busy time Adelaida Springs Ranch, but this one has been wild! We had over 58 inches of rainfall since the season started last fall. The result has been a glorious green spring and continuous work getting the vineyard mowed, tilled, weeded, sprayed (for mildew prevention), pruned and thinned. Our new vineyard manager Patrick Hamilton has logged countless hours on the tractor and in the rows with our labor crews, getting the vineyard in shape. Winemaker Paul Hinschberger is in field, troubleshooting the irrigation system and directing the work. Ranch Manager Eddie Burch has been fixing mowers, chainsaws and tractors as fast as we can break 'em, when he is not tending livestock and fixing fences.
Our vines are showing a lot of health and fruitfulness. The graceful tendrils at the shoot tips are really stretching out, reaching for the sun. If we can get through the current bloom and the fruit sets successfully in June, we expect a return to normal grape yields this fall. That means more delicious wine for all of us. After 5 years of punishing drought, it is a huge relief to see the spring verdure and vigor return to the vineyard, grasslands and woodlands; really the whole landscape. Despite the ceaseless work that the ranch requires, Lisa and I feel the unremitting stress of dryer times falling away.
Tasting Room Update
Since our winery permit was set back in February, we've been working on opening a tasting room in Templeton. We hope we are near to finalizing a deal and will keep you posted as this develops. We expect to have something open this fall. In the interim, winemaker Paul Hinschberger has been conducting tastings in the barrel room at Denner (by appointment with us), where we make our wines. He's been enjoying meeting customers in his "office" and it is a fun experience to be in the barrel room, around the delicious aromas and ambiance of a large winery. Nevertheless, we have missed being able to host you at the ranch and our arms are getting tired throwing Arrow his ball! We continue to work on our long-term goal of having a tasting room and winery on the ranch, possibly using an alternate access road. We so appreciate your ongoing support as we work through these changes.
Spring Changes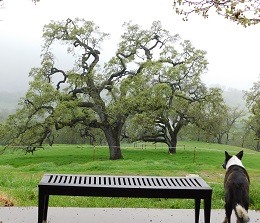 As some of you know, we have been pursuing an estate winery and tasting room permit for several years. We are still working on that but for now, as a result of increased county scrutiny, we are sad to report that we can no longer host wine tastings, tours or events on the ranch. You can imagine how frustrated we are with this situation. We will particulary miss your visits to our home and all the encouragement and generous support you have provided. What will Arrow and the Kitty (the Adorable Madness) do without your constant attention?
On a positive note, we are now offering tastings by Rangeland appointment only at Denner Vineyards' beautiful facility, where we make our wines. (Please do not call Denner for a Rangeland appointment.) Winemaker Paul Hinschberger, whose mastery is reflected in our lastest releases, will host these tastings in the barrel room. I know you will find Paul an engaging and informative host. Also, we are working on a Rangeland tasting room off of the ranch. More to come on that later.
Club News
Our spring wine club will ship and release for pickup on April 25. Here are the wines we are planning to include in this shpment:
2016 Flora Rose' (our most crisp, dry and light wine yet)
2014 Zinfandel
2014 Syrah Mourvedre
2013 Watershed
2013 Cabernet (really starting to come out of its shell)
2013 Limestone Reserve Cabernet (for aging!)
Please update your billing and shipping information, if necessary, at www.RangelandWines.com. All you need is your email address and you can retrieve your password to login. Also please let us know by email if you'd like to customize your spring shipment.
We are planning to ship and release our spring Lamb Club starting April 3, so club members watch your email for related news.
The annual Beef Club shipment is scheduled for early July and we have room available in the club. Each club box includes 25 lbs of beef including steaks, roasts, ground beef and other assorted cuts. Sign up here.
Field Day
Due to county restrictions, this April 29 event has been cancelled.
Drought Buster!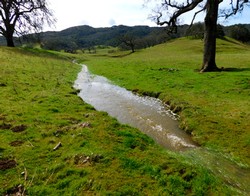 As many of you soggy fellow Californians already know, we can call an end to our historic, 5 year drought. This stressful event included what may have been the driest 4 year period (2012-2015) in more than 1,000 years in Central California. We've now had over 50 inches of rain here at Adelaida Springs Ranch this season, including an astounding 40 inches since January 1. With two months left in our rainy season, this winter will likely become a local legend.
Our lake, which we use for vineyard irrigation and livestock water, is filled to the brim. For the first time since 2012, it's spilling into lively Jack Creek that courses through the ranch on its way down the canyon to the Salinas River and Monterey Bay, 100 miles distant. From the back terrace of our home, we can hear the steady, low roar of many creeks and freshets. Our pastures are saturated and once the sun comes out in force this spring, we expect an abundant grass and wildflower year. As history buffs and weather weanies, we're excited to witness these extraordinary events. As farmers, we'd appreciate less drama in our weather. We are getting tired of rescuing soggy, chilled lambs, clearing fallen oaks and adding to our list of road repairs for the spring. But really, despite Mother Nature's whipsaw from searing drought to flood, we are not complaining about the rain! It bodes very well for the health and fertility of our grapevines and livestock in the years ahead.
Club Updates
Our Lamb Club members will be getting their next shipment (half a lamb, 20 lbs, $200) at the begining of April; so be on the lookout for email regarding shipping dates. Easter is late this year (April 16) so you will definitely have some delicious lamb for your spring celebrations.
Although our half lamb share supply is tight, we expect to have some extra 10 pound boxes of ground lamb available for all--a really delicious, flavorful ground meat. Order now for April delivery.
Our Spring Wine Club will be available at the end of April--contents as yet undetermined, but it will definitely include our newly bottled Flora Rose', always a summer favorite and a perennial early sell-out. Our next newsletter should have the spring line up, and as always, you can make any adjustments (and additions) to your club order by emailing us then. If you can't wait until April for more Rangeland wine, then order some now. Our Bordeaux Special features three great 2013 Cabernet-based wines that are really coming into their own--all for $110 before your club discount. Order here.
Our annual Beef Club will be available the first week in July. We have just a few 2016 club boxes left if you want to reorder now. 2017 should be a great year for our grass-fed beef herd. Plenty of rain and sunshine results in lots of rich, thick grasses and forbs like wild rye, clover, vetch and filaree. Our cattle have spent the winter at a neighboring pasture (Halter Ranch), and will be heading back to Adelaida Springs Ranch in the next week or so. We have already seen a few early calves and should be in full calving mode by March.
Ground Beef Special: 20 lbs for $100
We have some ground beef left over from 2016--here's a great opportunity to fill your freezer for the spring and summer BBQ season at our best-ever price. We're offering our 20 lb boxes of ground beef for just $100 ($5/lb.) --and that's before your club discount. We can ship to your home or office, or you can save the shipping costs and pick up here at the ranch or at J&R Natural Meats in Paso Robles. Order today while supplies last!
Vintage Paso Zinfandel Weekend, March 17-19
We'll be doing tastings by appointment only during Paso's annual Zinfandel Festival, March 17-19, although no food will be served. You are certainly welcome to bring a picnic. Please make an apppointment.
Field Day April 29
Our annual Field Day is scheduled for Saturday, April 29. It should be another fun, relaxing afternoon with a home cooked lunch featuring grass-fed beef and lamb sliders, plus live music, livestock displays, a ranch tour, and wine! This event sells out quickly, so mark your calendar and keep an eye out for more information in our next newsletter. It should be a beautiful spring this year--we expect lots of grass and wildflowers. We hope you can join us!
New Faces
We've had some personnel changes on the ranch--you may have already met some of our new folks. Eddie Burch has worked for us for a couple of years now, doing the bulk of the vineyard tractor work and fixing just about everything. He is now our Ranch Manager, handling all ranch operations, repairs, and overseeing our livestock crew. He hired Alex Karol to take over our lamb program. Alex also helps with our cattle. Alex has been very busy this season with daily rotational grazing and taking care of all our baby lambs and their mothers in very tough winter conditions. Our most recent addition, Patrick Hamilton, joined us in January as Vineyard Manager after previously holding that position at Flowers Winery in Sonoma County. Patrick will manage the farming of the vineyard, working closely with winemaker Paul Hinschberger and our seasonal crews to ensure the health, vigor, and productivity of the vineyard. We're excited to have the extra help, expertise, and energy. Be sure to say hello as everyone will be working at Field Day. To see pictures and read more about our Rangeland crew, go here.
We often get questions regarding how to cook the tougher or less well-known cuts of both our lamb and beef. Last night we made braised lamb shoulder chops and neck chops and the results were outstanding! We used one package (2 chops) of lamb shoulder chops, and one package (2 smaller pieces) of neck, about 2.5 pounds of meat. The long braise made for a fall-off-the-bone, tender meat. We made this in our favorite cast iron dutch oven, but you could easily put this on low and cook all day in your crock pot. Enjoy!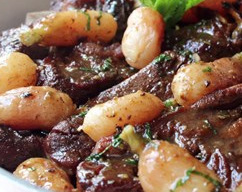 Braised Lamb Shoulder Chops and Neck Meat
1 Tablespoon olive oil
2-3 pounds shoulder chops and/or packaged neck slices (we used one package, of each, a total of 4 pieces)
Salt and freshly ground black pepper
1 small yellow onion, sliced
4 garlic cloves, minced
1 Tablespoon chopped fresh rosemary (or to taste, we used less)
1 cup beef broth
1 cup red wine (we used Rangeland Zinfandel!)
6 ounces fingerling potatoes (we used Yukon gold)
2 Tablespoons cornstarch
1/2 cup water
1 Tablespoon Worcestershire sauce
1. Preheat oven to 300 degrees F.
2. In dutch oven or large skillet, heat olive oil over medium high heat. Season lamb with salt and pepper. Sear lamb in hot oil until browned, 1-2 minutes per side. Remove chops to a plate, reserving pan drippings.
3. Saute' onion in reserved drippings until tender, about 4 minutes. Add garlic and stir for one minute. Remove onion mixture to a small bowl.
4. Return lamb to dutch oven, or, if cooking in crock pot, place in crockpot. Add onion mixture and sprinkle rosemary over the chops. Pour beef broth and red wine into dutch oven or crockpot and cover.
5. Place dutch oven in oven and cook for 3 hours. About 2 hours 45 minutes, add potatoes, stirring in (the potatoes don't have to be fully emerged in liquid to cook). When potatoes or tender, remove pot from oven.
6. Remove lamb and potatoes to a serving platter; cover and keep warm.
7. Heat remaining liquid and onions on stovetop over medium heat. Beat cornstarch and water together in a bowl using a whisk to assure no lumps remain. Stir into liquid in pot. Add Worcestershire sauce and cook until the liquid thickens into a gravy, about 10 minutes. Serve gravy with lamb and potatoes.
Wine Harvest Update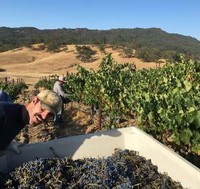 As the smoke cleared from the local Chimney Fire, we began picking grapes before Labor Day. The fire came within 5 miles and charred more that 46,000 acres of rugged coastal mountain terrain and dozens of lakeside homes at Nacimiento. We had no damage on the ranch--except to our nerves. Our heartfelt wishes go out to those who lost much more. Many thanks to the thousands of firefighters, who operated planes, helicopters, dozers, fire engines and shovels to get this monster contained.
Harvest accelerated as September raced by, peaking this week as we picked most of our cabernet after a hot, hot weekend. We have a slightly larger harvest this year, rebounding from last year's drought shortened crop. Our syrah, merlot, petite sirah and zin are already in the tank. Fruit flavors, sugars, colors and aromas are all promising after a good, intermittently hot growing season.
Winemaker Paul Hinschberger has as many as 20 fermenters "cooking" 30+ tons of hand picked wine grapes in our space at Denner Winery. He has just pressed off the first wines to barrel. As many of you know, the photosynthetic power of the green grape leaves generates sugars that accumulate in the fruit over the course of the growing season. In the winery, these sugars are converted by native yeast into alcohol, along with the alluring flavors and aromas of fine wine.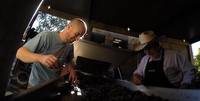 Paul is all over the place: tasting fruit in the vineyard, scheduling picks, overseeing the processing, and taking care of the wines as they ferment. This is the time when a winemaker's experience and artistic vision are really put to the test, setting the course for how the wine will taste in the bottle, many months hence. Vineyard Manager Nathan Stuart is just as busy, keeping up with labor crews, constant tractor movement and trucking fruit. We all help where we can, even as the livestock grazing and wine tastings continue as usual on the ranch. We appreciate the enthusiastic hard work of our folks during this fruitful time. Not to mention the contract labor crews who pick most of the fruit. See more harvest photos on our Facebook/Rangeland Wines page.
Harvest Festival October 14-16
Harvest Festival is right around the corner, and we will be open by appointment Friday, October 14 through Sunday, October 16, from 11 am to 5 pm. We'll be serving grass-fed beef and lamb sliders on Saturday only. All weekend we'll be pouring some new releases and may have some barrel samples on hand as well. To make an appointment for Harvest Festival, click here. Or call and schedule your appointment (805.674.9232). We look forward to seeing you!
Lamb Club and Other Meats: Free Shipping on 20 lbs. Ground Beef
Our fall Lamb Club should be shipped or available for pick up by October 24. Lamb shares are also available to wine and beef club members, even if you don't want to join the Lamb Club for regular shipments. Order here.
Lamb Club members receive two shipments a year, in October and March, for $200 per box (20% off). Each 20 pound box (half a lamb) includes:
Rack of ribs
Loin chops
2 small leg roasts
Shoulder chops
Stew meat and/or shanks
Riblets
1-2 pounds ground lamb
Lamb Club members can apply their 20% discount to all Rangeland products, including our estate wines, grass-fed beef, and events. And Lamb Club members taste Rangeland wines and tour the ranch for free. If you've had the opportunity to taste our delicious sliders on festival weekends or at other Rangeland events, you know how succulent and tasty our lamb is. To join the Lamb Club, click here.
We also have 10 lb. boxers of ground lamb, 25 lb. beef boxes and ground beef in 10 and 20 lb. boxes available. We are offering free shipping on 20 lb. boxes of ground beef. Shop here or send me an email with your order.
Wine Club
Here is the selection for our November 2016 wine club shipment:
2012 Limestone Reserve
2012 The Watershed (Bordeaux blend)
2013 GSM
2013 Petite Sirah
2014 Mistletoe (Cab/Syrah, new release)
2014 Zinfandel (new release)
If you'd like to customize your wine club selection, send me an email with your preference. Clubs will be available for pick up in November, and will be shipped starting November 9. Please update your address and credit card information at www.RangelandWines.com, if necesary. You can use your email address as your user name and retrieve your password that way too. You can also call me (805-674-9232) or email me with your account information changes.
If you are running short of Rangeland Wines and want to restock before the November shipment, you can order here or send me an email.
Pick-Up Party Saturday November 12, Drop-in between 12 - 4 pm
Our favorite party of the year! We love to pour wines and share good local food and visit with our loyal customers. All wine, beef and lamb club members are welcome to attend (with one guest). As usual we will feature our grass-fed beef chili, sausage from J&R Natural Meats, a delicious lamb dish (TBD), and assorted other goodies. You can pick-up your wine or meat club and we'll have some barrel samples from the 2016 harvest for you to taste. We'll also have Beef Club boxes, lamb shares and ground beef/lamb boxes available for purchase. RSVP soon, attendence is limited.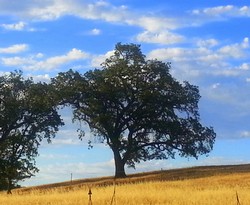 It's summertime on the ranch and the livin' is--busy. Winemaker Paul was married in June and is back from his Italian honeymoon. Wish him congratulations, because now he is busy with crop estimates in the hot vineyard, final arrangement of the leaf canopy for veraison (ripening, which has just begun), topping wines in the barrel and otherwise preparing for harvest. Honeymoon over! Ranch Manager Nathan is busy in the vineyard too and just herded the sheep back from Halter Ranch to finish the summer on our home pastures. He is preparing to brand our calves next week, an all-hands ritual that also involves sorting and treating all of our 150+ head of cattle. Lisa is wrapping-up beef boxing and shipping, once again having achieved that existential goal: she touched all your meat! We all hope to have a quiet week or two in August before our wine harvest begins around Labor Day. We are encouraged by the leafy green vines this year and the healthy, fertile livestock, enjoying the shade of our heritage oaks. We so appreciate your support in making this scenic little miracle possible.
Summer Specials: Dry Wines, Sweet Deals
We are guessing that your wine shelf is getting a little bare, so we are offering a pair of specials that will allow you to enjoy Rangeland wines for the rest of the summer, whether you are sipping Rosé on a warm evening or enjoying a rich Cabernet with your grilled steak. Order online or respond to this email and we'll ship your order with ice packs to keep it fresh. And as always, your wine or meat club discount applies to any purchases, sweetening these killer deals.
2015 Flora Rosé, 3 bottles for $60—Save 10%
Our dry 2015 Flora Rosé is drinking beautifully now. Its crisp acidity and expressive fruit offer a perfect accompaniment to light summer fare—fish, chicken, pasta and salads. We also love it at Thanksgiving—it pairs perfectly with roast turkey. Our Rose' often sells out in August. So order today.
2012 Bordeaux Special, 3 bottles for $110—Save $20
This 3-bottle special includes our 2012 Watershed (Bordeaux blend), 2012 Cabernet Sauvignon, and our 2012 Limestone Reserve Cab. All three are stellar wines, highly rated and will continue to age beautifully in bottle over the next 10 years. Get a head start on holiday shopping and order today!
The Wine Whisperer: Learning to Love Paso Robles
Until I moved to Paso Robles 3 years ago, I did not have the best opinion of this region. I know this sounds bad, but hear me out. The reality is that within the broader wine industry, professionals (many of whom have not actually visited Paso) have a preconceived notion that Paso wine is over-ripe, over-alcoholic, unbalanced and therefore, not worth their time. Not so for consumers, however--typical wine consumers just drink what they like and are less likely to be bogged down by current trends and/or winemaking dogma. Paso wine is delicious and equitably priced for the most part.
I am both a wine consumer and winemaker, so my opinion was formed by my experiences in the industry. Before I moved here, I had worked in Sonoma County, the Willamette Valley in Oregon, in Woodinville and Walla Walla, Washington, and I felt like I had a pretty good grasp on American wine culture. In my mind, Paso Robles was that region too hot and too far south to make great wine, and most of the wines I had from the early 2000's confirmed my theory.
Oh, how wrong I was. Read more.
Beef Boxes and Ground Beef Available
We've finished our annual beef harvest, packed several hundred Beef Club boxes and shipped most of these to customers all over California. After winter rainfall and rich spring pastures, we're pleased with the "grass-fat" quality of our meat. We have sampled a few cuts with great satisfaction.
We have extra 25 lb. club boxes available this year, as well as extra ground beef in 10 or 20 lb. boxes. Each beef club box contains 25 pounds of meat: 6 pounds of steaks, 6 pounds of roasts, 8 pounds of ground, and 5 pounds of extras, like stew meat, kabobs, shanks or short ribs. You don't have to join the club to buy beef; club membership will, however, award you a 20% discount. Our beef sells out every year, so if you've been on the fence about purchasing, now's your chance. Order here.
About Our Annual Beef Harvest
We harvested several dozen steers in late May/early June, when our animals were at the peak of "grass fatness." We use a mobile harvest unit that allows us to keep the cattle on the ranch for their whole lives--the highest standard of humane handling. The carcasses were delivered to J&R Natural Meats in Paso Robles where they were dry aged for 10 to 20 days, and then cut and vacuum packed during a couple of weeks in June. Then it was our turn to box up all the club shares and the extra ground for our customers.
We box the meat one beef at a time, carefully sorting the steaks and roasts in order to make the club boxes as even as possible. We typically get between 9 -14 club boxes per steer, plus several boxes of ground meat, depending on the size of the animal. As each box reaches the 25 pound mark, we add a soup bone or package of marrow bones as a little bonus. Broth made from grass-fed beef bones is beneficial for your joints, skin, intestinal health, and has a detoxifying effect on your entire system.
We often get questions about the various cuts of beef and how to cook them, so here are some tips from our experience and other sources. Read more.
Until I moved to Paso Robles 3 years ago, I did not have the best opinion of this region. I know this sounds bad, but hear me out. The reality is that within the broader wine industry, professionals (many of whom have not actually visited Paso) have a preconceived notion that Paso wine is over-ripe, over-alcoholic, unbalanced and therefore, not worth their time. Not so for consumers, however--typical wine consumers just drink what they like and are less likely to be bogged down by current trends and/or winemaking dogma. Paso wine is delicious and equitably priced for the most part.
I am both a wine consumer and winemaker, so my opinion was formed by my experiences in the industry. Before I moved here, I had worked in Sonoma County, the Willamette Valley in Oregon, in Woodinville and Walla Walla, Washington, and I felt like I had a pretty good grasp on American wine culture. In my mind, Paso Robles was that region too hot and too far south to make great wine, and most of the wines I had from the early 2000's confirmed my theory.
Oh, how wrong I was.
When I first moved to Paso in 2013 for an assistant winemaker job, I quickly realized that I had grossly oversimplified the region in my mind. Not only is Paso diversified in its soil types and microclimates, but there is also an array of varietals and winemaking styles. While I still don't particularly like many "big" Paso wines from the past (just my personal taste), I was wrong to assume that the region could not evolve into a world-class wine region.
Now that I've worked here for 3 years, I feel that Paso Robles is a premier region in the U.S. to grow Grenache, Mourvedre, Cabernet Sauvignon, and several other varietals that are making an impressive mark in a highly competitive marketplace. Of course, not all wine in Paso is unicorns and rainbows (just like any wine region) but the potential here is certainly tangible. The interesting thing is that I doubt I would have discovered this potential without fully immersing myself here.
Paso Robles is a wine region that needs to be visited in order to be fully understood. You must drive through the back roads of the Paso foothills to find little morsels of tastiness. You have to experience the energy of the wine industry and the town itself in order to fully appreciate the wines—the atmosphere is something unlike anywhere else I've worked. As a winemaker, it is exciting to be part of a burgeoning and innovative wine culture that more and more people are experiencing for the first time.
Adelaida Springs Ranch is also a place that needs to be visited in order to truly understand Rangeland Wines and the land's beauty. The dusty green canopy of vines and oak trees contrasted against the golden hills of oats is something to behold—especially while drinking a glass of rosé.
Cheers!
Paul
The Wine Whisperer
Wine Festival May 20-22
Paso Robles Wine Festival is coming up fast. We will be open by appointment only, Friday-Sunday, May 20-22 from 11 am to 5 pm. We are serving our mouthwatering lamb and beef sliders on Saturday only. You might want to make an afternoon of it! We'll be pouring our new Rosé along with a great line-up of reds, including some newly released 2013 wines. We look forward to seeing you! If you have a wine club to pick up, let us know and we'll have it ready for you. To make an appointment, click here.
Flora Rosé Case Special
Our 2015 Flora Rosé, the finest yet, is the first wine crafted entirely by our new winemaker Paul Hinschberger. It is available now and will sell out quickly. Last year's was gone before the end of summer. This crisp, dry, elegant Rose' includes Zinfandel, Mourvedre and Cabernet, and is perfect for a warm summer evening. We are offering a special by the case: $225, or $180 with a 20% club discount. Killer deal. Order now while supply lasts; only 85 cases made!
The Great El No-no
El Niño finshed with a whimper and did not deliver the epic deluge we had hoped for. The 2015-2016 season totaled about 25 inches (80% of average) of rainfall so far. The pastures are now starting to turn "golden", but our lake is full and we have a good cover of rich grasses all around the ranch. Our animals benefited from the abundant spring fodder, so it should be a great "vintage" for our lamb and beef.
We started irrigating the vineyard this week. The vines look more healthy and vigorous than they have in several years. We did notice, however, fewer flowers (therefore less potential fruit) than in pre-drought years, indicating a hangover effect from last year's very stressed environment. Despite all the richness and inspirational beauty Mother Nature provides us, she's a hard one to live with. Since we are stuck with her, we'll just have to work it out. :-)
Spring Lamb Available
We are finishing up our spring lamb harvest. Lamb Club members who did not receive a shipment in March should receive it the week of May 23—emails will be going out to individual club members soon. A Lamb Club box contains 20 pounds of lamb, which includes a rack, loin chops, shoulder and sirloin chops, 2 leg roasts, shanks, riblets, stew meat, and a pound or two of ground lamb. If you're not a member of the Lamb Club, this is a great time to join, or you can purchase a lamb share on one-time basis and your wine or beef club discount will apply. We also have 10 lb. boxes of ground lamb available. We can ship our meats anywhere in California or you can pickup in Paso Robles and save the shipping cost.
Beef Club Coming!
Our annual beef harvest will occur at the end of May into June. Our 2-year-old steers are grass fat and kick-up their heels healthy. We have nearly 300 Beef Club members now and will be ready to ship after July 1. Our beef hangs (dry aged) for about two weeks at J&R Meats in Paso Robles and is then cut and vacuum packaged. Lisa sorts and packs each Beef Club box in an effort to make each box "equal." So she truly has touched all your meat! Whoa. She tops each box with a bonus soup bone. You can join the beef club here. Or you can purchase the 25 lb box on a one-time basis. And we almost always have 10 lb and 20 lb boxes of ground beef available.
Our annual Field Day is coming up fast: April 23, from 12 to 3pm. We'll start with a BBQ lunch of J&R sausages, grass-fed beef and lamb sliders, side dishes and desserts. We're excited about our band this year—the Central Coast's own Bear Market Riot, a power folk duo that blends folk, blues and pop. They will get your toes tapping! Of course we'll be serving Rangeland Wines (as well as non-alcoholic beverages). Livestock, including calves and lambs, will be on display and we'll have an end of day ranch tour. Event and tour space is limited, so purchase tickets ($50 each before club discount) now if you want to attend. Kids under 12 are free. The ticket sales deadline is April 20.
Recent Posts
November 21, 2019

November 20, 2019

October 12, 2019

September 13, 2019

September 13, 2019

August 14, 2019

July 25, 2019

June 22, 2019

May 20, 2019

March 23, 2019