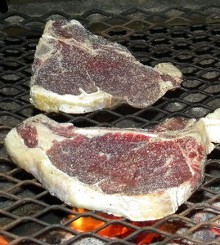 Beef Intro Pack
25 lbs. Grass-fed Beef
Order your delicious selection of grass-fed beef now.
Our all natural grass-fed beef is a nutritious, delicious alternative to industrial feedlot beef. Our cattle are bred naturally and graze their entire lives on our ranch, and you will be able to taste the healthy difference.
The Beef Intro Pack is a 25 pound box of beef for $250 ($10 per pound). All meats are vacuum packed fresh and then flash frozen. Delivered or shipped frozen.
The Beef Intro Pack includes, approximately:
steaks (rib, New York, top sirloin), 6 lbs.
roasts, 6 lbs.
ground beef, 8 lbs.
short ribs, stew meat, kabobs, etc. 5 lbs.
Tasting Notes
Grass-fed beef has a more vivid flavor than grocery store beef; some call it wilder, we refer to it as "beefier." You'll notice the color of grass-fed beef is much richer and redder, there is significantly less fat, and the meat is firmer. When slow-braising roasts, short ribs or stews, the results are tender and luscious. Our steaks, when cooked properly, are more lean and flavorful and won't leave you with that overly full feeling you get from fatty, cornfed steaks. Our ground beef is very low in fat, but incredibly juicy and versatile. Whatever you decide to make for dinner, we hope you'll find our beef savory and satisfying.
Product Reviews
Timothy Hewitt
(Dec 2, 2014 at 8:29 PM)
The best price for some very good beef that you can find in the area. I received the package as described above. The "etc." portion was ribs, stew meat, and soup bones.
Jeff
(Oct 17, 2016 at 5:07 PM)
My wife and I only use Rangeland's ground beef and we love it. We have been buying it for a number of years now and hesitated in writing a review as we were afraid it would become too popular. One of our favorite ways to use this ground beef to cook up one or two pounds in a non-stick skillet. You don't need to pour off any fat, just use an omelet skillet and break it up and flip it with tongs or a wooden spoon as you cook it. Do Not over cook, turn off the heat while there's just a touch of pink left in the larger pieces. Then use the beef on top of spaghetti, not mixed in the sauce. In that way you get to enjoy the richness of the grass fed beef. The 1-lb packages are very convenient and keep for a long period of time. If you haven't tried their ground beef you are missing out and I don't think you will find a better value.