Our People
Laird Foshay
Proprietor and Winegrower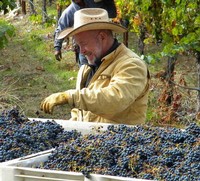 Born in Nova Scotia, Laird grew up in Palo Alto, CA. After attending UCSB, he spent 10 years publishing magazines, including Dr. Dobb's Journal, the longest continuously published small computer magazine. In the 1990s he brought investment newsletters to the Web with a startup called INVESTools. After selling that business, he moved the family to Paso Robles to start a new life on the ranch. He began by preparing the vineyard for planting in 2001 and has never really slowed down. Laird can often be found in the vineyard, fixing broken troughs or fences, or on horseback gathering cattle--when he's not hunched over his computer working on the commerce end of farming. In 2010 he became partner of J&R Meats in Paso Robles. In his spare time, he enjoys hunting, riding, reading, or just rambling on the ranch with a dog and a pair of binoculars.

Contact: laird@rangelandwines.com
Lisa Foshay
Proprietor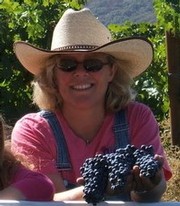 Lisa grew up in Los Gatos, studied journalism and music in college, and always dreamed of living on a ranch. She left her publishing job to be a full-time mom in 1990. Since then it's been a whirlwind of kid and family duties, working for their schools and a few favorite charities. After moving to Paso Robles her commute grew longer, but it's a much prettier drive. On the ranch she's in charge of our boxed meat program, and helps out with the vineyard and livestock, plans and organizes all events, and takes care of the books, house, garden and pets. She loves to hike, cook, garden and read, and dreams of one day having more time to write.

Contact: lisa@rangelandwines.com


Paul Hinschberger
Winemaker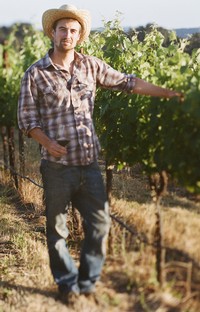 Paul's passion for wine began when he was 19, after his family opened a restaurant in Idaho called The Cellar. At the time, he was getting a business degree from the University of Montana, but in his spare time he read about (and drank) the world of wine. After graduating, he went to sommelier school to learn even more. His first harvest in 2008 was working for Grammercy Cellars and Waters Winery in Walla Walla, WA. Many wine jobs followed in Sonoma, Sebastopol, Woodsinville WA, the Willamette Valley in OR, and New Zealand. In 2013 Paul moved to Paso Robles to work as assistant winemaker for Denner. He joined Rangeland in the spring of 2015 and we are now beginning to enjoy the beautiful wines he's making. In his spare time Paul likes to backpack, disc golf, snowboard, and play his musical washboard.

Contact: paul@rangelandwines.com
Michelle Minton
Tasting Room / Wine Club Manager
Michelle grew up in Paso Robles and attended college at Cal Poly where she majoried in Agricultural Science. After graduation in 2005, she went on to teach high school agriculture in Soledad. In 2011 she returned to Paso Robles to work in the beef and winer industry while teaching elementary school. Michelle joined the Rangeland team in April of 2019; she loves that Rangeland combines her interests in wine and sustainable agriculture. In her spare time Michelle enjoys gardening, raising sheep, chickens and peafowl, and spending time in the mountains or at the beach.
Contact: michelle@rangelandwines.com
Dane Jensen
Ranch Manager
Contact: dane@rangelandwines.com
Sam, Jackson & Angeline Foshay
Worker bees
There is no escaping hard work when you grow up on a family farm, and our three children have played a big role at the ranch over the last 20 years. Sam, Jackson and Angeline spent their high school and college summers laboring in the vineyard, helping out with cattle and sheep, building fences, and working in the winery during harvest. They all live away from the ranch now, but their visits home always include a few ranch chores, a hike or horseback ride, and a glass or two of wine on the back patio. If you're lucky, you can catch Angeline in the tasting room on the weekends or working a Rangeland Wines event.