Experience all that Rangeland Wines has to offer...
Winemaker Tastings with Alex Kemp
Experience an exclusive tasting with our winemaker, as he guides you through a reserve tasting of specialty and/or library wines. You can expect to leave with a wealth of knowledge about Paso Robles, our vineyard, and how Rangeland Wines are made.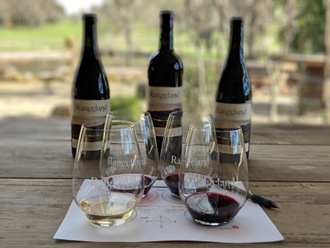 $50/person *club discount applies.
Minimum of 4 people required for reservation.
For reservations, email Alex directly at alex@rangelandwines.com.
*Tastings are dependent on availability. Allow yourself at least 1 hour for tasting.
Full Moon Winemaker Dinner
We have noticed that we really enjoy our wines during the full moon--call us superstitious, call us perspicacious, call us prescient, or call us kwazy. Experience* has inspired the Rangeland Wines team to throw Full Moon dinners. Join our owners, Laird & Lisa in their home on the ranch or at the tasting room, along with winemaker Alex Kemp and Rangeland crew members, for a catered dinner featuring our estate-grown beef and lamb, paired with a stellar line up of Rangeland Wines. Sign up for our newsletter below to receive announcements for the next dinner. We look forward to dining, chatting and quaffing with you!
You know you want to
Sign Up For Our Newsletter
Keep up to date on the latest wine releases, events, and promotions and get 10% off your next order.