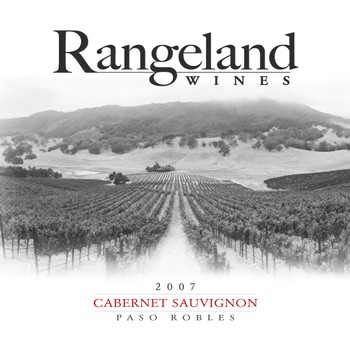 2007 Cabernet Sauvignon
Rangeland 2007 Cabernet Sauvignon is a dark, elegant crowd pleaser with some exciting edges. It has complex and seductive flavors with bracing acidity. As one reviewer put it about another wine grown in our vineyard, it lacks the "melted" quality of most cult Cabernets. Serve this wine with a juicy prime rib or saucy red meat dish to help appreciate and balance the acidity.
Tasting Notes
This wine introduces itself with deep red color and tight floral aromas. Dark cherry flavors with hints of caramel, sage and French-roasted coffee are wrapped in a soft, mouth watering package. Our Cabernet finishes with creamy oak, balanced by good acidity, mineral notes and a very fine tannic finish that are the essential expression of Adelaida Springs Ranch terroir. Let it sit open in the bottle for a while or swirl the glass nestled in your palm (for warmth) to coax out the personality of the wine. Set some of this wine aside for aging if you can. The spicy fruit, acidity and oakiness will mellow even more with age and the structure of the wine should keep it improving for many years to come.
Grower Notes
Our Cabernet is blended from several blocks that demonstrate the diverse geology of our Adelaida Springs Ranch estate vineyard. Blocks 2 and 5 are planted on rocky but rich limestone clays that produce wines of startling acidity (pH 3.3 to 3.5) and delicately exotic, often floral personalities. Blocks 6 and 8, although just downhill from Block 5, have sandstone soils that produce much softer, less acidic (pH 3.6 to 3.8) and earthier wines. We think the almost plump approachability of our 2007 Block 6 Cabernet helped tame the vivid tartness of our limestone Cabernets, which creates a naturally balanced wine without any tampering in the winery. Our vineyard is blessed with good elevation (~1700 feet) and southwestern exposure which help with early bud break in the spring and optimum ripening through the season. Our Cabernets are always (so far!) harvested in September, often 4-6 weeks earlier than other vineyards in the area. Sugars were at 25 to 27.5° brix.
Just a few cases left of the flagship wine from our first vintage.
Wine Specs
Vineyard Designation
Adelaida Springs Ranch
Aging
23 months in barrel, 80% new French Oak
Bottling Date
August 2009
You know you want to
Sign Up For Our Newsletter
Keep up to date on the latest wine releases, events, and promotions and get 10% off your next order.