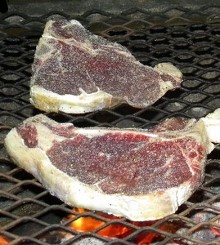 Beef Club Box
Our all natural grass-fed beef is a nutritious, delicious alternative to industrial feedlot beef. Our cattle are bred naturally and graze their entire lives on our ranch, and you will be able to taste the healthy difference.
The Beef Club box is a 25 pound assortment of beef for $350 ($14 per pound). All meats are vacuum packed fresh and then flash frozen. Delivered or shipped frozen.
The Beef Intro Pack includes, approximately:
steaks (rib, New York, top sirloin), 6 lbs.
roasts, 6 lbs.
ground beef, 8 lbs.
short ribs, stew meat, kabobs, etc. 5 lbs.
Tasting Notes
Grass-fed beef has a more vivid flavor than grocery store beef; some call it wilder, we refer to it as "beefier." You'll notice the color of grass-fed beef is much richer and redder, there is significantly less fat, and the meat is firmer. When slow-braising roasts, short ribs or stews, the results are tender and luscious. Our steaks, when cooked properly, are more lean and flavorful and won't leave you with that overly full feeling you get from fatty, cornfed steaks. Our ground beef is very low in fat, but incredibly juicy and versatile. Whatever you decide to make for dinner, we hope you'll find our beef savory and satisfying.
Free shipping until December 31. We'll ship in January to avoid holiday mishaps.
Currently out of stock. Please join Beef Club now to get a box from June 2024 harvest.
You know you want to
Sign Up For Our Newsletter
Keep up to date on the latest wine releases, events, and promotions and get 10% off your next order.