March 12, 2013 | Confessions | Laird Foshay
Readings and Musings
A rich aspect of agricultural life is seasonality and the change of pace that comes with it. Wintertime brings shorter days, longer nights and soggy weeks. After 300+ days a year of sunny and often hot weather in Paso Robles, capped by the long days of the wine harvest, we gladly huddle indoors on occasion and enjoy an oakwood fire. There is more time for reading and indoor work on the business side of ranching and winemaking, as well as time to reflect.
I began my winter reading with Richard Rhodes' Arsenals of Folly, which recounts the history, proliferation and attempts to limit nuclear arms. It is a chilling ride that brings the Cold War to life and reminds us of the fundamental risks of modern life and technology. While reading that book in the deep of a November night (3:07 AM, actually), I was startled to see what I thought was a bright and persistent shooting star out my bedroom window. I went out on our south-facing balcony to watch it arc across the sky when I realized I was watching a missile launch, the ghostly trail of which lingered in the night sky as if left the atmosphere far out over the Pacific. This apparition had been a Vandenberg Air Force Base test launch of a Minuteman intercontinental ballistic missile (ICBM), whose designed purpose is to carry a nuclear weapon to the far side of globe. I was profoundly moved at the eerie coincidence. I have not been able to stop thinking about it for very long since.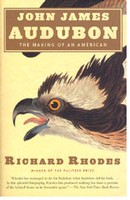 I was so impressed by Richard Rhodes writing that I sought out another of his books: John James Audobon: The Making of an American. This book provided a rich plunge into the world of early 1800s frontier America. It is, for me, a gripping tale of the great naturalist, artist and publisher spanning decades of misfortune, persistence and eventual triumph. Audobon's _Birds of America_ was the finest ornithological work of its time and his paintings set new standards for natural realism. His scenes have a wild, strange, sometimes violent quality that Rhodes summed up as "the concentrated essence of the wilderness". What really struck me in the book was the dramatic environmental changes already taking place in North America. Audobon observed that through deforestation and overharvesting of wildlife in 1830, "Nature herself is perishing".
Moving on in my literary journey, I read Wendell Berry's The Gift of Good Land. Nathan, our ranch manager, had recommended it to me and was so moved by the book that he read passages aloud to us. The Gift is a collection of essays on sustainable farming published in 1981 that is still strikingly relevant. Berry's prose is so thoughtful and beautiful that I found myself marking page after page with dog eared corners.
On the work of family farmers Berry comments: "The work of factory workers is ruled by the factory. Whereas the work of housewives, small craftsmen and small farmers is ruled by their own morality, skill and intelligence" and "society...may lose...efficiency and economy of scale. But it begins to gain...independence, pride, respect....love, reverence."
On cattle feedlots: "within the boundaries of the feeding operation itself a certain factory-like order and efficiency can be achieved. But [it] produces biological disorder, for we know that health problems and dependence on drugs will be greater among cattle so confined than among cattle on pasture. And beyond those boundaries, the problems multiply."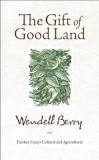 On life: "the world, the weather, and the life cycle have caused me no end of trouble, and yet I look forward to putting another forty or so years with them because they have also given me no end of pleasure and instruction. They interest me. I want to see them thrive on their own terms."
On farming: "Agriculture depends on nature and is contained in nature; if you want to understand agriculture, therefore, you must understand what preceded it."
So what does all of this reading and reflection have to do with growing (and enjoying) good food and fine wine? Everything.
Comments
Commenting has been turned off.
You know you want to
Sign Up For Our Newsletter
Keep up to date on the latest wine releases, events, and promotions and get 10% off your next order.