Beef & Bay Leaves
This year our beef club members will receive a jar of Adelaida Springs Ranch bay leaves in their club box. We have dozens of large, fragrant Bay Laurel trees growing alongside shady creeks and near the natural springs on our ranch. The leaves were picked, dried and packed by Lisa & Courtney. Here's a classic beef stew recipe (adapted from the New York Times) that puts the fragrant bay leaf to good use!
Grass-Fed Beef Stew
Ingredients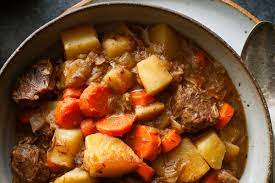 1/4 cup all-purpose flour
1/2 teaspoon freshly ground black pepper
2 teaspoons salt
1 lb. grass-fed beef stew meat, cut into 1" pieces
3-5 teaspoons olive oil
2 Tablespoons red wine vinegar
1 cup red wine
3 1/2 cups beef broth
2 bay leaves
1 medium onion, peeled and chopped
5 medium carrots, peeled and cut into 1/4-inch rounds
2 large baking potaotes, peeled and cubed
1 cup frozen peas (optional)
1. Combine flour and pepper in bowl, add beef and toss to coat.
2. On medium setting, heat 3 teaspoons olive oil in dutch oven or large pot. Salt the beef and then add to the pot in batches; don't overcrowd.
3. Cook, turning until browned on all sides, about 5 minutes per batch. Add more oil as needed.
4. Remove beef from the pot and add wine vinegar and red wine. Cook for 1-2 minutes over medium-high heat, scraping to loosen any browned bits.
5. Add beef, broth, and bay leaves. Bring to a boil and then reduce to a slow simmer.
6. Cover and cook until beef is tender, about 1.5 hours. Check occasionally and add more broth as needed.
7. Add onions and carrots and cook 10 minutes. Add potatoes and cook about 20 minutes more until all veggies are tender. Add peas if using, and cook another 5 minutes.
8. Season with salt and pepper to taste. Serves 4-5. Pair with a good bread and any Rangeland wine!
Beef and Lamb Now Available
For the first time in more than a year, we have both beef and lamb available for sale on our website. We've changed our beef club format to once a year, which allows us to serve more customers. You can order (or reorder) any time, while supplies last. Our 25-pound beef box is $225 and our 20 pound lamb share is $250, before club discounts; your beef or wine club discounts automatically apply to all purchases. We also have plenty of ground beef available, which continues to be a best-seller. We offer the ground beef in 10 and 20 pound boxes, to be picked up at J&R in Paso, at the ranch by appointment, or shipped anywhere in CA.
Mistletoe 2012 Wins Best of Cabernet Blends
Our 2012 Mistletoe won Gold at the Central Coast Wine Competition—Best of Cabernet Blends! It was featured at the Mid-State Fair by the glass and is newly released and available on our website. 2012 was a hot year, resulting in a fruity, powerful wine with more vivid tannins than any other vintage thus far. It's drinking beautifully and is a real crowd-pleaser. We have also released the 2012 GSM and Zinfandel, which share the exuberant personality of the vintage. Think Big. Think Fun. But these wines are still balanced by that trademark Rangeland acidity and freshness. You can order any of our wines from www.rangelandwines.com/Wines.
Rangeland Winemaker Dinner at Second Press in Paso Robles, August 7
Second Press Restaurant, on the park in downtown Paso, is hosting a Rangeland winemaker dinner at 6pm on August 7. The 4 course meal will feature fresh, estate raised grass-fed lamb, paired with Rangeland wines. Winemaker Shannon Gustafson and Chef Ryan Swarthout will host the dinner, and Laird and Lisa Foshay will be there to explain our growning practices and enjoy your company. Cost is $60/person, $50 for wine club members. Contact Second Press for reservations at 805-226-7500.
Vineyard Update
Veraison is occurring throughout the vineyard as we write. Veraison, a French term meaning "onset of ripening", marks the transition from berry growth to berry ripening, from green, hard grapes to soft purple clusters. Drought conditions mean smaller berries, which raises the ratio of skins--which carry much of the wine flavor, color and texture--to juice. So expect another dark, powerful vintage from 2014. Because we've had a hot, dry year, we expect to be harvesting full steam in September.
Drought Report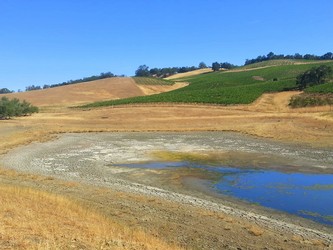 Naturally the drought has had an effect on our ranch and our businesses. Our lake, pictured here, is the lowest it's ever been. This was the first year since we've bought the ranch in 2000 that the lake didn't spill over during winter and, by local legend, the first year it did not fill since it was built in the 1940s. We've using it for irrigation all season, and even though we're pumping well water back into the lake continuously, it hasn't been able to keep up with use and evaporation. All year we've been developing new spring water sources and hope to get through to grape harvest and winter without further livestock herd reductions or expensive hay purchases. We are hoping for a rainy winter, and looking forward to complaining about the wet for a change. Bring it, Mother Nature!
This year's drought forced us to sell about 30 cows in January, since we didn't have enough feed for our entire herd. The drought coincided with a beef club waiting list of more than 100 people, which caused us to rethink our Beef Club. Rather than delivering club boxes twice a year (July and November), we are now offering the beef club only once a year, right after the beef harvest in July.
You know you want to
Sign Up For Our Newsletter
Keep up to date on the latest wine releases, events, and promotions and get 10% off your next order.