Limestone Cab Release and a Special Offer
We are just now releasing our 2012 Limestone Reserve Cabernet Sauvignon, which reflects the dry (60% of average rainfall) and hot (107% of average heat) 2012 vintage. Described as " ripe, sexy and voluptuous" by Robert Parker's Wine Advocate, our flagship Reserve Cabernet also has our trademark acidity and fine tannic structure. This is a wine to enjoy now and set aside for years to come.
Now that the holidays are past you may want to re-order some wines to fill your seasonally depleted wine racks. Here is a list of the released 2012s and the few 2011 wines (all with less than 20 cases left) we still have in stock:
| | | | |
| --- | --- | --- | --- |
| 2012 | | 2011 | |
| Cabernet Sauvignon | $40 | Cabernet Sauvignon | $35 |
| GSM | $35 | GSM | $32 |
| Limestone Reserve Cabernet | $50 | Syrah | $32 |
| Mistletoe | $28 | Watershed | $35 |
| Petite Sirah | $45 | | |
| Zinfandel | $35 | | |
For orders of six or more bottles of any of these wines, we are offering a 10% discount, in addition to any wine or beef club discount you already receive. To take advantage of this offer please email your order selection to laird@rangelandwines.com. The offer expires on February 14.
Rangeland Rising
We recently received some excellent scores from Robert Parker's prestigious Wine Advocate. Although we are confident in our "field crafted" philosophy and we personally love the wines we make, it's nice to get validation from the critics. Reviewer Jeb Dunnuck highlighted our winemaker Shannon Gustafson, noting that "Her entire lineup is loaded with outstanding wines." That's what we've been saying all along!
2011 Cabernet Sauvignon, 90 points
2011 Limestone 90 points
2011 Petite Sirah, 91 points
2012 Cabernet Sauvignon (barrel sample), 89-92 points
2012 GSM, 90 points
2012 Limestone Reserve Cab (barrel sample), 91-93 points
2012 Mistletoe, 90 points
Upcoming Events
Vintage Paso: Zinfandel+, March 20-22
The festival season in Paso kicks off in March with Vintage Paso - Zinfandel and Other Wild Wines (formerly known as Zin Fest.) Our gates will be open March 20-22, from 11-5. We invite you to come up and taste our wines, chat with us, enjoy grass-fed beef sliders and barbecued lamb (food served Saturday and Sunday only). You're welcome to bring a picnic and feast on the best views in the Adelaida. As always, wine club members and their accompanied guests taste for free.
Field Day, Saturday April 25
We had to cancel Field Day last year because of the drought, but we're hopeful we'll get plenty more rain this winter and be able to continue this tradition. Our second annual Rangeland Field Day will include wine, food, live music, educational and livestock displays, and tours. We'll be serving grass-fed beef and lamb sliders, salads, homemade baked goodies, lemonade and iced tea, along with wine of course. You can enjoy your lunch in the shade of a giant oak while listening to local musicians. Tickets are $40/person, and will go on sale in March.
Wine Festival, May 15-17
We will open our gates from 11-5, Friday through Sunday and have food for sale on Saturday and Sunday.
Lamb Shares, Ground Lamb and Beef Available
We still have some lamb shares available for $250 (club discounts apply of course!). We can ship our meats anywhere in California. These 20 pound boxes contain half a lamb, which includes:
one rack
loin chops
shoulder and sirloin chops
2 leg roasts
shanks, riblets and stew meat
a few pounds of ground lamb
For the first time, we have ground lamb available in 10 lb. boxes of 1 lb. packages ($100, club discounts apply). Our ground lamb is lean and delicious--if you've ever had our lamb sliders, you know. We have a limited supply, so place your order today!
Although our beef club boxes are out of stock until June harvest, we still have 10 lb and 20 lb boxes of ground beef available.
The Worst and Best of Times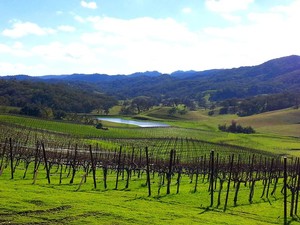 We have a long way to go to return to "normal", but we are thankful for 10 inches of early December rain that helped germinate grass and bring much needed drought relief to the ranch. Our lake, after being nearly empty last fall, is now about half full. It's great to see our country turn green on the normal seasonal schedule and we're hoping for more rain this winter.
Having said that, we are still recovering from 2014 and effects of the drought--which may not be over. Last winter started dry and we were looking at the possibility of selling most of our cattle and sheep herds. We did sell a couple of dozen cows last year, but were lucky when spring rains allowed us to hang on to most of our animals. We were also fortunate to lease neighboring Halter Ranch for fall grazing, after our home ranch pastures were depleted. We are very grateful for the opportunity, so if you are a friend of our ranch please also be a friend to Halter by buying their fine wines. Moving our stock to Halter required building fences and troughs there and moving all the animals by truck. This spread our people and equipment over two ranches, requiring extra planning and one very exciting cattle drive to bring the cows home. Ranch manager Nathan Stuart presided over all these activities with enthusiasm and many extra hours of labor. We are grateful for his work ethic and his passion for raising grass-fed animals.
Over the last 15 years we have put a number of pots on the stove: farming grapes, making wine, raising grass-fed cattle and sheep, as well as processing and selling packaged meats. All these projects seemed to come to a boil in a scorching and extraordinary 2014: we doubled our wine case count and expanded our wine distribution in Southern California through Wine Warehouse. We increased club members and sales for both wine and beef. So 2014 was one the toughest and most rewarding years of our lives, thanks to your support. Raise a glass of Rangeland wine to a wet and prosperous 2015!
You know you want to
Sign Up For Our Newsletter
Keep up to date on the latest wine releases, events, and promotions and get 10% off your next order.