Beef & Bay Leaves
This year our beef club members will receive a jar of Adelaida Springs Ranch bay leaves in their club box. We have dozens of large, fragrant Bay Laurel trees growing alongside shady creeks and near the natural springs on our ranch. The leaves were picked, dried and packed by Lisa & Courtney. Here's a classic beef stew recipe (adapted from the New York Times) that puts the fragrant bay leaf to good use!
Grass-Fed Beef Stew
Ingredients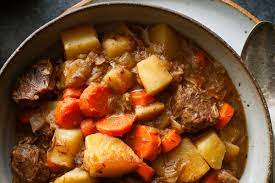 1/4 cup all-purpose flour
1/2 teaspoon freshly ground black pepper
2 teaspoons salt
1 lb. grass-fed beef stew meat, cut into 1" pieces
3-5 teaspoons olive oil
2 Tablespoons red wine vinegar
1 cup red wine
3 1/2 cups beef broth
2 bay leaves
1 medium onion, peeled and chopped
5 medium carrots, peeled and cut into 1/4-inch rounds
2 large baking potaotes, peeled and cubed
1 cup frozen peas (optional)
1. Combine flour and pepper in bowl, add beef and toss to coat.
2. On medium setting, heat 3 teaspoons olive oil in dutch oven or large pot. Salt the beef and then add to the pot in batches; don't overcrowd.
3. Cook, turning until browned on all sides, about 5 minutes per batch. Add more oil as needed.
4. Remove beef from the pot and add wine vinegar and red wine. Cook for 1-2 minutes over medium-high heat, scraping to loosen any browned bits.
5. Add beef, broth, and bay leaves. Bring to a boil and then reduce to a slow simmer.
6. Cover and cook until beef is tender, about 1.5 hours. Check occasionally and add more broth as needed.
7. Add onions and carrots and cook 10 minutes. Add potatoes and cook about 20 minutes more until all veggies are tender. Add peas if using, and cook another 5 minutes.
8. Season with salt and pepper to taste. Serves 4-5. Pair with a good bread and any Rangeland wine!
L​amb Club--Special Charter Offer
We are pleased to introduce our Lamb Club, featuring our Adelaida Spings Ranch grass-fed lamb. Our flock of grass-fat ​d​orper sheep is growing and we had more than 175 lambs last spring. So we finally have a steady supply of good lamb to support a club offering. Lamb Club members will receive two shipments a year, in October and March, for $200 (20% off).The 20 pound box (half a lamb) includes:
Rack of ribs
Loin chops
2 small leg roasts​
Shoulder chops
Riblets
Stew meant and/or shanks
1-2 pounds ground lamb
Sign up now ​and you ​will receive an extra 5 pounds of ground lamb in your first box—a $50 value. If you've had the opportunity to taste our grass-fed ground lamb at events at the ranch, you won't want to miss out on this limited time offer.

Lamb Club members can apply their 20% discount to all Rangeland products, including our estate wines, grass-fed beef, and events. And Lamb Club members taste​ Rangeland Wines and tour the ranch for free. To join the Lamb Club, click here.
Harvest Report
​W​e picked our first grapes on September 3 and our new winemaker Paul Hinschberger is busy ​tasting fruit, scheduling picks, overseeing the processing, and taking care of the wines as they ferment in our new winery processsing "home" at Brecon Estate on Vineyard Drive. ​Our crop has gotten progressively smaller during the 4-year drought, with yields at a dramatic new low this year​, less than 50% of our 2010 peak​. On the bright side, we're confident ​that drought conditions are creating intense flavors and bright acidity. We just won't have as much of our beautiful wine to sell in the next couple of years. As much as we'd like to stop talking about the drought, it continues to dominate our lives. We are sympathetic to all farmers and ranchers trying to raise crops and animals under these historic, harsh conditions.
Bordeaux Special: Two Cabs and a Watershed for $100
We have a killer deal on our beautiful Bordeaux wines—​two 2012 Cab Sauvignons and ​a 2012 Watershed for $100, and that's before you apply your club discount! These ageworthy wines are completely drinkable now and, if you plan to cellar ​them, they will develop beautifully in the bottle over the next few years, or even longer. Click here to order.

Harvest Festival-Set Your Appointment!
​We will be open by appointment only for Harvest Wine Weekend, October 16 to 18, so please plan ahead. We'll be serving grass-fed beef and lamb sliders on Saturday October 17 only! ​Request a reservation online or give us a call​ at 805-674-9232. ​
​​
Save the Date: Pickup Party November 14
Our annual pick-up party for wine, beef, and lamb club members is scheduled for Saturday, November 14 from 12-4. Please save the date! You'll be hearing more about this party in late October. We're planning to serve grass-fed beef chili, a lamb dish, and assorted other goodies. We may have some barrel samples from vintages not yet bottled.

You'll be able to pick up your fall wine club, lamb club, and/or your beef orders at the party. It's also a perfect time to do a little wine shopping before the holidays. This is our favorite event of the year—we love to pour wine and cook for our club members. We look forward to seeing you!
You know you want to
Sign Up For Our Newsletter
Keep up to date on the latest wine releases, events, and promotions and get 10% off your next order.