Beef & Bay Leaves
This year our beef club members will receive a jar of Adelaida Springs Ranch bay leaves in their club box. We have dozens of large, fragrant Bay Laurel trees growing alongside shady creeks and near the natural springs on our ranch. The leaves were picked, dried and packed by Lisa & Courtney. Here's a classic beef stew recipe (adapted from the New York Times) that puts the fragrant bay leaf to good use!
Grass-Fed Beef Stew
Ingredients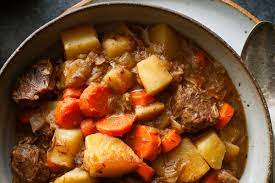 1/4 cup all-purpose flour
1/2 teaspoon freshly ground black pepper
2 teaspoons salt
1 lb. grass-fed beef stew meat, cut into 1" pieces
3-5 teaspoons olive oil
2 Tablespoons red wine vinegar
1 cup red wine
3 1/2 cups beef broth
2 bay leaves
1 medium onion, peeled and chopped
5 medium carrots, peeled and cut into 1/4-inch rounds
2 large baking potaotes, peeled and cubed
1 cup frozen peas (optional)
1. Combine flour and pepper in bowl, add beef and toss to coat.
2. On medium setting, heat 3 teaspoons olive oil in dutch oven or large pot. Salt the beef and then add to the pot in batches; don't overcrowd.
3. Cook, turning until browned on all sides, about 5 minutes per batch. Add more oil as needed.
4. Remove beef from the pot and add wine vinegar and red wine. Cook for 1-2 minutes over medium-high heat, scraping to loosen any browned bits.
5. Add beef, broth, and bay leaves. Bring to a boil and then reduce to a slow simmer.
6. Cover and cook until beef is tender, about 1.5 hours. Check occasionally and add more broth as needed.
7. Add onions and carrots and cook 10 minutes. Add potatoes and cook about 20 minutes more until all veggies are tender. Add peas if using, and cook another 5 minutes.
8. Season with salt and pepper to taste. Serves 4-5. Pair with a good bread and any Rangeland wine!
We often get questions regarding how to cook the tougher or less well-known cuts of both our lamb and beef. Last night we made braised lamb shoulder chops and neck chops and the results were outstanding! We used one package (2 chops) of lamb shoulder chops, and one package (2 smaller pieces) of neck, about 2.5 pounds of meat. The long braise made for a fall-off-the-bone, tender meat. We made this in our favorite cast iron dutch oven, but you could easily put this on low and cook all day in your crock pot. Enjoy!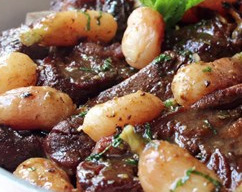 Braised Lamb Shoulder Chops and Neck Meat
1 Tablespoon olive oil
2-3 pounds shoulder chops and/or packaged neck slices (we used one package, of each, a total of 4 pieces)
Salt and freshly ground black pepper
1 small yellow onion, sliced
4 garlic cloves, minced
1 Tablespoon chopped fresh rosemary (or to taste, we used less)
1 cup beef broth
1 cup red wine (we used Rangeland Zinfandel!)
6 ounces fingerling potatoes (we used Yukon gold)
2 Tablespoons cornstarch
1/2 cup water
1 Tablespoon Worcestershire sauce
1. Preheat oven to 300 degrees F.
2. In dutch oven or large skillet, heat olive oil over medium high heat. Season lamb with salt and pepper. Sear lamb in hot oil until browned, 1-2 minutes per side. Remove chops to a plate, reserving pan drippings.
3. Saute' onion in reserved drippings until tender, about 4 minutes. Add garlic and stir for one minute. Remove onion mixture to a small bowl.
4. Return lamb to dutch oven, or, if cooking in crock pot, place in crockpot. Add onion mixture and sprinkle rosemary over the chops. Pour beef broth and red wine into dutch oven or crockpot and cover.
5. Place dutch oven in oven and cook for 3 hours. About 2 hours 45 minutes, add potatoes, stirring in (the potatoes don't have to be fully emerged in liquid to cook). When potatoes or tender, remove pot from oven.
6. Remove lamb and potatoes to a serving platter; cover and keep warm.
7. Heat remaining liquid and onions on stovetop over medium heat. Beat cornstarch and water together in a bowl using a whisk to assure no lumps remain. Stir into liquid in pot. Add Worcestershire sauce and cook until the liquid thickens into a gravy, about 10 minutes. Serve gravy with lamb and potatoes.
You know you want to
Sign Up For Our Newsletter
Keep up to date on the latest wine releases, events, and promotions and get 10% off your next order.