Your Favorite Wine: Window is Closing Soon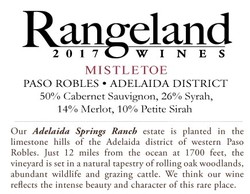 Our 2-fer-1 case special lasts only through July 31. It has been gratifying to see so many customers drink more Rangeland wine--a fine curative for difficult times. Several wines have sold out during the sale, so we are releasing our 2017 Mistletoe ($29 before discounts) during this sale. Mistletoe is a Cabernet/Syrah blend, always a customer favorite and the 2017 is rockin' right now with bright fruit, rich complexity and silky, lasting tannins. See our complete selection of currently available Rangeland wines here. Order 24 bottles for the price of 12. Your club discount applies. No mixed cases--you have to pick a favorite! You can, however, have more than one favorite. Order two cases of your favorite wine(s) by email here.
Vacation Rental
Our Vineyard View Cottage vacation rental is available for several dates in August and September. It's a really lovely, relaxing place to recharge your batteries and enjoy some quiet country living. The 3-bedroom house sleeps six--perfect for a family or 2-3 couples. To view the house and make a booking inquiry, go here.
Contents: Wine Case Special Update, Beef Available, Tasting Room Open, Burgers, Predator!
Your Favorite Wine x 2, Two Weeks to Go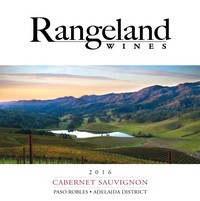 Well, our 2 fer 1 case special has been a big hit. It's really fun selling wine by the case but it's hell luggin' all dem boxes. My son thinks I'm too old (61) to be doing this work. Although my back is a little sore, I say "Pshaw!" All good times have a limit, however, and this sale will last only until July 31, so place your order now via email. We are out of some popular wines like the 2015 Watershed, but the 2016 Watershed is tasting great and we have plenty of 2016 Cabernet, 2016 Petite Sirah and many other fine wines still on hand. See our complete selection here. How it works: 24 bottles for the price of 12. Your club discount applies. No mixed cases--you have to pick a favorite! You can have more than one favorite wine. Order two cases of your favorite wine by email here.
Beef Available Now!
We harvested enough beef to supply our Beef Club list and still have these boxes available:
25 lb Beef Club box, mixed cuts, $300 before club discount
20 lbs Ground Beef, $190 before discount
10 lbs Ground Beef, $110 before discount
With a little more dry-aging time on the rail (3 to 4 weeks), the beef is really tasting good this year. So dark and flavorful. Also nutrient rich and anti-inflammatory--as nature intends it. We feel very proud and privileged to grow and offer this outstanding meat. Order here. You can also sign up for our ongoing Beef Club here.
Tasting Room Open for Outdoors Wine + Food Service
Since we have been seating all our guests outdoors, the recent restrictions have had no effect. We are still pouring wine, Thursday to Monday, 11 to 5. And we are serving killer grass-fed hamburgers on the weekends (Saturday and Sunday, 11 to 4) prepared by the skilled and enthusiastic Prancing Chef. Make an appointment.
Digital Rancher Gets Natural Reminder
I do so much of this work (email, customer service, financials), that I wryly call myself the Digital Rancher. I was sitting at my computer, as usual, this morning when Dane, our ranch manager, walked in with a sad report. Ramses, our male sheep sire (ram), was killed by a mountain lion last night. The lethal wound was a crushing bite to the esophagus. Only a big cat can do this. Losing sheep to predators, especially cougars, is fairly common in the area. This one hit us hard because Ramses was valuable breeding stock, but also the constant companion of our retired quarterhorse Cactus. They were inseparable buddies. Ramses would often stand under Cactus' tail, apparenlty just enjoying the shade without fear of kick or output. Now that's trust. The attack occured just 200 yards or so from our house. Cactus apparently drove the lion away because the ram was not eaten. Must have been quite a scene with Cactus snorting and kicking his arthritic hind quarters to protect his buddy, but moments too late. Can't quite believe all that happened while we were sleeping with the french doors open in that direction. So long live the memory of Ramses and his bromance with Cactus, the protector.
This is a reminder to all of us who are civilized and digitally enabled. When we encroach on Nature, she pushes back with all her powers. I think we'll have to live with all these natural forces: predator, climate and virus.
You know you want to
Sign Up For Our Newsletter
Keep up to date on the latest wine releases, events, and promotions and get 10% off your next order.