Contents: Wine Harvest Update, Cab Special Countdown, Fall Wine Club, Lamb Club, and Events:
Harvest Fest, Full Moon Dinner, and Pick Up Party
Rangeland Harvest 2021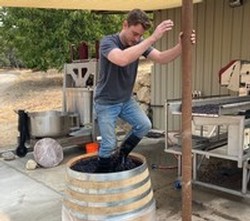 Drought conditions prompted our wine grape harvest to take off at a gallop earlier this month. We have already harvested 30 tons of grapes with Sauv Blanc, Merlot, Syrah and Grenache leading the charge. Most of these picks have been at night to keep the fruit cool. We just started to bring in Cabernet and will likely be done picking by mid-October. New winemaker Alex Kemp is all over the vineyard sampling fruit, directing picks and toting bandejas (luggers of grapes) at all hours. He is trucking fruit down the back roads of the Adelaida almost daily. In the winery, he is trying some new things for us, including barrel fermentations (versus bins or tanks). He is a habitual grape stomper and has Tom Sawyered my son Jackson into the stompfest as well. Alex is using our new glycol pump and jacketed tanks to temperature-tune the rate of fermentation. We are striving (and investing!) for more refinement in the wines while trying to retain our Rangeland energy and sense of place. Stay tuned for the next generation of Rangeland wines. Check out the harvest photo gallery here.
Cabernet Special and The Ticking Clock!
Time is running out on our popular Cabernet special. Order any six or more bottles of these Cabernet-based wines (2017 Limestone, 2017 Cab, 2017 Watershed and 2018 Mistletoe) and receive 10% off your order (in addition to your club discount) and $1 shipping. You can mix and match. The special runs through September. Expired.
Fall Wine Club Selection and Doppel Offer
Our fall wine club selection is detailed below. If you are a six bottle or more club member, we are offering an additional 10% off with $1 shipping if you double your order. For example, a 6-bottle, 20% off Estate Club member would get a full case at 30% off, a discount of about $40 on that case of wine, plus shipping savings. If you would like to take advantage of this fantastische offer to stockpile a little wine for the holidays, please email us.
We will start billling the wine club October 25, but they are available for pickup now. We will ship wine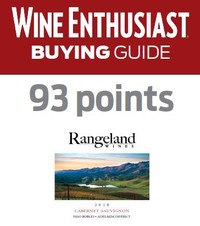 clubs starting November 2. Here is the fall selection:
2020 Grindstone, Sauvignon Blanc and Semillion
*2018 Cabernet, 93 points, Wine Enthusiast, new release
*2017 Limestone Reserve Cabernet
*2018 Petite Sirah
*2018 Mistletoe, 95 points, Sunset Intl. Competition
2018 Zinfandel
*denotes 4-bottle intro club selection
Please let us know by email if you'd like to customize your fall shipment. All the available wines are listed here. Please update your credit card and shipping information, if necessary, at www.RangelandWines.com. You can use your email address to retrieve your password to login.
Lamb Club
We have a limited supply of lamb this fall and will not be able to supply all of our club members. We will contact Lamb Club members by email about this shipment in the weeks ahead.
Harvest Festival, October 15-17, 11-5
We'll be serving grass-fed beef and lamb sliders on Saturday, October 16 and Sunday the 17th from 11 to 4. Charcuterie plates are available Thursday to Monday every week. We'll be pouring some new wine releases too--maybe even a barrel sample. Make a reservation now as this is always a busy weekend. We look forward to seeing you!
Full Moon Dinner, October 23, 6-9 pm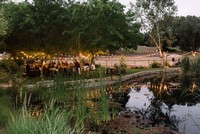 We'll be hosting another full moon dinner at the Rangeland tasting room hosted by Laird, Lisa and our new winemaker Alex Kemp. The menu will feature our delicious, homegrown, grass-fed beef skewers and lamb shanks, as well as tasty sausage and smoked meats from J&R Meats. All paired with Rangeland wines, of course. Seating is limited. Buy tickets here. $100 per guest.
Fall Pick-up Party, Saturday November 13, Noon to 2pm
It's been two years since our last pick-up party, and we've missed this annual gathering. We'll be serving a buffet of treats in the winery: our grass-fed beef chili, some delicious charcuterie, grilled lamb, and Lisa's famous cookies, of course. We'll be pouring the Fall Wine Club lineup, so you can taste, fall in love, and add to your order when you pick up your shipment. For club members only. Reserve your complimentary ticket. Space is limited.
You know you want to
Sign Up For Our Newsletter
Keep up to date on the latest wine releases, events, and promotions and get 10% off your next order.