Beef & Bay Leaves
This year our beef club members will receive a jar of Adelaida Springs Ranch bay leaves in their club box. We have dozens of large, fragrant Bay Laurel trees growing alongside shady creeks and near the natural springs on our ranch. The leaves were picked, dried and packed by Lisa & Courtney. Here's a classic beef stew recipe (adapted from the New York Times) that puts the fragrant bay leaf to good use!
Grass-Fed Beef Stew
Ingredients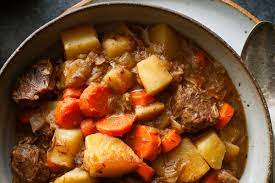 1/4 cup all-purpose flour
1/2 teaspoon freshly ground black pepper
2 teaspoons salt
1 lb. grass-fed beef stew meat, cut into 1" pieces
3-5 teaspoons olive oil
2 Tablespoons red wine vinegar
1 cup red wine
3 1/2 cups beef broth
2 bay leaves
1 medium onion, peeled and chopped
5 medium carrots, peeled and cut into 1/4-inch rounds
2 large baking potaotes, peeled and cubed
1 cup frozen peas (optional)
1. Combine flour and pepper in bowl, add beef and toss to coat.
2. On medium setting, heat 3 teaspoons olive oil in dutch oven or large pot. Salt the beef and then add to the pot in batches; don't overcrowd.
3. Cook, turning until browned on all sides, about 5 minutes per batch. Add more oil as needed.
4. Remove beef from the pot and add wine vinegar and red wine. Cook for 1-2 minutes over medium-high heat, scraping to loosen any browned bits.
5. Add beef, broth, and bay leaves. Bring to a boil and then reduce to a slow simmer.
6. Cover and cook until beef is tender, about 1.5 hours. Check occasionally and add more broth as needed.
7. Add onions and carrots and cook 10 minutes. Add potatoes and cook about 20 minutes more until all veggies are tender. Add peas if using, and cook another 5 minutes.
8. Season with salt and pepper to taste. Serves 4-5. Pair with a good bread and any Rangeland wine!
Spring Changes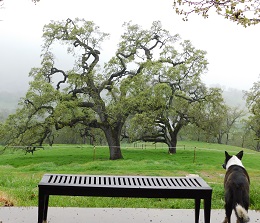 As some of you know, we have been pursuing an estate winery and tasting room permit for several years. We are still working on that but for now, as a result of increased county scrutiny, we are sad to report that we can no longer host wine tastings, tours or events on the ranch. You can imagine how frustrated we are with this situation. We will particulary miss your visits to our home and all the encouragement and generous support you have provided. What will Arrow and the Kitty (the Adorable Madness) do without your constant attention?
On a positive note, we are now offering tastings by Rangeland appointment only at Denner Vineyards' beautiful facility, where we make our wines. (Please do not call Denner for a Rangeland appointment.) Winemaker Paul Hinschberger, whose mastery is reflected in our lastest releases, will host these tastings in the barrel room. I know you will find Paul an engaging and informative host. Also, we are working on a Rangeland tasting room off of the ranch. More to come on that later.
Club News
Our spring wine club will ship and release for pickup on April 25. Here are the wines we are planning to include in this shpment:
2016 Flora Rose' (our most crisp, dry and light wine yet)
2014 Zinfandel
2014 Syrah Mourvedre
2013 Watershed
2013 Cabernet (really starting to come out of its shell)
2013 Limestone Reserve Cabernet (for aging!)
Please update your billing and shipping information, if necessary, at www.RangelandWines.com. All you need is your email address and you can retrieve your password to login. Also please let us know by email if you'd like to customize your spring shipment.
We are planning to ship and release our spring Lamb Club starting April 3, so club members watch your email for related news.
The annual Beef Club shipment is scheduled for early July and we have room available in the club. Each club box includes 25 lbs of beef including steaks, roasts, ground beef and other assorted cuts. Sign up here.
Field Day
Due to county restrictions, this April 29 event has been cancelled.
You know you want to
Sign Up For Our Newsletter
Keep up to date on the latest wine releases, events, and promotions and get 10% off your next order.