Vintage Paso Zinfandel Weekend, March 16 - 18
Join us for Vintage Paso--we still call it Zin Fest--at our Tasting Room in charming and historic downtown Templeton (225 S. Main Street). We'll be pouring a vertical selection of Zinfandels: 2014, 2015, and 2016 (a sneak peak at this new bottling). Of course we'll be pouring a few other reds and winemaker Paul Hinschberger's impressively balanced Chardonnay. We're serving grass-fed beef sliders, nachos and deli platters on Friday and Saturday, 11am to 3pm. Our hours for the festival weekend are:
Friday and Saturday: 11am - 5pm, Grass-fed Beef Sliders and Nachos served 11am to 3pm
Sunday, 11am - 3pm, no food served (but grab and go snacks available)
Zin Special--2 Bottle Vertical for $50, Free Shipping for a Case
To celebrate Zin Fest, we're offering a 2-bottle Zinfandel vertical (2014 and 2015) for just $50--that's before your club discount. If you make it a case (6 specials = 12 bottles for $300, before club discount), shipping is free! It should be fun to compare these two vintages. The 2014 vintage is complex and refreshing, with interesting earthy notes--a Zin for Pinot lovers? The 2015 Zin is wonderfully fruity, with a rare lightness and balance for Paso Robles. Order online here.
Spring Lamb on the Way
We're readying the spring Lamb Club for shipping later this month, in time for Easter. So Lamb Club members should be on the lookout for an email about their shipment. Wine club members can also order the 20 pound box, which sells for $200--20% off. The Lamb Share includes a rack of ribs, loin chops, 2 small leg roasts, shoulder chops, riblets, stew meat and/or shanks, and 1 or 2 pounds of ground lamb. We'll also have 10 lb. boxes of ground lamb available again. Order lamb here.
Spring Wine Club to Ship in May
Our spring Wine Club selection will be ready for pickup starting May 3 and will ship May 9. Here are the wines we are planning to include:
2017 Flora Rose' (substitute 2015 Mistletoe for "reds only")
2015 Zinfandel
2015 Syrah Mourvedre
2014 Cabernet
2013 Watershed
2013 Limestone Reserve Cabernet
Please update your credit card and shipping information, if necessary, at www.RangelandWines.com. You can use your email address to retrieve your password to login. Also please let us know by email if you'd like to customize your spring shipment. All the available wines are listed here.
Wine Club Pick up Party Sunday May 6, 12pm-2pm
All club members (Wine, Beef and Lamb) are welcome to our spring pick-up party! You can taste the wine club line-up, pick up your wine, and enjoy some delicious grass-fed beef tacos, assorted salads and desserts in our garden setting at the Tasting Room. Ground lamb and beef boxes will be available for sale. This event is complimentary to club members and a guest. Space is limited, so reserve your spot now by clicking here.
Rangeland's New Tasting Room Associate
We're pleased to introduce our new tasting room associate, Hayli Macomber. A Templeton native, Hayli recently returned to the Central Coast after several years in New York. We feel very lucky to have her. Please stop in and welcome her to the Rangeland family!
Bottle Beasts, Busy Boys, Crazy Ladies and Horny Pets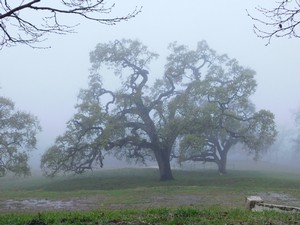 It's been a crappy winter on the Ranch, rain-wise, so our pastures are struggling to stay green. March, however, has come in like a lion and shows some promise of rescuing us with rain last week and more in the forecast.
Nevertheless, we are staying busy in good weather and bad. Winemaker Paul Hinschberger and a crew of volunteers bottled 800 cases of wines in February, including some 2016 reds, the 2017 Rosé and our first ever Savignon Blanc. The volunteers included the "Bottle Beast" Jeremy Thompson, a local club member who has lifted literally every Rangeland bottle onto the line for the last five years. His diligence and strength have been rewarded with Rangeland Wines, of course.
Vineyard Manager Patrick Hamilton guided a small army of contract laborers through 40 acres of pruning last month and the sheep are happily grazing the vineyard cover crop he planted last fall. Now, If only Patrick could keep his midget dog Rebel from trying to copulate with our Great Pyrenees teenager Daphne. At one point Rebel drove her, (or did she lead him?) on a wild escapade miles off the ranch, which ended with them both in the San Luis Obispo county humane society penitentiary for deliquent horny pets.
My adorable, hardworking but wacky wife Lisa often feels like singing "It's the most wonderful time of the year" in March, when there are baby lambs and calves being born every day on the ranch. But all this livestock and the drought conditions make work very lively for Ranch Manager Dane Jensen. He has to move the animals and feed them hay much more frequently in a drought. Dane still manages to look like Clint Eastwood, even as a couple of hundred sheep scatter wildly through my household landscaping and a geyser of water rises from the irrigation pipe they just broke off. Just another day at Adelaida Springs, aka Calamity Ranch.
You know you want to
Sign Up For Our Newsletter
Keep up to date on the latest wine releases, events, and promotions and get 10% off your next order.