Beef & Bay Leaves
This year our beef club members will receive a jar of Adelaida Springs Ranch bay leaves in their club box. We have dozens of large, fragrant Bay Laurel trees growing alongside shady creeks and near the natural springs on our ranch. The leaves were picked, dried and packed by Lisa & Courtney. Here's a classic beef stew recipe (adapted from the New York Times) that puts the fragrant bay leaf to good use!
Grass-Fed Beef Stew
Ingredients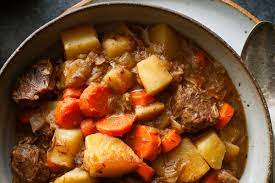 1/4 cup all-purpose flour
1/2 teaspoon freshly ground black pepper
2 teaspoons salt
1 lb. grass-fed beef stew meat, cut into 1" pieces
3-5 teaspoons olive oil
2 Tablespoons red wine vinegar
1 cup red wine
3 1/2 cups beef broth
2 bay leaves
1 medium onion, peeled and chopped
5 medium carrots, peeled and cut into 1/4-inch rounds
2 large baking potaotes, peeled and cubed
1 cup frozen peas (optional)
1. Combine flour and pepper in bowl, add beef and toss to coat.
2. On medium setting, heat 3 teaspoons olive oil in dutch oven or large pot. Salt the beef and then add to the pot in batches; don't overcrowd.
3. Cook, turning until browned on all sides, about 5 minutes per batch. Add more oil as needed.
4. Remove beef from the pot and add wine vinegar and red wine. Cook for 1-2 minutes over medium-high heat, scraping to loosen any browned bits.
5. Add beef, broth, and bay leaves. Bring to a boil and then reduce to a slow simmer.
6. Cover and cook until beef is tender, about 1.5 hours. Check occasionally and add more broth as needed.
7. Add onions and carrots and cook 10 minutes. Add potatoes and cook about 20 minutes more until all veggies are tender. Add peas if using, and cook another 5 minutes.
8. Season with salt and pepper to taste. Serves 4-5. Pair with a good bread and any Rangeland wine!
Rangeland Field Day 2015: Saturday, April 25, 12-3 pm
We are excited about hosting our second Field Day, which was canceled last year due to drought conditions. Field Day 2015 will include wine tasting, food, live music, educational and livestock displays in our beautiful pasture on the ranch flats, as well as an afternoon tour. Here are the details:
Wine: taste Rangeland Wines, including our new 2014 Rosé, and enjoy a glass with your lunch
Food: grass-fed beef and lamb sliders • grilled sausages • salads • baked goodies • gelato • cold lemonade
Music: local, live acoustic band
Ranch and Vineyard Tour: led by owner Laird Foshay at 2:30 to 3:30pm.
Tickets: $40/person, club discounts apply for members and their guests (when purchased by the club member). Children are welcome, and children 12 and under are free. Click here to purchase tickets.
Attendance is limited to 100 guests and the ranch tour has only 30 seats and will fill up fast, so reserve your spot now on our website. If you are a wine club member, you can pick up your spring shipment at the event.
Spring Lamb and Ground Meats Available
Many families traditionally enjoy a lamb dinner during spring time. We have some Adelaida Springs Ranch lamb shares for sale now, so you can serve the very best in humanely handled, pasture-fed lamb--paired with your Rangeland Wines! Your wine or beef club discount applies. Each 20 pound Lamb Share ($250 list price) includes:
1 rack
1 loin, cut into chops
Sirloin and shoulder chops
2 leg roasts
Riblets, shanks and stew meat
A few pounds of ground lamb in 1 pound packages
To place your Lamb Share order, click here.
Ground lamb and beef are still available in 10 lb boxes. We ship anywhere in California or you can pick up your meat either at J&R Meats in Paso Robles, or by appointment at the ranch. All ground meats are vacuum sealed in convenient, 1 lb. packages. Please visit our website to place your order.
We hope to have more 25 lb. Beef Club boxes by the end of June. Join the Beef Club waiting list here.
Spring Wine Club Shipment
We will begin shipping our spring wine club during the week of April 27, so if you have any address or credit card changes, or other special requests, please email us now. This spring wine club will include the following:
2014 Flora Rosé , newly released
2012 Limestone Reserve Cabernet
2012 Watershed (Bordeaux blend)
2012 Zinfandel
2012 Cabernet Sauvignon
2012 GSM

About that Drought
We are counting our blessings for the 18 inches of rain we've received since last fall. We have rich green pastures right now to feed our livestock. Our lake nearly filled with runoff this winter, and that is a critical soure of irrigation water for our grapevines. Nevertheless--barring a very wet April-- this marks the fourth consecutive year of below average rainfall. One thing we've noticed is that the summers haven't really gotten hotter, but the the onset of spring and summer conditions is occurring ealier. Our grapevines, which used to bud-out in April are peeking out in March (some even in February) and are in full growth now. Same for the wild oak trees and domestic plants. We already have our first roses blooming in the garden. These drought conditions have been shrinking our grape and livestock harvest, but thanks to your support, our wine and meat sales are still growing. So are our hopes for better, wetter years to come.
Upcoming: Paso Wine Festival, May 15-17
Our gates will be open Friday to Sunday, May 15 to 17. We'll be serving grass-fed beef and lamb sliders on Saturday and Sunday only.
You know you want to
Sign Up For Our Newsletter
Keep up to date on the latest wine releases, events, and promotions and get 10% off your next order.