August 24, 2023 | Laird Foshay
Rangeland News August 2023
Contents: Cabernet Accolades, Petite Sirah Special, Ground Beef Ships Free and more
2020 Cabernet: 95 Points, Double Gold, Special Price!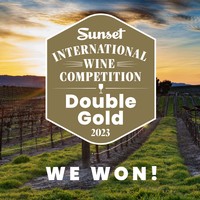 Rangeland's 2020 Cabernet, which we are just now releasing, was awarded 95 points and a double gold medal from Sunset International Wine Competition. Sunset's notes describe our '20 Cab as "dense, silky, smooth tannins, hint of vanilla, elegant." We couldn't agree more. You can get your hands on this "new" wine for $399/case, shipping included, and your club discount applies. That's a 26% discount from the $45 list price! Order here.
For Petite Sirah Fans
We continue to produce a limited number of cases of our estate Petite Sirah--for lovers of this distinctively dark variety. Our 2019 Petite features a deep ruby color with aromas of cherry blossom, notes of blackberry compote, and offers up rich, velvety tannins. Pair with a braised meat dish or an excellent piece of dark chocolate. Through September or while the short supply lasts, we're offering six bottles for $199, before your club discount. That's a 26% discount from the $45 list price! Order here.
Ground Beef Abundance: Free Shipping
We have plenty of our wonderful grass-fed ground beef available in 10 lb. ($120) and 20 lb. ($220) boxes. We're offering free shipping through September on this estate raised and locally processed beef. Your club discount (wine or beef) applies. Order here.
Beef Club Pick-up Reminder
If you are a Beef Club member and you haven't done so already, please pick up your beef club at J&R Meats in Paso Robles (3450 Riverside Drive, Monday-Saturday, 9-5). 2023 is a particularly tasty beef "vintage"--we've been really enjoying this meat at home. You can also arrange to pick up your box at our tasting room (with 48 hour notice), open Thurs-Mon, 11-5. Enjoy a glass of wine while you're there!
Grass-fed Burgers Every Weekend
We continue to serve our tasty grass-fed burgers every Saturday and Sunday--grilled and served on local sourdough with cheese, aioli, pickle and lettuce. Often accompanied by Lisa's pasta salad. Reservations (complimentary wine tasting if you use your club email address) are recommended, but we can usually squeeze a hungry group in, especially on Sundays.
Comments
Commenting has been turned off.
You know you want to
Sign Up For Our Newsletter
Keep up to date on the latest wine releases, events, and promotions and get 10% off your next order.