Beef & Bay Leaves
This year our beef club members will receive a jar of Adelaida Springs Ranch bay leaves in their club box. We have dozens of large, fragrant Bay Laurel trees growing alongside shady creeks and near the natural springs on our ranch. The leaves were picked, dried and packed by Lisa & Courtney. Here's a classic beef stew recipe (adapted from the New York Times) that puts the fragrant bay leaf to good use!
Grass-Fed Beef Stew
Ingredients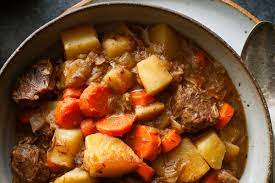 1/4 cup all-purpose flour
1/2 teaspoon freshly ground black pepper
2 teaspoons salt
1 lb. grass-fed beef stew meat, cut into 1" pieces
3-5 teaspoons olive oil
2 Tablespoons red wine vinegar
1 cup red wine
3 1/2 cups beef broth
2 bay leaves
1 medium onion, peeled and chopped
5 medium carrots, peeled and cut into 1/4-inch rounds
2 large baking potaotes, peeled and cubed
1 cup frozen peas (optional)
1. Combine flour and pepper in bowl, add beef and toss to coat.
2. On medium setting, heat 3 teaspoons olive oil in dutch oven or large pot. Salt the beef and then add to the pot in batches; don't overcrowd.
3. Cook, turning until browned on all sides, about 5 minutes per batch. Add more oil as needed.
4. Remove beef from the pot and add wine vinegar and red wine. Cook for 1-2 minutes over medium-high heat, scraping to loosen any browned bits.
5. Add beef, broth, and bay leaves. Bring to a boil and then reduce to a slow simmer.
6. Cover and cook until beef is tender, about 1.5 hours. Check occasionally and add more broth as needed.
7. Add onions and carrots and cook 10 minutes. Add potatoes and cook about 20 minutes more until all veggies are tender. Add peas if using, and cook another 5 minutes.
8. Season with salt and pepper to taste. Serves 4-5. Pair with a good bread and any Rangeland wine!
Rangeland Referrals: Wanted
Most of our customers find us through word of mouth. Your referrals are the lifeblood that keeps our vineyard and ranch going. That helps us conserve this wild and naturally productive landscape. We so appreciate your loyal support and enthusiasm that we're now offering a reward for sending new club members our way: $25 in credit towards Rangeland purchases.
Do you know anyone who may be interested in joining our wine or meat clubs? Anytime a new club member lists you as their "referred by" contact, you will receive a $25 credit applied to your account. Think of them as Ranch Bucks. You can use that credit on RangelandWines.com or in the tasting room for wine, meat, merchandise, events, our vacation rental---anything we do except club shipments. So tell a friend about Rangeland!
Used Rangeland Barrels for Sale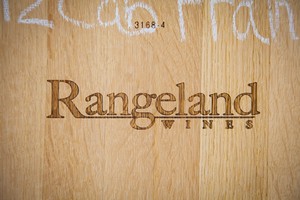 We're getting ready for harvest, and that means our winemaker Paul Hinschberger is up to some serious housekeeping--cleaning and moving equipment, and outfitting for the first season in our "new" winery. Beautiful new French oak barrels have begun arriving, so we now have beautiful old Rangeland barrels for sale. You can do a little DIY woodworking or just place a barrel or two in your garden, a reminder of your favorite Rangeland wines. The used oak barrels are $70 each before club discounts. Place your order here. Supply is limited. They must be picked up at our winery, adjacent to our tasting room in Paso Robles, by appointment.
You know you want to
Sign Up For Our Newsletter
Keep up to date on the latest wine releases, events, and promotions and get 10% off your next order.