Beef Club is Coming
We're busy packing 25 pound beef club boxes this month. Our cattle had an outstanding feed year, thanks to abundant (42 in.) rainfall. The meat looks marvelous. Beef club boxes and ground beef boxes will be available for pick up at J&R Meats at 3450 Riverside Ave. in Paso Robles starting on Friday, June 28. You can also pickup at the tasting room by appointment. We have to transfer the meat there due to limited storage. so we need at least a two day's notice. Beef club shipping will begin the week of July 8. If you're a beef club member, please update your credit card and shipping addresses, if necessary, by logging in at RangelandWines.com.
Beef and lamb is also available for sale to wine club members too--your club discount applies. Non-members can purchase our meat at the listed priice. We know you're going to enjoy this vintage. Order here and be sure to login first to have your discount applied. Or email us with your orders and questions.
Steaks for Sale in Tasting Room
We now have individually packaged steaks, ground beef and ground lamb available for purchase in the tasting room for the first time--a small selection of New Yorks, ribeyes, and filets, and our delicious ground beef and ground lamb (in 1 lb. packages.) Next time you're visiting, consider rounding out your Rangeland wine purchase with some meat-- it pairs beautifully!
Wine Specials
We have a couple of wine specials that offer more Rangeland at better prices:
2018 Flora Rosé Case Special: 12 bottles of our finest Rosé yet for just $240, before club discounts. Order here.
Bordeaux Special 2014-2015: This 3-bottle special includes our 2015 Cabernet Sauvignon, 2014 Watershed (Bordeaux style blend of Cab, Cab Franc, Merlot and Petit Verdot) and 2014 Limestone Reserve Cabernet (92 pts) for $110, a $20 savings before club discounts. Order here.

Vacation Rental Available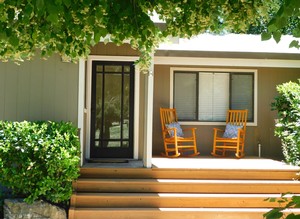 Our newly available Vineyard View Cottage, at 7210 Vineyard Dr., adjacent to our tasting room, has had several visitors already and it is starting to book up for the rest of the year. If you're seeking a peaceful place to stay in the heart of Paso's westside wine country, look no further. The three bedroom/two bath house has beds for 6, including a master suite and two smaller bedrooms, perfect for 3 couples or a family to enjoy. The cottage has a fully equipped kitchen, and a gas grill and hot tub on the back deck, overlooking the surrounding countryside. A complimentary bottle of Rangeland wines awaits. You can buy some meat from the tasting room and grill it that evening on the BBQ on your back porch. Wine country lifestyle right there! More photos.
Our weekday rates (Sun-Wed) are $350/night, and weekend rates (Thurs-Sat) are $400/night, before your club discount. Two night minimum, and unfortunately, we can't allow pets. We will soon have a booking system online. In the meantime, our intrepid tasting room manager Hayli Macomber will field your email and let you know about availability.
Vineyard and Ranch Report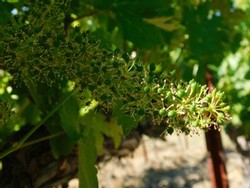 Our vineyard has been mostly mowed and tilled and it's now setting fruit after a glorious bloom, with shoots topping the stakes already. After a wet winter and spring, we're just running our first irrigation--so we're well down the road toward harvest, which will likely start in September. Our new vineyard manager Adam Campbell-Taylor has been working long hours, supervising work crews and logging some serious time on the tractor, when he's not fishing in our ranch lakes or at the coast!
The long winter has also helped keep our livestock herds healthy too. Both cattle and sheep are enjoying (putting up with) their new offspring and wading through rich grasses. Ranch manager Dane Jensen just brought our sheep back to the ranch--they spent "spring break" at the tasting room property, mowing much of that property.
Wines and the Winery
We just finished bottling the last of the 2017 wines, which exhibit opulent fruit aromas and flavors. We've moved the last barrel out of Denner, where we've been making wine for the past three years, and are currently in the process of equipping our new winery. Winemaker Paul Hinschberger is busy with plumbers, electricians and more. We are really looking forward to making our wine at our new home this fall. It will be fun to share the excitement of processing fruit and winemaking with our visitors, which we have rarely been able to do in the past.
We will be closed July 4.
You know you want to
Sign Up For Our Newsletter
Keep up to date on the latest wine releases, events, and promotions and get 10% off your next order.