In this issue: Thanks, Wine Specials, Beef Specials, Used Barrels, Wreath Event, Holiday Hours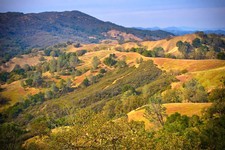 It has been a huge year for Rangeland. We opened the tasting room in January, launched our vacation rental (Vineyard View Cottage) in June, and completed our first harvest in our home winery this fall. We're so thankful for your enthusiastic support. Lisa and I turned 60 this year, and we decided we are in it for the long haul to conserve our beautiful ranch for posterity. So enjoy your Rangeland wines and meats for the holidays, gift them generously, and savor the thought that you are helping preserve the wild, beautiful hills where they grow.
2016 MISTLETOE CASE FIRE SALE--THE PERFECT HOLIDAY GIFT
Admit it, you've been good this year. So take advantage of this amazing deal and give yourself a case of 2016 Mistletoe at a fire sale price. At just $200/case (that's before your club discount), you can also take care of everyone on your Christmas list. Mistletoe makes a wonderful gift and is a perfect accompaniment to your holiday meals. $1 shipping (use coupon code $1ship). Order here. To read more about the Chimney Fire that gave the 2016 Mistletoe a smoky hint, read my blog post Legacy of Fire.
BORDEAUX SPECIAL: THREE 2015 CABS FOR $110
We love Cabernet, and we especially love it in the winter, when it pairs so beautifully with rich hearty meals. We're offering a special on our Cabernet-based wines: 2015 Cabernet, 2015 Watershed, and 2015 Limestone Reserve Cab for just $110--save $20 before club discounts and just $1 shipping (use coupon code $1ship). Order here.
ROSÉ SPECIAL: $200 PER CASE
We are down to the last dozen cases of our nicely fruity but entirely dry 2018 Flora Rosé. So if you'd like to have some for the holidays (it pairs nicely with turkey) or your cellar, take advantage of this killer offer: $200 per case before club discounts and just $1 shipping (use coupon code $1ship). Order here, while they last.
BEEF SPECIAL: $1 SHIPPING
Hard-to-shop-for, but important people on your holiday gift list? How about a 10 pound box of grass-fed ground beef ($110), or 20 pounds ($190), or a 25 lb. beef club box of mixed cuts (steaks, roasts, ground and extras, $300)? You're giving the gift of health--delicious, nutrient-rich grass-fed beef--and a gift that will be enjoyed well into 2020. Club discounts apply. $1 shipping (use coupon code $1ship). Place your order here.
USED OAK BARRELS FOR SALE
We have a few retired oak barrels still available. Our used oak barrels are marked down to $50 each before club discounts. Place your order here. Supply is limited. They must be picked up at our winery, adjacent to our tasting room in Paso Robles, by appointment.
WREATH WORKSHOP SATURDAY DECEMBER 7
We have a couple of spots left in this annual workshop, taking place at the tasting room from 10-12. Lisa will guide you through making a fresh wreath with greens from the ranch. Bring garden shears, if you have a favorite pair, but that's all you'll need. Dress warmly, as we may be outside. For $50 you'll leave with a gorgeous wreath you made yourself, and a bottle of Mistletoe. Sign up here.
THANKSGIVING HOURS
We are closed Thanksgiving Day, November 28. We'll be open Friday Novebmer 29 through Monday December 2, 11 to 5 as usual.
CHRISTMAS HOLIDAY HOURS
We are closed Christmas Eve and Christmas Day, and New Year's Eve and New Year's Day. We'll be open for business the rest of the holiday, our regular hours, 11-5 Thursday - Monday. If you have a group larger than 6, please call or email to make a tasting appointment.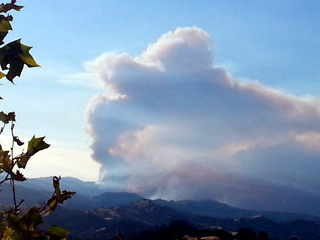 With all the fires in California in recent years, some of you may have forgotten the Chimney Fire, which lasted for several weeks in August of 2016, eventually burning 46,344 acres. The fire started near the southwest shore of Lake Nacimiento, at the base of the Santa Lucia coastal range, burning homes, brush, oak forest and everything else in its path. As it moved slowly southeast toward us during the first few days of the fire, it came within 7 miles of our ranch and vineyard. We watched nervously from our back terrace as the towering pyro cumulus smoke cloud rose to 15,000 feet and more, while fire bombers circled and dove around the inferno like furious wasps. Mornings on our ranch were sometimes shrouded in smoke, with visibility reduced to just a few hundred yards. We started trimming trees and tilling firebreaks around our house. An army of firefighters (more than 4,000), trucks and equipment set up camp at the Paso fair grounds and battled the blaze at all hours. Several days into the fire, we were relieved when the winds shifted and started to drive the fire away from us and into the coast range, eventually threatening Hearst Castle. Many people were not so fortunate: 49 homes were destroyed in the inferno.
Our harvest began the day the fire was fully contained: September 6, 2016. As we fermented, aged and blended the wine, we tasted carefully for hints of smoke taint but found none. After bottling, however, a different story emerged and some of our 2016s, especially the Mistletoe blend, sometimes exhibited a notable smoky aroma and taste. At other times it is mysteriously smoke free—which has us wondering whether it is bottle variation or due to changes in storage or tasting conditions, like barometric pressure, temperature, or even lunar cycles. Whatever the cause of these variations, we are aware that this wine is flawed and not entirely as we intended. Al-though we are still enjoying it ourselves and consider it a good deal better than just "drinkable", we are offering it at a very drinkable "fire sale" price: $20 per bottle and $200 per case, before club discounts. So Mother Nature's fiery wrath took our 2016 Mistletoe up the Chimney (Fire), but Santa is coming down the chimney with an affordable case of Mistletoe—just in time for the holidays.
You know you want to
Sign Up For Our Newsletter
Keep up to date on the latest wine releases, events, and promotions and get 10% off your next order.