November 20, 2019 | Laird Foshay
Legacy of Fire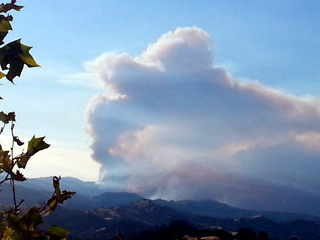 With all the fires in California in recent years, some of you may have forgotten the Chimney Fire, which lasted for several weeks in August of 2016, eventually burning 46,344 acres. The fire started near the southwest shore of Lake Nacimiento, at the base of the Santa Lucia coastal range, burning homes, brush, oak forest and everything else in its path. As it moved slowly southeast toward us during the first few days of the fire, it came within 7 miles of our ranch and vineyard. We watched nervously from our back terrace as the towering pyro cumulus smoke cloud rose to 15,000 feet and more, while fire bombers circled and dove around the inferno like furious wasps. Mornings on our ranch were sometimes shrouded in smoke, with visibility reduced to just a few hundred yards. We started trimming trees and tilling firebreaks around our house. An army of firefighters (more than 4,000), trucks and equipment set up camp at the Paso fair grounds and battled the blaze at all hours. Several days into the fire, we were relieved when the winds shifted and started to drive the fire away from us and into the coast range, eventually threatening Hearst Castle. Many people were not so fortunate: 49 homes were destroyed in the inferno.
Our harvest began the day the fire was fully contained: September 6, 2016. As we fermented, aged and blended the wine, we tasted carefully for hints of smoke taint but found none. After bottling, however, a different story emerged and some of our 2016s, especially the Mistletoe blend, sometimes exhibited a notable smoky aroma and taste. At other times it is mysteriously smoke free—which has us wondering whether it is bottle variation or due to changes in storage or tasting conditions, like barometric pressure, temperature, or even lunar cycles. Whatever the cause of these variations, we are aware that this wine is flawed and not entirely as we intended. Al-though we are still enjoying it ourselves and consider it a good deal better than just "drinkable", we are offering it at a very drinkable "fire sale" price: $20 per bottle and $200 per case, before club discounts. So Mother Nature's fiery wrath took our 2016 Mistletoe up the Chimney (Fire), but Santa is coming down the chimney with an affordable case of Mistletoe—just in time for the holidays.
Comments
Commenting has been turned off.
You know you want to
Sign Up For Our Newsletter
Keep up to date on the latest wine releases, events, and promotions and get 10% off your next order.