Beef & Bay Leaves
This year our beef club members will receive a jar of Adelaida Springs Ranch bay leaves in their club box. We have dozens of large, fragrant Bay Laurel trees growing alongside shady creeks and near the natural springs on our ranch. The leaves were picked, dried and packed by Lisa & Courtney. Here's a classic beef stew recipe (adapted from the New York Times) that puts the fragrant bay leaf to good use!
Grass-Fed Beef Stew
Ingredients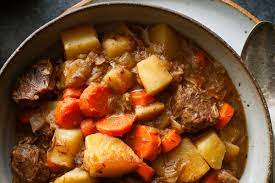 1/4 cup all-purpose flour
1/2 teaspoon freshly ground black pepper
2 teaspoons salt
1 lb. grass-fed beef stew meat, cut into 1" pieces
3-5 teaspoons olive oil
2 Tablespoons red wine vinegar
1 cup red wine
3 1/2 cups beef broth
2 bay leaves
1 medium onion, peeled and chopped
5 medium carrots, peeled and cut into 1/4-inch rounds
2 large baking potaotes, peeled and cubed
1 cup frozen peas (optional)
1. Combine flour and pepper in bowl, add beef and toss to coat.
2. On medium setting, heat 3 teaspoons olive oil in dutch oven or large pot. Salt the beef and then add to the pot in batches; don't overcrowd.
3. Cook, turning until browned on all sides, about 5 minutes per batch. Add more oil as needed.
4. Remove beef from the pot and add wine vinegar and red wine. Cook for 1-2 minutes over medium-high heat, scraping to loosen any browned bits.
5. Add beef, broth, and bay leaves. Bring to a boil and then reduce to a slow simmer.
6. Cover and cook until beef is tender, about 1.5 hours. Check occasionally and add more broth as needed.
7. Add onions and carrots and cook 10 minutes. Add potatoes and cook about 20 minutes more until all veggies are tender. Add peas if using, and cook another 5 minutes.
8. Season with salt and pepper to taste. Serves 4-5. Pair with a good bread and any Rangeland wine!
Holiday Reminder
There is just a little time left for holiday orders. West coast wine orders received by Wednesday, December 19 will likely reach the recipient by Christmas. Our holiday specials are still available:
$1 shipping on all December orders. Use coupon code $1ship on RangelandWines.com or send us the order info by reply email.
Mistletoe Special, 2 bottles for $50 before club discounts. We sold out of the 2015 Mistletoe but we are extending the offer with the dark, luscious and fruity 2016 Mistletoe, a blend of Cab, Syrah and Petite Sirah. Order now!
Bordeaux Special. $110 for three bottles. One each of the 2014 Limestone Reserve Cabernet, 2015 Cabernet Sauvignon and the 2014 Watershed. Order now!

Follow the Bouncing Rangeland Ball to...Vineyard Drive!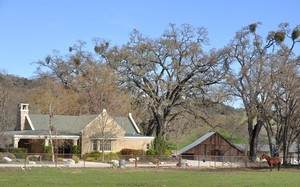 Starting January 3, 2019, we are opening a new tasting room on Vineyard Drive, at the corner of Peachy Canyon. The new Rangeland Wines tasting room address is 6996 Peachy Canyon Road in Paso Robles. Our expanded tasting room hours will be Thursday to Monday, 11:00 am to 5:00 pm. We are closing our Templeton tasting room permanently on December 30 at 3:00 pm, our last day there.
After years of limited public access to Rangeland Wines at the ranch and more recently at our small tasting room in Templeton, we are pleased to own an already permitted tasting room and small winery on the "main drag" of Paso Robles westside wine country. This property has grand heritage oaks, an old barn and walnut orchard. So after years of seeking, we will finally be making and selling our wine in one scenic, accessible location, just a couple of miles from our Adelaida Springs Ranch. We are excited about this new chapter. It is the capstone to a long quest. It's also a big commitment for Lisa and me, but we are striving to make our ranch and winery financially as well as environmentally sustainable, so we can conserve its natural beauty permanently. When you support Rangeland wines and meats, you get authentic local, natural quality and you are helping conserve a 1,500 acre swath of pristine California oak woodland, with all the thriving wildlife and natural beauty largely intact. We so appreciate and need your help!
We will be sharing the new tasting room with another small winery. More on that when they are ready to occupy after the New Year. We also hope to offer ranch tours and food from our new location, but it will take some time to pull those offerings together. Watch our newsletters for updates.
Warm thanks to Melanie Blankenship and Teresa Rojo-Branch and the rest of the crew at Nature's Touch in Templeton. They have been our landlord and food preparation partners for the last 14 months. It was great to be in the heart of the small Templeton community. We enjoyed sharing our grass-fed meats and estate wines with our customers there. We'll miss our "regulars." We encourage our customers to continue to patronize Nature's Touch for their good natural food and organic produce--including grass-fed beef sliders and nachos!
You know you want to
Sign Up For Our Newsletter
Keep up to date on the latest wine releases, events, and promotions and get 10% off your next order.