Contents: Fall Wine Club, Doppel Club offer, Lamb Club, Free Lunch "Party", Harvest Fest, Toots-a-Loo!
Wine Club + Doppel Offer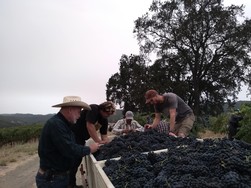 Harvest is in full swing under hot, smoky conditions. Winemaker Paul, harvest intern Luke and vineyard manager Eusebio are hard at it, while I kibbitz the operation. With 25 tons of grapes fermenting in the winery and more picked every day, we are almost over the harvest hump.
So it must be time to announce our fall Wine Club selection, detailed below. If you are a six bottle or more club member, we are offering an additional 10% off with $1 shipping if you double your order. For example, a 6-bottle, 20% off Estate Club member would get a full case at 30% off, a discount of about $40 on that case of wine, plus shipping savings. If you would like to take advantage of this offer to stockpile a little wine for the holidays, please email us.
We will start billling the wine club October 22, but they are available for pickup now. We will ship wine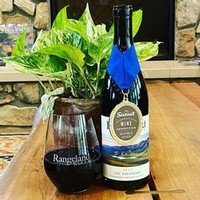 clubs starting November 2. Here is the fall selection:
2019 Sauvignon Blanc* - new release!
(or 2016 Ultramafic for reds only members)
2016 Cabernet*
2017 Mistletoe
2017 Petite Sirah*
2016 The Shepherd - new!, 96 points, double gold from Sunset Magazine
2016 Watershed*
*denotes 4-bottle intro club selection
Please let us know by email if you'd like to customize your fall shipment. All the available wines are listed here. Please update your credit card and shipping information, if necessary, at www.RangelandWines.com. You can use your email address to retrieve your password to login.
Lamb Club
Our fall Lamb Club is harvested and packed. We'll be billing Lamb Club on October 15. You can pick up your shipment beginning Monday, October 19 at J&R in Paso and we'll be shipping that same day. Shipping orders will get an email notice beforehand. Please make an appointment if you'd like to pick up your lamb at the tasting room. Update your info online, clear out your freezer and get ready for this savory, sustainably raised lamb.
Club Member Appreciation Pickup "Party":
The Free Lunch!
Since we are unable to hold our traditional pick up party, we are inviting all of our club members (wine, beef and lamb) to a enjoy a truly free lunch on Sundays only: October 25, November 1, 8 and 15. Each Intro (4 bottle) or Estate (6 bottle), Beef or Lamb Club membership will entitle you to one free grass-fed burger or bowl of chili, a side dish and a "Lisa cookie" on these dates. Case Club (12 bottle) members and "Doppel" fall wine club orders can receive two free lunches. Reservations are required.
Harvest Festival
Paso Robles Harvest Festival is October 16-18, and we will be open and serving our grass-fed burgers as usual, Saturdays and Sundays only, from 11-4. There may even be a lamb burger on the menu! We expect to still be serving outside only, with social distancing measures in place. Please make an appointment here. You may even get a peak at the 2020 wines being processed in the winery-- a bright spot in this crazy year. We look forward to seeing you!
The Legend of "Toots-a-Loo!"
As many of our longtime customers know, I like to inject a little revealing humor into our newsletter. Well, this little ditty is on the top of my stack lately.
Some of my kids were visiting recently. We were all sitting around the dinner table after a little bit of wine and the conversation took a dark turn about aging and vulnerabililty. Have you noticed how often that happens since the VIRUS has been with us? Anyway, somehow the conversation focused on me, Daddy, and the kids started talking gleefully about what a hideous curr I will become if incapacitated in my (current) old age.
I did not deny this. My record as an occasional patient is a stark monument to profanity, non-cooperation and narcissitc self-absorption bordering on hypochondriacal hysteria. Nevertheless, even Trump deserves a little empathy for his mania and current illness. So I was looking desperately around the table for a little mock sympatico. My eyes settled on my wife Lisa, who was positively bubbling with good humor.
Lisa is widely known for her nurturing and compassionate behavior. She donates children's books to libraries. She helps the developmentally disabled. Except for me. She is constantly cooking meals for the sick and bereft. Her plates of cookies flow like a beneficent Niagara of sweet flavors and tidings. She is a substantional source of sunshine and good cheer to all who know her. Well, almost all. She is my rock and my muse. So I was expecting her to come to my defense at any moment against the Spawn, when she volunteered the following observation: "Well, if it comes down to having to change dad's diapers, it's toots-a-loo for me, kids!"
While my mouth hung open in gap-toothed amazement, the rest of the family was pounding the table and laughing like a bunch of berserk chimpanzees. To amplify this insulting and profoundly hurtful interlude, my eldest son began to explain how "Although Dad is pretty funny sometimes, he tries way too hard. But Mom hangs back and then hits you with a humor bomb like "Toots-a-loo!" She's the really funny one."
Now I hear "toots-a-loo" all the time from my loved ones. Over and over again. So I admit it. I'm a bad patient. I'm cantankerous. I'm destined to be abandoned in my dotage by my laughing wife and kids. I'll be left to die at the hands of a busty Nurse Rachet (it's my dark fantasy!) in the wild Adelaida hills. My grave will be trampled by the very livestock I bred. No, I mean husbanded. I mean.... Oh you know what I mean! I'll be dug up by wild animals. My rotting carcass will be torn limb from limb by a pack coyotes competing to digest my withered remains. Clearly, I try way too hard. And I'm not even very funny.
You know you want to
Sign Up For Our Newsletter
Keep up to date on the latest wine releases, events, and promotions and get 10% off your next order.