Beef & Bay Leaves
This year our beef club members will receive a jar of Adelaida Springs Ranch bay leaves in their club box. We have dozens of large, fragrant Bay Laurel trees growing alongside shady creeks and near the natural springs on our ranch. The leaves were picked, dried and packed by Lisa & Courtney. Here's a classic beef stew recipe (adapted from the New York Times) that puts the fragrant bay leaf to good use!
Grass-Fed Beef Stew
Ingredients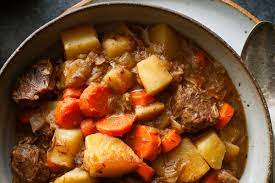 1/4 cup all-purpose flour
1/2 teaspoon freshly ground black pepper
2 teaspoons salt
1 lb. grass-fed beef stew meat, cut into 1" pieces
3-5 teaspoons olive oil
2 Tablespoons red wine vinegar
1 cup red wine
3 1/2 cups beef broth
2 bay leaves
1 medium onion, peeled and chopped
5 medium carrots, peeled and cut into 1/4-inch rounds
2 large baking potaotes, peeled and cubed
1 cup frozen peas (optional)
1. Combine flour and pepper in bowl, add beef and toss to coat.
2. On medium setting, heat 3 teaspoons olive oil in dutch oven or large pot. Salt the beef and then add to the pot in batches; don't overcrowd.
3. Cook, turning until browned on all sides, about 5 minutes per batch. Add more oil as needed.
4. Remove beef from the pot and add wine vinegar and red wine. Cook for 1-2 minutes over medium-high heat, scraping to loosen any browned bits.
5. Add beef, broth, and bay leaves. Bring to a boil and then reduce to a slow simmer.
6. Cover and cook until beef is tender, about 1.5 hours. Check occasionally and add more broth as needed.
7. Add onions and carrots and cook 10 minutes. Add potatoes and cook about 20 minutes more until all veggies are tender. Add peas if using, and cook another 5 minutes.
8. Season with salt and pepper to taste. Serves 4-5. Pair with a good bread and any Rangeland wine!
Contents: Winemaker Tastings, New Wine Clubs, Wine Specials, Beef Specials, Events
Landed on Vineyard Dr.
Our new tasting room opened January 3 at 6996 Peachy Canyon Road (at the corner of Vineyard Drive) and we have been busy! We so appreciate club members, friends and neighbors stopping in to check out the new digs. We're also meeting new guests who've come in to enjoy our scenic 50 acre farm. It is very pleasing for us to watch our visitors fall into the "country trance" as they gaze out over the pond, pastures, historic barn, orchard and heritage oaks. It reminds us of the "ranch fugue state" experienced by visitors to our home. We like to think we are offering the peace and pleasure of being connected to the natural world. That's a hard thing to find in our modern, tech-driven existence. You are welcome to bring a picnic or snacks to the tasting room. You can dine outside on the patio or by the pond, or inside by our fireplace. We look forward to seeing you! Hours are Thursday - Monday, 11am - 5 pm.




Introducing: Private Winemaker Tastings
We're excited to announce private tastings with our winemaker Paul Hinschberger. He will guide you through a selection of wines (current, library, or not-yet-released), sharing his knowledge about grape varieties, vintages, source location and the wine making process. We hope you'll come away with a new appreciation of winemaking styles and the unique properties of our vineyard and Paso's westside. By appointment only, the price is $50/person before club discounts, and each pair of guests leaves with a bottle of wine. Minimum party of 4, and allow at least 1 hour for the tasting. Request a tasting by filling out our appointment form.
New Wine Clubs
We're introducing two new club formats to encourage loyal customers. If you or anybody you know is on the fence, now's the time to jump off and join!
Rangeland Intro Club--15% Discount
Our first ever 4-bottle club, the Intro Club ships 4 bottles twice a year, in fall and spring. Club boxes run approximately $125 before tax and shipping. Intro Club members receive 15% off all wine, merchandise, and beef/lamb; complimentary tastings for 2. Sign up here.
Case Club--Now 25% Off
We're increasing the Case Club discount to 25%. If you're already in the Case Club, you'll notice that deeper discount when you purchase your next bottles. And if you've been in the 6-bottle Estate Club, consider upgrading to enjoy more wine at better prices. As always, the discount applies to all Rangeland products (meats, events, merchandise like cool hats and corkscrews), and allows free tastings for up to six people, any time you visit us. Sign up here.
Limestone Reserve Wine Special
We treated all of our January visitors to a taste of our 2014 Limestone Reserve Cabernet Sauvignon, a wine we ordinarily reserve for club shipments. It's been pouring very nicely: fruit foward but with that elegant, mineral edge and supple mouthfeel. We're offering a 2 bottle special of 2013 and 2014 Limestone Reserve Cab for just $80--before club discounts. Place your order here.
Grass-fed Beef Specials: Price Increase Coming
We have some beef club boxes remaining from our 2018 harvest, frozen fresh in vacuum packaging. Our 2019 beef club box will increase to $300 before club discount in June, so take advantage of the current pricing and stock your freezer now:
Beef Club boxes (25 lbs. including steaks, roasts, ground and more) $250 before club discount. Order here
Two for $200 each ($400 total), before club discounts. Killer price. Order here.
Ground Beef boxes:
Upcoming Events
Vintage Paso Zinfandel Weekend, March 15-17, 11am to 5 pm
Taste traditional Paso varieties like Zinfandel and Petite Sirah, as well as other Rangeland selections. We'll feature a Zin vertical special for purchase. We'll be grilling our grass-fed beef sliders on Saturday only, for purchase, from 12-4. You're welcome to picnic on the grounds.

Rangeland Field Day, Saturday, April 27, 12pm to 3pm--Save the Date!
The tasting room will be closed, as we will all be enjoying the afternoon in the pasture of our new tasting room property. Field Day includes a BBQ lunch (featuring our beef and lamb), live music, live animals (cows and calves, ewes and lambs, maybe our horses!) You'll get a chance to hike or ride to the top of the property, which has stirring views of the surrounding countryside. Your spring club shipment will be available for pick up that day as well. Save the date; more info to come!

Paso Robles Wine Festival, May 16-19, 11am to 5pm
Special wine tastings including our new 2018 Flora Rosé. We'll be grilling our grass-fed beef sliders on Saturday only, for purchase, from 12pm to 4pm. You're welcome to picnic on the grounds.
You know you want to
Sign Up For Our Newsletter
Keep up to date on the latest wine releases, events, and promotions and get 10% off your next order.