Contents: Wine Club, Pick Up Party, Ground Beef, Firewood, Late Harvest
Fall Wine Club: Send in the Caberlry!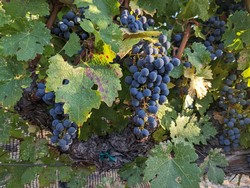 Since we began as wine grape growers in 2001, Cabernet Sauvignon has been the foundation of our Adelaida Springs Ranch estate vineyard, comprising 20 of our 40 planted acres. We are celebrating noble Cabernet this fall by sending you some of the finest wines we have ever made--dominated by Cabernet varietal fruit. Our fall club selection includes two bottles of our award winning 2020 Cabernet, as well as one each our Limestone Reserve Cab, and a new Sandstone Cabernet. This new bottling from winemaker Alex Kemp highlights the supple mouthfeel and complex, aromatic fruitiness derived from this distinct soil type. Here's our fall wine club lineup (*denotes our 4 bottle Intro Club selection):
2020 Cabernet* x 2 (95 pts, double gold in the Sunset International Wine Competition)
2020 Limestone Reserve Cabernet*, a new release
2020 Sandstone Cabernet*, an entirely new wine
2020 Watershed*, new release of our Bordeaux blend
2020 Mistletoe, just in time for the holidays!
As usual, we are making our Doppel Club offer. If you are a 6 or 12 bottle member, you can double your order for an additional 10% discount and $1 shipping. For example, a 6 bottle, 20% off Estate Club member would get a full case of wine at 30% off, or more than $100 in savings. If you'd like to take advantage of this zuper offer to stockpile some wine for the holidays, please email us.
We will begin billing the wine club October 17 and will ship between October 30 and November 6. If you want your wine club earlier, you can pick up at the tasting room beginning October 5. Please let us know by email if you'd like to customize your fall shipment. All available wines are listed here. If you need to update your credit card or shipping information, you can log in to www.rangelandwines.com, and use your email address to retrieve your password.
Pick Up Party Saturday, November 11
We'll be serving up a great assortment of hearty and authenic local food at our pick up party, including our home-made grass-fed beef chili, lamb sliders, grilled J&R sausages, and Lisa's famous cookies. We'll be pouring the fall wine club lineup so you can taste everything and possibly add more favorites to your order. This party is complimentary for wine and beef club members and their plus one guests. Reserve your tickets now, as space is limited. November 11, 12 to 3pm.
Free Shipping for Ground Beef This Fall
We have plenty of our juicy and savory ground beef available for sale: 10 lbs. for $120, and 20 lbs. for $220 (before your club discount). Shipping is included. The beef is conveniently packaged in 1 pound packs, and ships frozen and on ice. This offer is good until the end of the year, while supplies last. Orders received after November 27 will be shipped in January. This would make an excellent holiday gift for the meat lover in your life! Order here.
Firewood Time!
Thanks to that epic winter of 2023, we lost a few more trees and have plenty of oak wood split and ready for you to enjoy this winter. Our half cord pallets are $250 before your club discount. If you're interested, please email us to make arrangements for pickup at the winery.
Harvest Update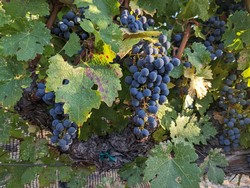 Last year, due to a historic heat wave, we were finished picking by September 15. Most years we are done by early October. But this year, due to a wet winter (64 inches of rain) and cool spring, we have yet to pick the first grape. And so the pendulum swings. Back in 2011, we had similar conditions and then we were hit with October rains that pushed harvest into November. Remembering that cold, wet harvest, with mud on the tractors, still brings a shudder. We hope to avoid that this year, because it puts the crop, our nerves, and wine quality at risk. The upside for 2023 is that the fruit looks good, flavors are developing nicely and the sugars are inching up. Hopefully Mother Nature will shine just a little hotter in the next few weeks, and we can bring this harvest home in good shape. We look to the autumn skies with a cautious smile.
You know you want to
Sign Up For Our Newsletter
Keep up to date on the latest wine releases, events, and promotions and get 10% off your next order.