In this issue: Wine Specials, Beef Specials, Holiday Hours, Swan Songs & Futures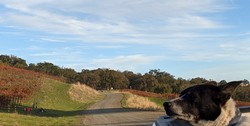 As Thanksgiving approaches, the curtain is closing on another vintage, another year. Thanks to some early rains, it's also a season of renewal, with green grass covering the hills of Paso Robles. We look foward to 2022, which promises more growth for Rangeland. We are so thankful for your support and ardent appreciation.
2018 MISTLETOE CASE SALE--THE PERFECT GIFT
Naughty or nice, you can give yourself a case of alluring 2018 Mistletoe (95 points, Sunset International Wine Competition). I have been calling it the best $29 bottle of wine in America. But at this special case price--$250 (that's $20.83 per bottle before your club discount)--it's just a crazy value for a wine so packed with appealling fuit and complexity. You can take care of everyone on your Christmas list or hoard it for your owns! $1 shipping (use coupon code $1ship). This wine is sold out :(.
CABERNET VERTICAL SPECIAL


Our 2017 estate Cabernet features opulent fruit, and the 2017 Limestone Reserve Cab is hitting stride with characteristic zest and sharp focus. By contrast, the 2018 Rangeland Cabernet (93 points, Wine Enthusiast) tends toward savory elegance and sagey complexity. These 3 Cabernets make a fascinating and delicious tasting array for your friends and family for the holidays. Or stuff your cellar with these beauties for the long winter and the years to come. We're offering these 3 bottles for $100. You save $30 before club discounts and just $1 shipping (use coupon code $1ship). Order here.
RED AND WHITE GIFT SPECIAL
For loved ones who are "Rangeland worthy," how about two bottles of fine wine: a 2018 Shepherd (Rhone Blend) and a 2020 Grindstone (Sauv Blanc blend), both Rangeland favorites, for $60 before club discounts and just $1 shipping (use coupon code $1ship). Order here.
BEEF SPECIAL: $1 SHIPPING
Hard-to-shop-for, but important people on your holiday gift list? How about a 10 pound box of grass-fed ground beef ($120) or 20 pounds ($220). Or go all-in for a 25 lb. beef club box of mixed cuts (steaks, roasts, ground and extras, $350). Club discounts apply. You're giving the gift of health--delicious, nutrient-rich grass-fed beef--that will be enjoyed well into next year. $1 shipping (use coupon code $1ship). We will ship all meat orders in January, after the holiday package rush, but we can send a gift card for you in December. Place your order here.
CLOSED CHRISTMAS AND NEW YEARS
We will be closed from December 25 through January 2.
Walnut Swan Song, New Chapter
As many of you know, our winery and tasting room property on Peachy Canyon Road includes a 28 acre walnut orchard. We just completed the annual harvest of walnuts and we invite you to purchase a few of these wonderful dry-farmed, organic nuts in the shell, available at the tasting room.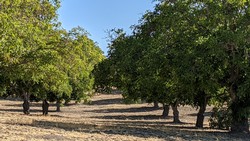 In 2018, we took a deep breath and bought the property to give Rangeland a tasting room with more exposure to Vineyard Drive traffic and also to provide a permanent home for our winemaking. We had spent more than ten years making wine in shared, rented facilities, so it has been hugely satisfying to have our own cellar space. But the ultimate source of value in the property is still undeveloped: it's a vineyard site with tremendous potential. Tucked in the northwest corner of the Paso Robles Willow Creek District American Viticultural Area (AVA) and blessed with loamy, calcareous soils, our goal is to develop this property to provide Rangeland Wines and maybe a few lucky neighbors with world class wine grapes.
So we have made the Big Decision: we are removing 500 handsome, old (but not very productive) walnut trees in preparation for vineyard development. Work will start before year-end. We hope to use some of the tree trunks (black walnut rootstalk) in the fabrication of trays, cutting boards and furniture. More to come on that. Next year we will begin soil testing, site preparation ("dirt work") and vineyard design. We hope to plant in 2023. It takes so long! The star varieties of the Willow Creek AVA are Grenache and Syrah, so we'll probably lead with those. We'll also plant white wine varieties and more Cabernet. Our new winemaker Alex Kemp is very excited and will lead the design effort. Onward!
You know you want to
Sign Up For Our Newsletter
Keep up to date on the latest wine releases, events, and promotions and get 10% off your next order.