2020 Mistletoe Release Special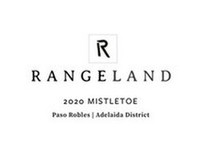 Rangeland Mistletoe is named after a red blend we made in our home cellar 20 years ago, when our Adelaida Springs Ranch vineyard was still a toddler. We bottled the wine at a holiday party and a great time was had by family and friends. More recently, as this delicious and affordable blend sells out earlier each year, we've moved up the release of this "holiday" wine to mid year, so we can celebrate a little Christmas in July.
Winemaker Alex Kemp has given the 2020 Mistletoe a Rhone- style tilt. It's an eclectic "Paso" blend of 31% Syrah, 20% Merlot, 17% Mourvedre, 11% Petit Verdot, 8% Cabernet Sauvignon, with a dash of Malbec, Grenache and Petit Sirah!
Rangeland 2020 Mistletoe offers aromas of chaparral and cranberry. The vibrant, juicy palate features notes of caramel, açaí, char-grilled ribeye, roasted chestnuts and a rich, umami finish. It's already a Foshay family favorite.
From now through July 31 only, we are offering a 12 bottle case of Rangeland 2020 Mistletoe for $300, shipping included, plus your club discount. That's just $25 per bottle versus the list price of $35, plus your discount. Order here.
Closed for July 4 Holiday
The Rangeland tasting room will be closed from Monday, July 3 through Thursday, July 6.
You know you want to
Sign Up For Our Newsletter
Keep up to date on the latest wine releases, events, and promotions and get 10% off your next order.