Contents: Beef Club, Mistletoe Scores, Dinner Event, Big Three-Hearted Oak
Beef Club in Process, Price Increase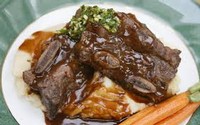 As we sort our cuts and pack our beef club boxes for the 12th year, I am reminded how priviliged we are to grow this wonderful food. We start with well-bred Angus cattle grazing naturally in our home pasture. This produces intensely flavorful and nutritious grass-fed meat that we are happy to eat and proud to serve and sell.
Despite a heavy storm in January, our rainfall was only about half of average this year. Due to drought conditions that limited forage, we've had to reduce our herd and supplement with expensive hay. So we have to raise our prices to sustain our beef production. With this shipment you will see your 25 lb. beef club box rise to $280 (up from $240). The list price of our 25 lb box is now $350, before club discounts. Even with the price increase, club members pay just $11.20 per lb. for this estate raised beef. Order here.
We will be billing our beef club members next week. If you need to update your shipping or billing info, please log into RangelandWines.com. Club pickups begin July 1 at J&R Meats in Paso. Or you can make an appointment to pickup at the Rangeland tasting room by emailing tasting room manager Michelle Minton. We will begin shipping the Beef Club July 12.
Double Gold for Rangeland, Again!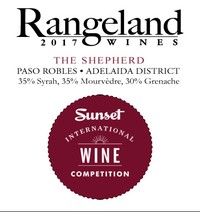 Our 2018 Mistletoe ($29) was blessed with a double gold medal and a 95 point score in the Sunset International Wine Competition. Mistletoe is an utterly Paso blend that includes Cabernet, Syrah, Petite Verdot and Grenache. It's one of the great values in the world of wine. Our 2017 Limestone Reserve Cabernet and 2018 Shepherd blend of Rhone varieties (Grenache, Syrah and Mourvedre) also received gold medals and 90 point scores in this competition. Congrats to Winemaker Paul Hinschberger. You can order these wines here.
Full Moon Dinner July 24
As we ease back to normal, we are beginning to plan events again. We started the Full Moon Dinner series last year because we noticed that our wines show beautifully at this time. We will be hosting an evening dinner on the lawn of the Rangeland tasting room on July 24 from 6:30 to 9:30. The meal will feature our estate-grown beef and lamb, paired with a stellar (lunar?) line up of Rangeland Wines. Tickets are $90 before club discounts. Order here.
Big Three-Hearted Oak Table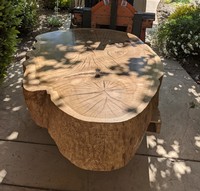 Some of you will remember the huge oak tree that came down in the spring of 2019, just after our last Field Day event. The massive deadfall trunk still lays behind the barn near the tasting room. We had a slice cut out of the stump with a 7 foot chainsaw and made into a massive pub table, which is now on display in our tasting room. It reveals a triple trunked tree with three conjoined hearts. Its compoundly concentric whorls are profoundly beautiful and complex. A rough count of the tree rings indicates the tree was 130 years old when it fell. That means it was a sappling at about the time the train line was first extended south through the Salinas Valley to Templeton. So much has happened since then, both locally and the world over, that we have to call it a true heritage oak. I become reverent and a little wistful in the presence of such a durable, natural reminder of passing time. Stop and pay it homage, the next time you visit Rangeland, and let your conjoined heart swell.
You know you want to
Sign Up For Our Newsletter
Keep up to date on the latest wine releases, events, and promotions and get 10% off your next order.