Contents: Rosé Release, Field Day Change-up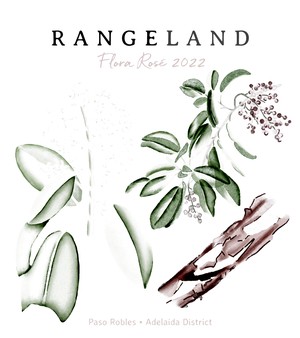 Springtime is rosé time, so we are happy to release our 2022 Flora Rosé ($32). Continuing a 13 year tradition of botanical label prints, this year's rose features Pacific Madrone (Arbutus menziesii), a beautiful denizen of our coastal mountains. On our ranch, we find these smooth and cool-trunked madronos on heavily wooded, well-watered slopes and canyons at 1700 to 2000 feet in elevation. Glossy-leaved Madrones often mark the location of natural springs for which our ranch is named. Although our Salinas valley is known for its hot, dry summers, some of the coastal mountain watersheds that feed the Salinas feature lush vegetation like ferns, conifer trees and madrones. These temperate climate outliers thrive in wet years like this one, when the Santa Lucia coast range received as much as 100 inches of rain in just a few months.
This light rosé (60% mourvedre and 40% cabernet sauvignon) features aromas of white nectarine and orange twist. The juicy palate suggests Saturn peach and fresh croissant. It will pair nicely with a spring salad or other light fare. This year's supply is very limited (barely more than 50 cases) due to a record hot and challenging harvest. Get yours while you can. Come sample the Flora Rosé at the tasting room or order here.
Field Day ist Kaput!, but...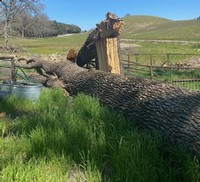 We are cancelling Field Day, our annual spring party scheduled for April 22, due to wet pasture conditions, downed trees and broken fences. Just another casualty of a tough winter. All ticket purchases will be refunded. Nevertheless, you are welcome to visit us on that Earth Day, when we celebrate our glorious planet with an expanded lunch menu for purchase, including beef and lamb sliders, our Asian edamame cole slaw with peanut dressing and also Lisa's famous cookies. Reserve you place here.
Contents: Wine Club, Beef Special, Winter!, Field Day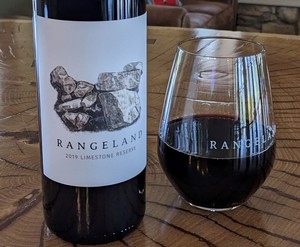 Our wines are so alluring and delicious right now that I am excited to put them on your table. We will release our spring wine club a few weeks earlier this year, so we can ship in cooler weather. We will start billling the wine club March 20 and your shipment will be available for pickup starting March 27. We will begin to ship wine clubs in early April.
Continuing a Rangeland tradition, we are offering our Doppel Club incentive. If you are a 6 or 12 bottle club member, you can double your order for an additional 10% off with $1 shipping. For example, a 6-bottle Estate Club member, normally 20% off, would get a full case at 30% off, or about $100 in extra savings. If you would like to take advantage of this wunderbar opportunity to stuff your wine fridge, please email us. Here is the wine club selection for this spring:
2019 Limestone Reserve, 95 points, Wine Enthusiast (WE)*
2019 Watershed, 93 points, WE*
2019 Cabernet Sauvignon, 93 points, WE*
2019 Ultramafic, 91 points, WE*
2019 Petit Sirah, new release!
2020 Zinfandel, new!
*denotes 4-bottle Intro Club selection
Please let us know by email if you'd like to customize your spring shipment. All the available wines are listed here. Please update your credit card and shipping information, if necessary, at www.RangelandWines.com. You can use your email address to retrieve your login password.
Winter Beef Bonanza
Each winter we have a few beef club boxes left over from last year's harvest. Since the meat is neatly vacuum sealed and frozen, it is still as good as fresh. You may remember that our 25 lb. grass-fed beef club box includes:
6 lbs steaks (NY, ribeye, sirloin and a dab of filet)
6 lbs roasts (sirloin, chuck, or brisket)
8 lbs delicious, dark and flavorful ground beef in 1 lb packs
5 lbs of "the rest" (short ribs, shanks, stew meat, kabob, etc.)
To clear out our freezer and make room for the next harvest, we are offering these beef club boxes at $280 (20% off the list price of $350), shipping included--and your club discount applies. While supplies last, order here.
Thinking of Spring and...Field Day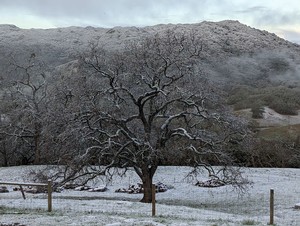 We are still in the epic Winter of '23, with repeated heavy rain (now over 54 inches total including yesterday's 6.5 inches), abundant frost and even some snow. There is no better way to appreciate Rangeland and the beauty of rural Paso Robles than at Field Day, our spring party in the pasture. We choose this weekend each year because it has the highest chance of green grass and warm, mild weather. Join us April 22, 12pm to 3pm, for wine, good local food, great music and livestock on display in the field next to the tasting room. A barbecue lunch will include estate beef and the last of our lamb, local sausage from J&R Meats, a salad, Lisa's fab cookies and more. Order: $80 per person, $40 for non-adults. Club discounts apply.
Contents: Wonders and Waterfalls, Watershed Special, Cellar Sale February 18
Many of you have heard me say that our Adelaida Springs Ranch estate vineyard forms the headwaters of Jack Creek, which flows all the way to Monterey Bay, first south via Santa Rita Creek and then north for 175 miles via the Salinas River. Our vineyard also drapes over a ridge and slopes westward to the Las Tablas Creek drainage which flows to the Salinas via the Nacimiento River, forming a watershed or divide between two local creeks.
When we are experiencing the relentless sunshine and searing heat of a "golden" Paso Robles summer, all this talk of drainages and flowing water seems pretty fanciful, if not hallucinatory. But during most winters in California, the picture changes abruptly to a world of green grass and gently flowing seasonal streams. As recently as a few decades ago the Salinas watershed was a spawning ground for steelhead and even chinook salmon during wet years. In some winters, like the one we are having (already over 40 inches of rainfall on our ranch), these seasonal streams turn to churning monsters of water and debris (see video), blasting down the canyons carrying whole trees and cutting the earth into a frothy brown soup. It's as if the very coastal mountains of Calfornia are screaming "I'm melting," like the forlorn witch from the land of Oz.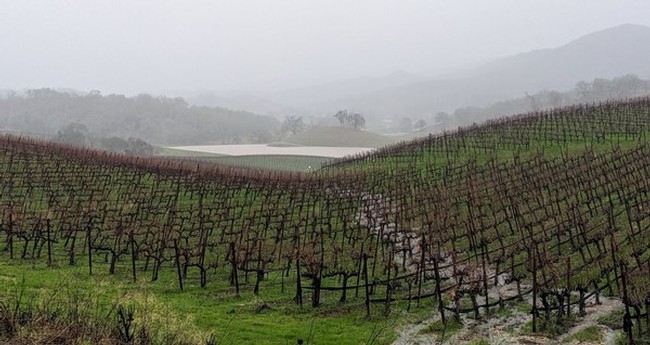 Good farming, ranching and forestry practices can mitigate this erosional process, but cannot stop it. Nor would we want it to. In fact, the fabled fertility of California farms, and those the world over, is based on the tectonic rising of mountains and their utter destruction by weather into rich valley alluvium that will feed our children's children for generations yet to come. Back upstream on the marginally fertile and often steep hillsides of coastal California, the venerable grapevines mostly hold the ground in their dormant state, waiting for the spring incandesence and green shoots that will signal the beginning of a new vintage, with all its sweet promise.
How Special is Our Watershed
Now that you know about the natural origins of our Rangeland 2019 Watershed Bordeaux blend, we'd like to remind you of its stellar drinkability and offer it to you at a special price. Wine Enthusiast's Matt Kettmann rated our 2019 Watershed 93 points with the following notes:
"Intense aromas of cassis are dark and yet still fresh on the nose of this 30% Cabernet Sauvignon, 25% Merlot, 20% Cabernet Franc, 15% Petit Verdot and 10% Malbec, which looks creamy in the glass. Polished tannins wrap around the jammy berry preserve flavors, with bold floral elements and a nice acidity pumping throughout."
You can purchase this outstanding single vineyard, estate grown wine by the case for just $399, or $33.25 per bottle versus a list price of $45. Wine club discounts apply and shipping is included. Order here.
Cellar Sale February 18
Come join us in the Rangeland barn on Saturday of President's Weekend, 10am-12pm. For the price of a tasting fee (free to club members), you can taste and buy rare, discounted Rangeland library wines and snack on charcuterie. Reserve your spot here.
Contents: Peak Rangeland, Wine Specials, Wreath Workshop, Sunset of the Lambs
Rangeland Scores Again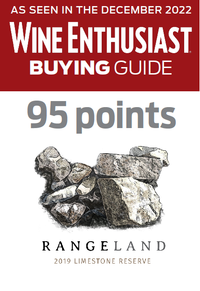 Several of our 2019 wines were recently reviewed by Wine Enthusiast's Matt Kettman for their December issue. The eye popping results confirm what our customers have known for a long time: Rangeland is making one of the finest lineups of estate wines anywhere at any price. These across-the-board results are a tribute to the noble terroir of our Adelaida Springs Ranch estate vineyard (which we planted in 2002) and to the deft hand of our departed winemaker Paul Hinschberger, who left for Oregon in 2021. Thanks Paul! And thanks to my family and team members over the years who made these beautiful wines possible. Viz:
95 2019 Limestone Reserve Cabernet Sauvignon, $55
93 2019 Cabernet Sauvignon, $45
93 2019 Shepherd Rhône-style Red Blend, $45
93 2019 Watershed Bordeaux-style Red Blend, $45
92 2019 Mistletoe Red Blend, $35
91 2019 Ultramafic Reserve Merlot, $45
All of these wines are available to Rangeland club members for under $50 per bottle and most are under $40, compared to $75-$200+ for similar wines. Buy Rangeland wines by the case now while you can at these prices. Set some aside for a decade or more of enjoyment. Our wines are all Paso-fruit-forward, easy to drink but with ample power. They are refreshingly food-friendly with acidity from our limestone soils. They all carry wild notes of savory and herbacious complexity that reflect our coastal mountain terroir.
Limestone Cab Vertical Special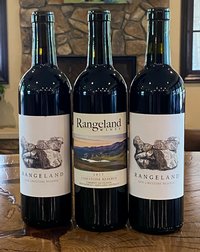 One bottle each of Rangeland's flagship wine from recent vintages; 3 bottles for $150:
2017 Limestone Reserve, library price $85
2018 Limestone Reserve, list price $55
2019 Limestone Reserve, 95 points, list price $55 From Wine Enthusiast: "Clean lines of pure black raspberry juice are spiced by lilac and white pepper on the refreshing nose of this bottling. That purity extends to the palate, which is loaded with acia, blueberry and violet flavors, proving focused and elegant."
$195 value. You save $45 and your club discount applies with shipping included. Order here.
Mistletoe Case Sale
Great for holiday gifts or for your wine fridge. A 12 bottle case of our 2019 Mistletoe for just $350 or $29.17 per bottle. You'll save $70 plus your club discount and shipping is included! Deep in garnet color, the 2019 Mistletoe evokes aromas of sage, lavender, and pomegranate/cranberries. The silky mid-palate precedes a lingering finish of baked spices and black cherry. Drink now or over the coming years. Pairs well with roasted meats and poultry. 92 Points WE. 45% Cabernet Sauvignon, 35% Syrah, 14% Merlot, 6% Malbec. Order here.
Wreath Workshop December 3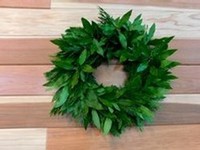 Lisa has been making Christmas wreaths from greenery on the ranch since we moved here in 2001. Past workshops with friends and customers were a hit. She's offering a wreath workshop in the barn at the tasting room on Saturday, December 3 from 10am-12pm. You'll learn how to make a wreath, enjoy snacks and beverages, and leave with beautiful handmade fresh wreath AND a bottle of 2019 Mistletoe! If this doesn't get you into the holiday spirit, we can't help you. Tickets are $60 (club discount applies.) Space is limited, so sign up now.
Adios a Los Borregos
We introduced sheep to Adelaida Springs Ranch and into our lives in 2011. For years they helped us graze and enrich the vineyard and many other pastures on the ranch and at our tasting room property. We have raised over one thousand lambs over the years but, due to multiple factors, we have decided to exit the sheep business. We are a small family enterprise that grows grapes, makes wine, raises cattle, processes meat, sells beef and hamburgers directly to our customers. In the end, the sheep were one responsibility too many. We'll miss their energetic antics and precious lambs. We proudly sold the wonderful meat through our Lamb Club and relished it in our home. But in these droughty and challenging times, the sheep cost us more than they contributed in both ecologic and economic terms. We have decided to concentrate on wine and cattle for now.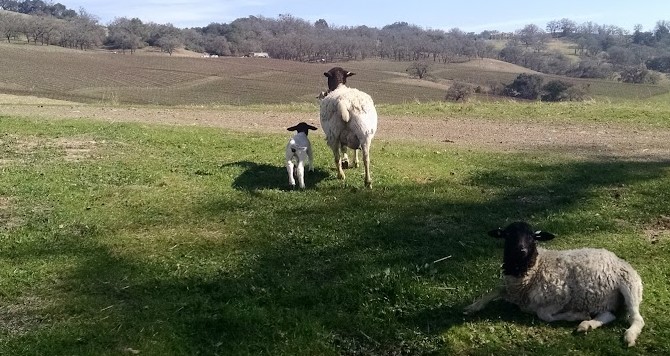 Contents: Harvest!, Wine Club, October Winemaker Dinner, November Pick Up Party
So Hot Harvest
Hot weather is no stranger to Paso Robles, but this year's Labor Day heat wave (August 31 to September 9) was one for the books. It threw an already early harvest into overdrive. There were ten consecutive days of 105 degrees Fahrenheit, with a few peaks above 110.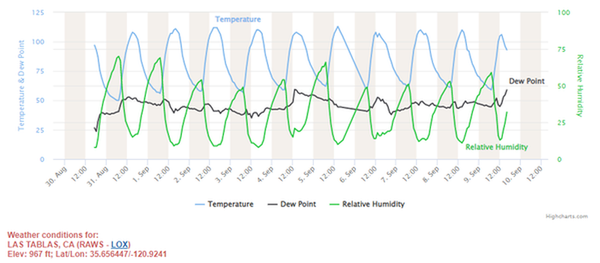 Wine tasters retreated indoors. Grape sugars soared. Vines turned their leaves to the sky and silently declared "Pick me! I am done for the season." Our contract labor crews picked every night for a week, staggering through the work. Our Vineyard Manager Eusebio was like a relentlesly effective smiling zombie, driving tractor and directing the mayhem, night after night. The whole county seemed to be in motion: picking, trucking and processing fruit. One winemaker had a dream that a volcano had erupted and was burying him in relentless flows of hot, ripe grape lava. Ahhh! Now that we are mostly through picking and temps have dropped back below seasonal average, our winemaker Alex and many of his peers will have their hands full trying to make the best of this lightning vintage.
Wine Club Cometh, Doppel-Style
Our fall wine club selection, featuring some exciting new releases, is detailed below:
2019 Limestone Reserve Cabernet*, 95 points (boom!), Wine Enthusiast, new release
2019 Cabernet*, 93 points, Wine Enthusiast, new
2019 Shepherd*, Rhone blend, 93 points Wine Enthusiast, new
2019 Mistletoe, 91 points, Wine Enthusiast
2018 Watershed, Bordeaux blend*
2021 Sauvignon Blanc (2018 Ultramafic Merlot for reds only members)
*denotes 4-bottle intro club selection
If you are a six bottle or more club member, you can double your order for an additional 10% off with $1 shipping. For example, a 6-bottle, 20% off Estate Club member would get a full case at 30% off, or about $100 in extra savings. If you would like to take advantage of this fantastisch offer to stockpile a little wine for the holidays, please email us.
We will start billling the wine club October 17 and ship in early November, but if you want wine earlier you can pick up starting October 1. Please let us know by email if you'd like to customize your fall shipment. All the available wines are listed here. Please update your credit card and shipping information, if necessary, at www.RangelandWines.com. You can use your email address to retrieve your password and login.
Winemaker Dinner, October 15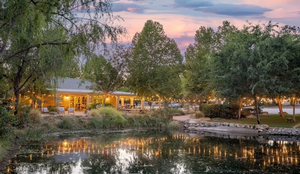 There are a few tickets left to our October 15, 6-9pm, winemaker dinner. Join Winemaker Alex Kemp and the Rangeland crew on the tasting room lawn. The meal will feature estate raised, ranch oak seared, grass-fed beef tenderloin steaks accompanied by seasonal greens and root veggies. We'll also serve our usual abundant selection of appetizers, including grilled local sausage. Save room for a dessert of carmelized pear cake. Rangeland wines will paired throughout. $100 per guest before club discounts. Purchase tickets here.
Pick Up Party, Saturday November 12, Noon to 2pm
We'll be serving a buffet of treats in the winery: our grass-fed beef chili, some delicious charcuterie, grilled lamb and, of course, Lisa's famous cookies. We'll be pouring the Fall Wine Club lineup, so you can taste, fall in love, and add to your order when you pick up your shipment. For wine, beef and lamb club members only. Reserve your complimentary ticket. Space is limited.
Contents: Wine Special, Vacation Rental, Winemaker Dinner
Rangeland vs. Inflation
Our government thinks it can reduce inflation by spending more, but I have a better idea. I'm going to lower prices on some remaining 2018 Rangeland cases to brighten up your August. This will help put some power back in our sails, no pun intended, which are fluttering slightly in the recessionary headwinds. Also it makes me feel like an inflation fighting superhero.
2018 Limestone Reserve ($55/bottle list price), just $399 per 12 bottle case or just $33.25 per bottle, before your club discount. Exotic aromas, dark fruit flavors, trademark acidity and a haunting finish. Pow! Shipping included. Order here.
2018 Watershed ($45/bottle list) $360 per 12 bottle case or just $30 per bottle, before your club discount. Savory scents, herbal complexity and a vividly tannic finish are highlights of this rustic beauty. Hiyah! Shipping included. Order here.
2018 Ultramafic Merlot, ($45/bottle list) $360 per 12 bottle case or just $30 per bottle, before your club discount. Welcome to the dark side of Merlot: brooding, supple, lingering. Kablooee! Shipping included. Order here.
All kidding aside, these are wonderful wines at outstanding prices. Full cases only. This offer is valid only through Labor Day, September 5. Order here.
Vineyard View Vacation Rental: Open Dates!
We have a few openings in August, September and October. Our 3BR, 2BA Vineyard View Cottage has a spacious deck and lawn, outdoor BBQ and hot tub, and lots of room inside for relaxing with a glass of Rangeland wine. And, you have access to the grounds of our tasting room during and after hours--coffee by the pond? Wine at the top of the hill? Whatever you desire! Book here.
Winemaker Dinner October 15
We have changed the date for our next winemaker dinner from September 11 to Saturday, October 15, from 6-9pm. Join Winemaker Alex Kemp and the Rangeland crew on the tasting room lawn next to the pond. We'll be serving estate raised, ranch oak seared, grass-fed beef tenderloin steaks accompanied by seasonal greens and root veggies. These will be preceded by a few appetizers including grilled J&R Meats local sausage. Dessert to be determined. Rangeland wines will paired throughout. $100 per guest before club discounts. Purchase tickets here.
Mistletoe Release Special
Years ago I was making wine from my new vineyard in the family cellar. We bottled a curious blend at a holiday party and a great time was had by all. Good cheer, a feeling of love and some actual lust ensued. We called the wine Mistletoe in appreciation of the season and the countless local oak trees that bear the picturesque bundles of this hemiparasite. Look it up. Myth would have it that mistletoe bestows fertility, protects against poisons, wards off evil spirits, and is an aphrodisiac. But I wouldn't know anything about that, baby.
Well, people have been asking about our 2019 Mistletoe. Our tasting room manager Michelle has had to ward off hundreds of inquiries since the 2018 Mistletoe sold out in a blaze of glory last year. So we are bringing a little Christmas cheer to July and unleashing the 2019 Mistletoe kraken.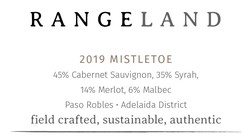 As in previous vintages, the 2019 Mistletoe includes Cabernet and Syrah, which is the unconventional hero among Paso blends. It was awarded a gold medal and 93 points in the prestigious Sunset International Wine Competition. Its beautiful dark garnet color yields sagey aromas. A mid-palate of raspberry compote is energized by vivid acidity. It finishes with silky tannins and savory notes of baking spice. I recently brought a case home to trial. My family and guests wiped it out in a matter of days, with the following profound commentary: "Yummm."
For July only, we are offering a 12 bottle case of Rangeland 2018 Mistletoe for $300, shipping included, plus your club discount. That's just $25 per bottle versus the list price of $35, plus your discount. Order here.
Contents: Quiet Time?, Dinner June 18, Watershed Terroir, Beef Club News, Vineyard Vacay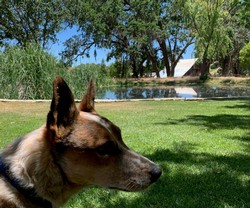 Summer has a different rhythm at Rangeland. The tasting room is quieter while customers are elsewhere with graduations, weddings and vacations. Our team stays busy with many behind-the-scenes projects. Winemaker Alex Kemp is prepping for a big July 1 bottling of our 2020 red wines. He's racking, sampling and blending. He's ordering supplies like bottles, corks, labels, nitrogen tanks and more. The wines have been tasting beautiful and they are ready to bottle age. We have to make room in the barrels and tanks for the upcoming harvest. In the vineyard we're mowing, tilling, irrigating, shoot thinning, lifting trellis wires and working on the vine canopy. Not to mention the endless battle against rodents. Lisa and I will spend a few days in the meat shop sorting and packing our beef into club boxes and shipping to customers. We should probably delegate this task but my wife is a meat packin' mama and she won't let go. Love her for that. In July we'll gather all our cattle for the annual calf branding and health check. Theorectically we'll get a chance to kick back before grape harvest, which will likely commence by Labor Day, but I ain't countin' on it.
Full Moon Dinner, June 18 6-9 pm at the Ranch
We still have a few seats available for the Full Moon Dinner at our Adelaida Springs Ranch ranch--you'll enjoy a great meal featuring our own beef, lamb, some tasty J&R meats, and of course our delicious wines. Since June's full moon is called the strawberry moon, expect some berry fine desserts! Dress is casual, the 50 mile views of the Coast Range are magnificent--we hope to see you there! Tickets are $100/guest, before your club discount. Order tickets here.
The Watershed 2018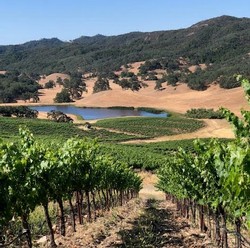 The name of our Bordeaux-style cabernet blend derives from our vineyard location, which is planted on a divide, or watershed, between the Jack Creek and Las Tablas Creek drainages. That's appropriate, because we are crafting a wine that expresses our vineyard and environs. A wine of place. Our Adelaida Springs Ranch is just inside the Santa Lucia Coast Range, on the far western frontier of Paso Robles Adelaida District. The 2018 Watershed, like the hills around the vineyard, is redolent of bay and chaparral. It echoes the vibrancy of our calcareous limestone soils and the suave, dusty richness of our sandstone soils. The Watershed is rustically tart, textural and energetic on the palate. It notably complex, with dark fruit and herbaceous highlights, woven all the way through the sassy, lingering finish. It's a very good tasting wine and an outstanding food wine. It's a transcendently worthy dinner companion when paired with roasted or grilled pasture-fed meat, like we produce here at Rangeland. When people ask me what's my favorite Rangeland wine, I often say, "It's like my children, depends on how they are behaving." Tasting Room Manager Michelle likes to tease my son Jackson, who also pours, by saying, "The Watershed is Lisa's favorite child." It's also the favorite wine of many customers. You can tap into the Rangeland Watershed zeitgeist and terroir with the following offer: Order 3 or more bottles of The Watershed 2018 and get 10% off (plus your club discount), shipping included. Order here.
Beef Club Coming Soon!
We are very pleased with our grass-fat beef this year, which came in a little heavier than usual. We'll begin processing beef club orders on June 22 for pick up in early July and delivery mid-July. If you haven't already, please update your credit card, shipping or pickup information using your email as login at RangelandWines.com. If you have enjoyed our grass-fed burgers at the tasting room and considered joining the beef club, now's the time! The 25 box includes 6 lbs steaks, 6 lbs roasts, 8 lbs ground and 5 lbs assorted cuts (stew meat, short ribs, etc.) The cost is $280 for club members--you can't beat the price. Expand your culinary horizons, enjoy our delicious pasture-fed beef year-round, and know that your meat is raised sustainably and ethically. Sign up for the beef club here or order a box a la carte here.
Summer at the Vacation Rental--A Few Weekends Open!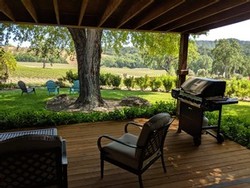 If you're looking for a peaceful, relaxing spot in the middle of westside Paso wine country, we've got you covered. Our 3BR, 2BA Vineyard View Cottage has a spacious deck and lawn, outdoor BBQ and hot tub, and lots of room inside for relaxing with a glass of Rangeland wine. And, you have access to the grounds of our tasting room during and after hours--coffee by the pond? Wine at the top of the hill? Whatever you desire! Book here.
It's All Here, Right Now
Lisa and I took a short driving tour to celebrate our 34th anniversary, plus the five bonus years, for 39 total years of sweet cohabitation. (Applause.) Thank you, thank you. And thank you, Lisa, for putting up with me.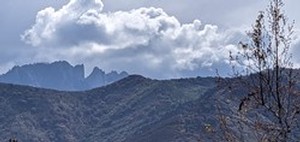 Our trip was an homage to our 1988 honeymoon from Lake Almanor to Sequoia National Park, down the highway 49 trail, into and out of the ravishing mountains, forests and fields of California.This time we went from south to north, starting in Sequoia on a 20 degree May morning, with a speckling of snow. We had a blast. We saw big trees skirted by blooming dogwoods. We saw granite domes perched over yawning chasms. The canyon walls were draped with diverse foliage, gradiated by altitude from darkest forest green to desert pale. As we progressed north over several days, we saw the snow-fed rivers watering thousands of farms in the Great Valley. They rush from a dozen roaring gaps, with songlike names: the Kaweah, Kings, San Joaquin, Merced, Tuolumne, Stanislaus, Mokolumne, Cosumnes, American, Yuba, Feather (ah, Plumas County), Truckee (goes east!) and, not least, the impressive Sacramento. We saw snow capped peaks, including the sublimely sawtoothed Sierra Buttes. The mountain ranch meadows were grazed by uncountable cattle and many deer, belly deep in lush grass and wildflowers. We even saw a herd of bison, lazing around in the afternoon sun with a flock of Canada geese in the foreground and miles of piney mountains rising behind them. We saw a badger and a coyote. The latter emerged from a Dixie Fire-ravaged forest, crossed the dirt logging road into a field of golden wildflowers, loping lightly, his thick coat billowing in the breeze, looking back with cautious curiosity. We see these animals at home too, but we witnessed all these scenes with the fresh eyes of Travelers.
We read the plaques and visited small museums that told the history of California: native abundance for thousands of years, pioneer hardship, native tragedy, as well as the insane determination and exploits of the immigrant gold miners and railroad builders. Did you know that Sierra Valley, north of Tahoe is the largest alpine valley in North America? It contains the tiny town of Beckwourth and is flanked by Beckwourth Peak, named for America's most famous black mountain man. James Beckwourth sold Rocky Mountain furs to John Jacob Astor. He lived in the Crow Nation, becoming a chief and later had a trading post on the Santa Fe Trail. When he came to California in 1848, he was the pathfinder of the lowest pass through the Sierras, which allowed immigrants to avoid the travails of Donner Pass.
We saw some other travelers, especially European visitors to the national parks. We saw a few hikers, cyclists and fishermen, but the two lane roads were almost completely free of traffic, once we were outside of the metros and the big parks. We had the vista points all to ourselves. As we headed back, we saw the familiar grit of roadside trash, high fuel prices and homeless people encamped by the freeways. Approaching home, I began to tense-up about returning to work (like writing this newsletter) and my many self-inflicted responsibilities. We all have dreams of achievement and fulfillment. Our dreams empower us but they also burden us. Once home, after a long day on the road, I noticed the roses were blooming in the garden. Pendulous oak limbs were waving slightly in the spring breeze. I unwound with a glass of good wine, sinking into the moment. There was a riot of bird calls from many species--just like there often is at the Rangeland tasting room. A cow bellowed in the woods.
It is fashionable now to dump on California, even to leave the state because of its many problems. We have a lot to worry about but also so much to appreciate, right now. At Rangeland we are focused on the best of California. We are in the appreciation business: of fine wine in good company, natural pasture-fed meats and the sweet, slightly wild hills of Paso Robles. And we feel very fortunate to share that with you. Click here for a photo travelogue.
Contents: Wine Specials, Wine Fest, Ground Lamb and Beef, Full Moon Dinner, Here & Now
Doppel Deja Vu, New Members Also Invited
It's been a few days or weeks since most of you received your Spring wine club selections. You've probably torn into the goodies and quaffed a couple (all?) of your favorites already. So if any of you would like to reorder your club shipment and double it, we are offering an additoinal 10% discount off your usual price. If you haven't yet joined our wine club, we are extending this offer to new members. You can join the 6 bottle Estate Wine Club (normally a 20% discount) and get a 12 bottle case for 30% off. Email Michelle if you want to reorder (or join) and double your wine club.
Rosé Special Still Live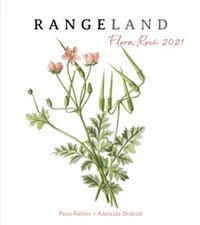 Our 2021 Flora Rosé ($30) is a beautiful rendition of a perennial customer favorite. A blend of 53% Mourvedre, 27% Zinfandel and 20% Grenache, this year's light pink rosé has a floral bouquet with hints of citrus. Nectarine fruit flavors and mouth watering acidity yield a crisp finish. It's the perfect accompaniment to fresh oysters or a summer salad. Drink now or over the next year.
Last year's Rosé sold out before the summer was over, so you may want to stock up at this price: 6 bottles for $150 plus club discounts, shipping included. Order here.
Wine Festival: Lamb and Beef Sliders
Paso Robles Wine Festival is this weekend, May 21-22. We will be serving a special menu of grass-fed beef and lamb sliders, pasta salad and Lisa's cookies from 11 to 4, Saturday and Sunday. Reserve your seating for an outdoor tasting and food here.
Ground Beef and Lamb Available!
The lambs we harvested this spring were extra fat, so that gave us a small surplus to offer. We have lamb shares (20 lb boxes of mixed cuts, $350 before club discount) and ground lamb (10 x 1 lb packs, $120 before discounts.) Free shipping. We also have have ground beef (10 and 20 lb boxes) and bull beef patties available. Your wine, beef or lamb club discount applies to everything Rangeland. Free shipping on the lamb and ground beef through June 15. Order here.
Full Moon Dinner, June 18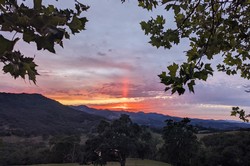 We are serving dinner at our home place, Adelaida Springs Ranch, on Saturday, June 18, from 6 to 9pm. Enjoy the 50 mile coastal mountain views at sunset, as well as our estate-grown beef and lamb, seared scallops, sausage, salads and fresh coastal strawberries, paired with a stellar (lunar?) line up of Rangeland wines. $100 per guest. Club discounts apply. Order tickets here.
You know you want to
Sign Up For Our Newsletter
Keep up to date on the latest wine releases, events, and promotions and get 10% off your next order.