Harvest Wine Weekend: Grass-fed Burgers on Saturday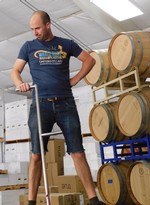 Harvest is in full swing and the fruit flavors of our new wines are alluring. Looks and tastes like a good vintage. Winemaker Paul Hinschberger is working hard and is a proud father of his new son Walter--born last week. He's also putting the hot in them Huckleberry shorts of his (#HuckleberryShorts).
Paso Robles Harvest Wine Weekend is October 18 to 20 and we'll surely still have grapes fermenting, so come see us at the tasting room and winery at 6996 Peachy Canyon Rd. We will be open for tasting and free winery quick tours, Thursday to Monday 11 to 5. We'll be serving grass-fed beef hamburgers on Saturday only, October 19, from noon to 4pm.
Fall Wine Club Details
Our fall wine club will begin shipping the week of November 11. You can pick-up starting now. We are excited about the lineup, which includes several delicious new releases.
2015 Cabernet Sauvignon*
2015 Watershed (new release)*
2014 Limestone Reserve Cabernet (92 points, Vinous)*
2016 Mistletoe
2016 Petite Sirah (new release)
2018 Sauvignon Blanc (new release), or 2016 Zinfandel for reds only*
*Intro club selections
Please let us know by email if you'd like to customize your fall shipment. All the available wines are listed here.
Also please update your credit card and shipping/pickup information, if necessary, at RangelandWines.com. You can use your email address to retrieve your password to login. Or email us wth any questions.
Beef and Lamb News
We're getting ready to bill our Fall Lamb Club (October 16) and ship it the week of October 21. Please let us know if you have any account or shipping information changes by email.
We have healthy grass-fed lamb and beef available for sale in boxes of ground or assorted cuts. Of course your wine or meat club discounts apply. These would make a great holiday gift for the meat lovers in your life. See our selection and place your order here.
Pickup Party Saturday, November 9
Our fall pickup party, free to all club members plus one guest, will take place at the tasting room and winery on Saturday, November 9, from 12 noon to 2:00 pm. We will feature grass-fed beef chili, lamb skewers, local sausages and Rangeland Wines, as usual. Attendance is limited so, reserve your place now.
Wreath Making Workshop-with Wine!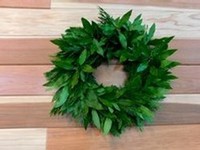 Lisa has been making Christmas wreaths from ranch greenery since we moved here in 2001 and our Rangleland workshop last year was a hit. Join us for a wreath workshop at the tasting room on Saturday, December 7 from 10am-12pm. You'll learn how to make a wreath, enjoy snacks and beverages, and leave with beautiful handmade fresh wreath AND a bottle of 2016 Mistletoe! If this doesn't get you into the holiday spirit, we can't help you.

Bring a friend (and your favorite garden clippers if you like), and we'll supply the rest. You do not have to be crafty--it's impossible to make an ugly wreath! Cost is $50 each before club discount. Space is limited, so sign up now.
You know you want to
Sign Up For Our Newsletter
Keep up to date on the latest wine releases, events, and promotions and get 10% off your next order.