Beef & Bay Leaves
This year our beef club members will receive a jar of Adelaida Springs Ranch bay leaves in their club box. We have dozens of large, fragrant Bay Laurel trees growing alongside shady creeks and near the natural springs on our ranch. The leaves were picked, dried and packed by Lisa & Courtney. Here's a classic beef stew recipe (adapted from the New York Times) that puts the fragrant bay leaf to good use!
Grass-Fed Beef Stew
Ingredients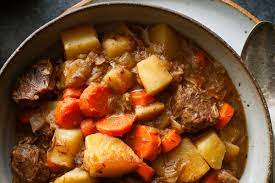 1/4 cup all-purpose flour
1/2 teaspoon freshly ground black pepper
2 teaspoons salt
1 lb. grass-fed beef stew meat, cut into 1" pieces
3-5 teaspoons olive oil
2 Tablespoons red wine vinegar
1 cup red wine
3 1/2 cups beef broth
2 bay leaves
1 medium onion, peeled and chopped
5 medium carrots, peeled and cut into 1/4-inch rounds
2 large baking potaotes, peeled and cubed
1 cup frozen peas (optional)
1. Combine flour and pepper in bowl, add beef and toss to coat.
2. On medium setting, heat 3 teaspoons olive oil in dutch oven or large pot. Salt the beef and then add to the pot in batches; don't overcrowd.
3. Cook, turning until browned on all sides, about 5 minutes per batch. Add more oil as needed.
4. Remove beef from the pot and add wine vinegar and red wine. Cook for 1-2 minutes over medium-high heat, scraping to loosen any browned bits.
5. Add beef, broth, and bay leaves. Bring to a boil and then reduce to a slow simmer.
6. Cover and cook until beef is tender, about 1.5 hours. Check occasionally and add more broth as needed.
7. Add onions and carrots and cook 10 minutes. Add potatoes and cook about 20 minutes more until all veggies are tender. Add peas if using, and cook another 5 minutes.
8. Season with salt and pepper to taste. Serves 4-5. Pair with a good bread and any Rangeland wine!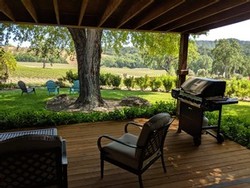 Our Vineyard View Cottage has a number of open dates available due to recent cancellations. The cottage is a great place for a family or friend group (3 bedrooms, sleeps 6) to isolate and restore with plenty of space and fresh spring air. We are offering 3 nights for the price of 2 for bookings through June 30. Price is $400/weekend night (Fri, Sat, Sun), and $350/weekdays. Club discounts apply. Book your stay here.

We started the Rangeland experiment twenty years ago by purchasing Adelaida Springs Ranch and planting our estate vineyard. I will never forget the first day I saw the ranch in March of 2000. It had been raining and was overcast. The lake was full, the cattle were lowing on the hills and rainwater was dripping from the mossy oak trees into the knee-deep grass. I was a goner. Love at first sight. So we left Silicon Valley and headed for the hills of Paso Robles.
Ten years ago, we started bottling a Rosé annually, featuring a local plant depicted in botanical label art, with some explanatory copy on the back label. We wanted to call attention to the natural beauty and rich diversity of the wild pastures and woodlands that surround our vineyard. The Flora Rosé, as we call it, has no direct connection with the plants on the label, but there is a profound symbolic and environmental connection between the landscape and our wines. The wild plants around us demonstrate the richness and diversity of our local soils and climate, much as our wines do. Did you know that California's oak woodlands are home to some 2,000 species of plants, 170 birds, 100 mammals, 60 amphibians and reptiles and 4,000 species of insects? Most of those live right here. We are doing our best to conserve this biodiverse landscape for posterity through a sustainable approach to our wine and meat businesses.
We also take inspiration from the simple beauty of the landscape, the animals and the plants. And we think the Flora Rosé crafted by winemaker Paul Hinschberger sings with aromatic fruitiness, while retaining a refreshingly dry, crisply acidic character. So, cheers to 20 years of Rangeland. Cheers to ten years of Flora Rosé. Cheers to a healthy posterity for our children and the generations to come. And cheers to you for helping make this possible. We are deeply grateful.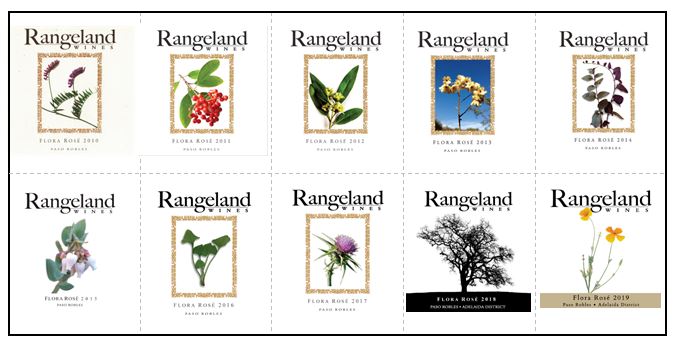 Contents: Spring Wine Club, Doppel Club offer, New Beef Sampler, Rental Cottage, Field Day Cancelled
Thank you for the tremendous support and good cheer we have received in the last couple weeks of crisis. We appreciate every order and sweet message we get, now more than ever. Our crew and their famiies are all well so far. We hope the same is true for you.
Spring Wine Club, Doppel Offer
Our spring Wine Club selection has some new releases, detailed below. If you are a six bottle or more club member, we are offering an additional 10% off with $1 shipping if you double your order. For example, a 6-bottle, 20% off Estate Club member would get a full case at 30% off, a savings of about $40 on that case of wine, plus shipping savings. If you would like to take advantage of this offer to stockpile a little wine for your sheltered existence, please email us.
We will start billling the wine club April 16 and your shipment will available for pickup starting April 20. We will ship wine club the week of April 29. Here are the wines we are planning to include:
2019 Flora Rosé* - new release! (or 2016 Ultramafic for reds only members)
2016 Cabernet* - new!
2017 Zinfandel - new!
2016 Petite Sirah*
2016 Syrah Mourvedre
2015 Watershed*
*denotes 4-bottle intro club selection.
Please let us know by email if you'd like to customize your spring shipment. All the available wines are listed here. Please update your credit card and shipping information, if necessary, at www.RangelandWines.com. You can use your email address to retrieve your password to login.
New Grass-fed Beef Sampler
Lisa and I went on a treasure hunt in our freezer and found enough steaks, roasts and other beef goodies to put together some 13 lb sampler boxes. Each $150 (club discounts apply) Grass-fed Beef Sampler box will include:
steaks (top sirloin, skirt, hanger, flat iron or flank), 2-3 lbs.
roasts (Sirloin, clod, brisket or round), 2-3 lbs.
ground beef, 2-4 lbs.
stew meat, kabobs, shanks, soup bone, etc., 3-5 lb
Order here.
Vineyard View Rental Cottage
Our Vineyard View vacation rental cottage includes 3 bedrooms ($400 per night) and is a great place for a family or friend group to isolate and restore with plenty of space and fresh spring air. Book here.
Field Day Cancelled
Uncertainty about the current COVID-19 restrictions has doomed our April 25 event. We will be issuing refunds for any tickets purchased and watching the calendar for a break in this hunkered down outlook. We look foward to celebrating the 20th anniversary of Rangeland with you, some time in the future.
You know you want to
Sign Up For Our Newsletter
Keep up to date on the latest wine releases, events, and promotions and get 10% off your next order.