April 20, 2020 | Laird Foshay
A Decade of Rangeland Flora Rosé
We started the Rangeland experiment twenty years ago by purchasing Adelaida Springs Ranch and planting our estate vineyard. I will never forget the first day I saw the ranch in March of 2000. It had been raining and was overcast. The lake was full, the cattle were lowing on the hills and rainwater was dripping from the mossy oak trees into the knee-deep grass. I was a goner. Love at first sight. So we left Silicon Valley and headed for the hills of Paso Robles.
Ten years ago, we started bottling a Rosé annually, featuring a local plant depicted in botanical label art, with some explanatory copy on the back label. We wanted to call attention to the natural beauty and rich diversity of the wild pastures and woodlands that surround our vineyard. The Flora Rosé, as we call it, has no direct connection with the plants on the label, but there is a profound symbolic and environmental connection between the landscape and our wines. The wild plants around us demonstrate the richness and diversity of our local soils and climate, much as our wines do. Did you know that California's oak woodlands are home to some 2,000 species of plants, 170 birds, 100 mammals, 60 amphibians and reptiles and 4,000 species of insects? Most of those live right here. We are doing our best to conserve this biodiverse landscape for posterity through a sustainable approach to our wine and meat businesses.
We also take inspiration from the simple beauty of the landscape, the animals and the plants. And we think the Flora Rosé crafted by winemaker Paul Hinschberger sings with aromatic fruitiness, while retaining a refreshingly dry, crisply acidic character. So, cheers to 20 years of Rangeland. Cheers to ten years of Flora Rosé. Cheers to a healthy posterity for our children and the generations to come. And cheers to you for helping make this possible. We are deeply grateful.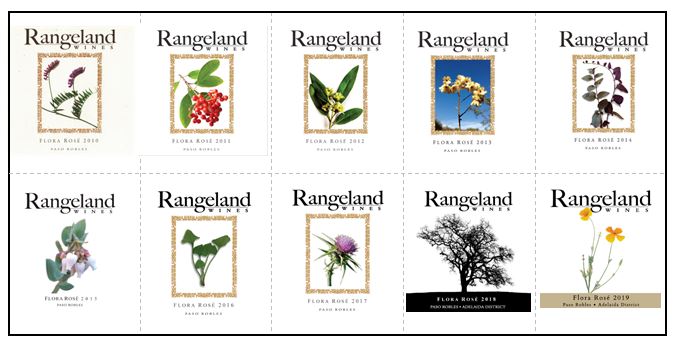 Comments
Commenting has been turned off.
You know you want to
Sign Up For Our Newsletter
Keep up to date on the latest wine releases, events, and promotions and get 10% off your next order.