Beef & Bay Leaves
This year our beef club members will receive a jar of Adelaida Springs Ranch bay leaves in their club box. We have dozens of large, fragrant Bay Laurel trees growing alongside shady creeks and near the natural springs on our ranch. The leaves were picked, dried and packed by Lisa & Courtney. Here's a classic beef stew recipe (adapted from the New York Times) that puts the fragrant bay leaf to good use!
Grass-Fed Beef Stew
Ingredients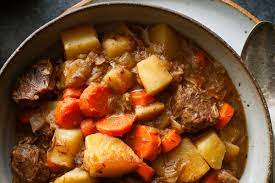 1/4 cup all-purpose flour
1/2 teaspoon freshly ground black pepper
2 teaspoons salt
1 lb. grass-fed beef stew meat, cut into 1" pieces
3-5 teaspoons olive oil
2 Tablespoons red wine vinegar
1 cup red wine
3 1/2 cups beef broth
2 bay leaves
1 medium onion, peeled and chopped
5 medium carrots, peeled and cut into 1/4-inch rounds
2 large baking potaotes, peeled and cubed
1 cup frozen peas (optional)
1. Combine flour and pepper in bowl, add beef and toss to coat.
2. On medium setting, heat 3 teaspoons olive oil in dutch oven or large pot. Salt the beef and then add to the pot in batches; don't overcrowd.
3. Cook, turning until browned on all sides, about 5 minutes per batch. Add more oil as needed.
4. Remove beef from the pot and add wine vinegar and red wine. Cook for 1-2 minutes over medium-high heat, scraping to loosen any browned bits.
5. Add beef, broth, and bay leaves. Bring to a boil and then reduce to a slow simmer.
6. Cover and cook until beef is tender, about 1.5 hours. Check occasionally and add more broth as needed.
7. Add onions and carrots and cook 10 minutes. Add potatoes and cook about 20 minutes more until all veggies are tender. Add peas if using, and cook another 5 minutes.
8. Season with salt and pepper to taste. Serves 4-5. Pair with a good bread and any Rangeland wine!
Mixed Case Special Through September
We've had a number of inquiries about whether our mixed case special is still on and yes it is, until Setember 30! You get 10% off (in addition to your club discount), for any 12 bottle case of wine--your selection. And we'll ship it to you for just $1. For example, if you are an Estate Wine Club member and you purchase a case, you get 30% off and save $34 on the shipping too. To order cases, please email me, because we have to manually enter the discount to achieve this special price. This deal cannot be combined with other specials. For a full list of our current and library wines, go to www.Rangelandwines.com/wines.
Rosé Special Still Available
We made a little more Rosé this year so, unlike last year at this time, it is still available and our special ($100 for six bottles, before club discount) is also available through month end. Don't forget that our Rosé pairs beautifully with holiday turkey and makes a great, affordable gift. Order here.
Harvest Wine Weekend Brunches: Vertical Tastings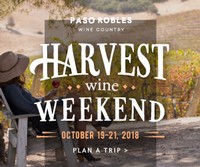 Join us for a sit-down, small plates brunch, tent-casual, on Harvest Wine Weekend, Saturday October 20 or Sunday the 21st, 10am to noon. Winemaker Paul Hinschberger will guide you through a vertical tasting of Rangeland Wines, including a barrel sample. Each tasting will include at least five wines and be casually paired (let's not overthink this!) with farm fresh foods, including grass-fed meat, local charcuterie, eggs, chesse and, of course, something fresh baked and sweet from the oven. Limited seating, so reserve your space early. $50 per person. Club discounts apply.
Cabernet Sauvignon and more: Saturday, October 20, 10:00am to noon
Purchase tickets here or email your reservation
Harvest Wine Weekend Tasting Room Hours
We will of course be open for tasting and serving sliders and nachos ($10 per plate) for Harvest wine weekend:
Thursday, October 18: 11am-6pm, food from 3-6pm
Friday, October 19, 11am-5pm, food from 11am-4pm
Saturday, October 20, 11am-5pm, food from 11am-4pm
Sunday October 21, 11 to 3pm, no food service
Pickup Party Sunday, November 11
Our pickup has been rescheduled to Sunday, November 11, 12 noon to 2:00 pm. Free to all club members, we will feature estate meats and wine, as usual. More details about this party and fall wine club and lamb club shipments will follow in our next newsletter.
Harvest Ho!
After a cool spring and some brutal heat this summer, the weather has leveled out nicely. The vines are looking good for harvest with a generous, healthy leaf canopy and normal crop level--all turning dark right on schedule. That means at least 160,000 pounds (80+ tons from our 40 acres) of grapes are waiting to be picked by hand. A vineyard is really a miracle of fecundity. Our 2018 Sauvignon Blanc is already in the tank and fermenting. Our little team picked some fruit for the new Rosé just this morning. See photos. Wish us luck and anticipate the results with relish. We are getting better at this every year and it really shows in Paul's beautiful wines.
You know you want to
Sign Up For Our Newsletter
Keep up to date on the latest wine releases, events, and promotions and get 10% off your next order.