Beef & Bay Leaves
This year our beef club members will receive a jar of Adelaida Springs Ranch bay leaves in their club box. We have dozens of large, fragrant Bay Laurel trees growing alongside shady creeks and near the natural springs on our ranch. The leaves were picked, dried and packed by Lisa & Courtney. Here's a classic beef stew recipe (adapted from the New York Times) that puts the fragrant bay leaf to good use!
Grass-Fed Beef Stew
Ingredients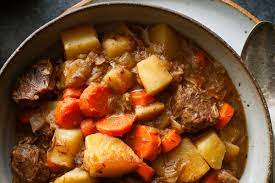 1/4 cup all-purpose flour
1/2 teaspoon freshly ground black pepper
2 teaspoons salt
1 lb. grass-fed beef stew meat, cut into 1" pieces
3-5 teaspoons olive oil
2 Tablespoons red wine vinegar
1 cup red wine
3 1/2 cups beef broth
2 bay leaves
1 medium onion, peeled and chopped
5 medium carrots, peeled and cut into 1/4-inch rounds
2 large baking potaotes, peeled and cubed
1 cup frozen peas (optional)
1. Combine flour and pepper in bowl, add beef and toss to coat.
2. On medium setting, heat 3 teaspoons olive oil in dutch oven or large pot. Salt the beef and then add to the pot in batches; don't overcrowd.
3. Cook, turning until browned on all sides, about 5 minutes per batch. Add more oil as needed.
4. Remove beef from the pot and add wine vinegar and red wine. Cook for 1-2 minutes over medium-high heat, scraping to loosen any browned bits.
5. Add beef, broth, and bay leaves. Bring to a boil and then reduce to a slow simmer.
6. Cover and cook until beef is tender, about 1.5 hours. Check occasionally and add more broth as needed.
7. Add onions and carrots and cook 10 minutes. Add potatoes and cook about 20 minutes more until all veggies are tender. Add peas if using, and cook another 5 minutes.
8. Season with salt and pepper to taste. Serves 4-5. Pair with a good bread and any Rangeland wine!
NOVEMBER 14 PICK-UP PARTY
We are hosting our annual pick-up party on Saturday, November 14, from 12-4 pm. Come pick-up your fall wine club, or your lamb or beef order, and enjoy the party. All club members--wine, beef, and lamb--are welcome to attend and bring 2 guests (max party of 4 per club member/couple). Even if you don't have anything to pick-up, you are welcome to come enjoy the ranch.
We will be serving grass-fed beef chili, grilled tomahawk lamb chops and lemony lamb kabobs, all estate-grown. We'll also have grilled J&R sausages, as well as assorted cheeses, roasted veggies, fruit and, of course, Lisa's cookies. We may even have some barrel samples of new wines. It's a perfect time to do a little wine shopping before the holidays. We look forward to seeing you! Please RSVP.
FALL WINE CLUB
Our wine club shipment is available to pick-up now. It will of course be available at the November 14 party. Shipping orders will go out the week of November 16. Here are the wines included in the fall shipment:
2013 Mistletoe (new)
2013 Zinfandel (new)
2012 Watershed
2012 Cabernet Sauvignon
2012 Limestone
2012 Petite Sirah
If you'd prefer to customize your order, just send us an email or call with instructions. As always, you're free to add more wines (while they last) to your wine club order. Also please let us know if you have any address changes, billing information updates or special instructions for pick-up or shipping, by phone (805-674-9232) or email.
WINE SPECIALS
Bordeaux 3 Pack. We are extending the killer deal on our beautiful Bordeaux wines—​two 2012 Cabernet Sauvignons and ​a 2012 Watershed for $100, and that's before you apply your club discount! These ageworthy wines are completely drinkable now and, if you plan to cellar ​them, they will develop beautifully for years to come. A worthy gift for very good friends. Click here to order.
Mistletoe 2 Pack. One 2012 and one 2013 Mistletoe (new release) for $50. The Mistletoe is a Cabernet/Syrah blend that offers the best of Paso Robles: Opulent fruit with good natural acidity and structure. Club discounts apply to this affordable, festive holiday gift. Click here to order.
GROUND BEEF
We still have some ground beef available--10 pound boxes for $90, and 20 pound boxes for $160 (before your club discount). We can ship anywhere in California. This would make a great holiday gift for your grass-fed beef loving friends and family members! To order, click here.
LAMB CLUB
We have a few more places left in the Lamb Club--all charter members get an additional 5 pounds of ground lamb with their first order. Lamb Club members will receive two shipments a year, in October (available now) and March, for $200 (20% off). The 25 pound box (half a lamb) includes:
Rack of ribs
Loin chops
2 small leg roasts​
Shoulder chops
Riblets
Stew meat and/or shanks
1-2 lbs ground lamb + 5 lbs charter bonus

To sign up for the Lamb Club, click here.

HARVEST REPORT
We picked our last fruit on October 12. Vintage 2015 was a relatively smooth and short season, less than six weeks total. As expected, we had much lower yields due to the drought--a story we heard repeated all across the Central Coast. The quality of fruit was good, however, with extremely small "berries" and intense flavors.
We're looking forward to tasting the first wines made by our new winemaker Paul Hinschberger. Paul was admittedly "excited" about his first season as chief winemaker--he was previously the assistant winemaker at Denner Vineyards--but he handled everything with aplomb and good humor. Paul introduced more whole (uncrushed) berry and some whole cluster (stems included) fermentations into our winemaking. These techniques may add more aromatic expression and complexity to the vintage.

As fall progresses, we are preparing our vineyard for the next season. We've already spread some lime on the sandstone portions of the vineyard to boost the structure and water-holding capacity of these powdery soils. We have a small mountain (70 tons) of compost which we'll spread throughout the vineyard and till into the soil after the first fall rains. We are looking forward to a rainy winter and a more fruitful harvest in 2016.
You know you want to
Sign Up For Our Newsletter
Keep up to date on the latest wine releases, events, and promotions and get 10% off your next order.