April 6, 2014 | Laird Foshay
April 2014 News From Rangeland Wines and ASR
Just Bottled: 2013 Rosé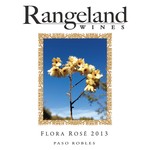 We just bottled (April 3rd) our 2013 Flora Rosé, which has more bright fruit and zesty acidity than ever. We are offering free shipping for case orders of this wine (12 bottles), so you can stock up for summer picnics and parties. Wine and beef club discounts apply, of course. Click here for this special offer.
We also bottled our first red wines from the dry, hot 2012 vintage. These wines (GSM, Zinfandel and Mistletoe) are bigger bodied and riper than past Rangeland vintages. While they still exhibit our distictive acidity and fine tanins, they are a little more hedonistic and "Paso" in style. We'll be releasing these exciting wines later this spring.
Let it Rain, Let it Rain
After a historic and scary dry spell to start the winter, a more typical pattern of winter rains returned to the Central Coast in early February. We've had over 10 inches of rainfall here at Adelaida Springs Ranch since then. This wetter weather has been a huge relief to us and the countryside. Our pastures and vineyard have that familiar green shimmer and we see some wild flowers developing. Nevertheless, the grass is short for this time of year and our rainfall is still about 35% of normal. As a result, we are considering some drastic moves to rest and restore our pastures, such as moving livestock to an "away" pasture or selling a significant part of our breeding stock.
April Field Day Cancelled
Considering everything, we have decided to cancel our Field Day pasture celebration, which had been scheduled for Saturday, April 26. We hope to resume with this spring event in 2015. We will be open as usual for tasting and tours by appointment. Please give us as much advance notice as possible.
Spring Wine Pick-ups: by Appointment
Our spring Rangeland wine club ship will be ready for pick-up by appointment beginning Saturday, April 26. Come see us and enjoy the spring scenery. Tastings and tours are free to wine and beef club members and their guests. We will send the club to our "ship-to" customers the week of April 28. Please let us know if you have any special instructions or requests.
Our Spring 2014 Rangeland Wine Club shipment will include:
2013 Rose, zesty acidity, just bottled!
2010 Syrah/Mourvedre, the last of our inaugural Rhone style wine
2011 Syrah, maturing nicely
2011 Petite Sirah, another exotic favorite, reorder soon before it's gone
2011 Watershed, our beautiful Bordeaux blend
2011 Limestone Reserve Cabernet, already drinking nicely for a "baby" Cabernet

Beef and Lamb Update
We have over 100 baby lambs kicking up their heels and dozens of calves as well. It has been challenging to keep the herds fed and happy through the dry spell, but our animals are in good health and enjoying the spring forage. We'll expect to have enough beef for club members and we may be able to meet the wait list demand with our spring and summer harvest, but it will be close.
Wine Festival Coming Up
Our ranch gates will be open May 16-18th, 11-5 for Paso Robles Wine Festival.
We'll be serving estate raised, grass-fed beef and lamb sliders on Saturday and Sunday.
Comments
Commenting has been turned off.
You know you want to
Sign Up For Our Newsletter
Keep up to date on the latest wine releases, events, and promotions and get 10% off your next order.