May 2, 2013 | Confessions | Lisa Foshay
Field of Dreams
Late in the afternoon I decided to walk to our little rental house to check on the garden. I pulled my cowboy boots on (baby snake season!) called Silver the dog and we set off on our 2 mile jaunt. The clover and vetch on the way down to the lake was thick and buzzing with bees. We came right upon a huge ground squirrel mound with the squirrel sitting right at the "door". Silver couldn't quite believe his luck; in his second of hesitation the squirrel dove into his hole. Silver went after him, squirrel squeaking, Silver digging and tossing aside clumps of sod with his mouth. I kept on down the hill and finally had to call him off the hunt.
Right in the middle of the road I found two halves of a fragile, palest blue bird egg. I put a half on each of my thumbs, so I wouldn't crush them while I walked.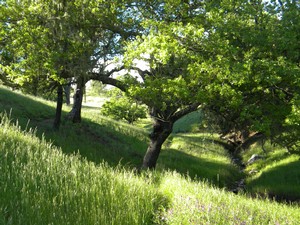 The grass on the flats was tall and green, and the wind was blowing slightly. I took a shortcut to the house across the field and over the little creek. The grasses were soft and waving in the breeze and came up to my thighs. I was reminded of the scene in Gladiator when Maximus is walking towards his home, through the golden grain fields, haunting music, his hand brushing the grass. It felt very sacred and still as I walked with my fingers spread. But with my thumbs up---the egg shells! At the little house the garden had gone wild with weeds; the roses, left unpruned this year, are going nuts too. Maybe the secret to the perfect garden is a little bit of neglect?
As I walked back home up the big, big hill, huffing and puffing a little, the rams and young male lambs in the pasture below the house greeted me. On the very last push, up the bank to the patio, I saw my one and only snake. A baby king snake about 6 inches long, starkly black with white bands, the width of a pencil. He squiggled up the hill as my shadow crossed his path.
Comments
Commenting has been turned off.
You know you want to
Sign Up For Our Newsletter
Keep up to date on the latest wine releases, events, and promotions and get 10% off your next order.