June 18, 2015 | Laird Foshay
June 2015 News from Rangeland Wines
Here Comes the Beef Club!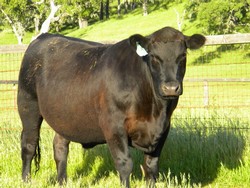 We are busy packing beef club boxes for the season. Beef Club members can pick up at J&R Meats in Paso Robles beginning the week of June 29. For those Beef Club members from out of the area, we will begin shipping on July 6. If you are on the Beef Club wait list, we should have enough meat to serve you. You will receive an email in the next week or so regarding all the details.
Beef Club members (including new members from the wait list) can order addtional 25 pound boxes, while the supply lasts. You can also order extra ground beef in 10 or 20 pound boxes. Send us an email with your order or to make any special arrangements for pick-up/shipping.
Our harvest steers were beautifully finished this spring, thanks to the extra forage they received at Halter Ranch last fall, as well as the abundant pasture feed that grew on our ranch this winter. Although we had below average rainfall (again), we did get well timed rainstorms that nurtured a rich pasture crop. We are pleased with our "grass fat" steers and we think you will be too!
Unfortunately, we have to raise the price of our beef this year. The added drought costs of renting pastures and buying hay have made our past prices untenable. Our 2015 beef club box price is now $250 ($10/lb)--still just $200 or less with your club discount. Our 20# ground beef box is now $160 before discount, and the 10# ground beef box is $90 before discount. We deeply appreciate your ongoing support of our beef program.
Introducing Winemaker Paul Hinschberger
Our original winemaker Shannon Gustafson left this spring to make Pinot Noir in Oregon—we wish her all the best. We were fortunate to find Paul Hinschberger, who was most recently the assistant winemaker at Denner Vineyards right here in Paso Robles. Paul's passion for wine began early (age 19) when his family opened a restaurant in Idaho. At the time, he was getting a business degree from The University of Montana, but in his spare time he read about (and drank) the world of wine. After graduating, he went to sommelier school to learn even more. The experience sparked his craving for knowledge and traveling, and he has logged harvests in Washington, Sonoma, Oregon, New Zealand, Sebastopol and Paso. We are looking forward to our first harvest with Paul and excited to see (and taste) what he crafts with our fruit.
Lamb Special: Free Shipping this Summer!
We still have both lamb shares and ground lamb available. The 20-pound lamb share ($250 before wine or beef club discount) includes:
1 rack
1 loin, cut into 1" chops
Sirloin and shoulder chops
2 leg roasts
Shanks
Riblets and stew meat
1-2 pounds ground lamb
We are also now offering a 10 pound box of ground lamb in convenient 1 pound packages. If you've ever had our lamb sliders, you know how delicious ground lamb can be. Order ground lamb or a lamb share from us before Labor Day and we will ship to you for free (in CA only), a $30 value. To place your order at this special rate, send us an email.
Rosé and Bordeaux Specials
Our new 2014 Flora Rosé is a lovely field blend of 7 red varietals. Just a little sweet ("off dry"), but crisp, acidic and refreshing, and perfect for summer BBQs and picnics. We're also featuring a Bordeaux special which will pair nicely with BBQ meats. Here are our specials:
3 pack 2014 Flora Rosé for $50 (before club discount)
3 pack 2012 Bordeaux special (2 Cabs and 1 Watershed), $100 before club discount
If you buy a case of any Rangeland wines this summer, we'll cut the price of shipping in half
​Send us your order by email to receive the special discounts.
Comments
Commenting has been turned off.
You know you want to
Sign Up For Our Newsletter
Keep up to date on the latest wine releases, events, and promotions and get 10% off your next order.