November 20, 2020 | Laird Foshay
Rangeland Holiday News, November 2020
In this issue: Wine Specials, Beef Specials, Holiday Hours, Ode to Harvest
What a year. What a world! Now the holidays are upon us. Time to savor the good things, celebrate our health, connect with loved ones, mourn our losses and give thanks. See the end of this letter for my musings on another completed harvest.
2017 MISTLETOE CASE SALE--THE PERFECT HOLIDAY GIFT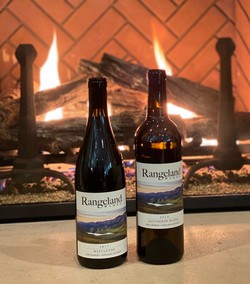 Admit it, you've been good this year. So take advantage of this deal and give yourself a case of 2017 Mistletoe, our delicious Cab/Syrah blend. At just $300/case (that's before your club discount), you can also take care of everyone on your Christmas list. $1 shipping (use coupon code $1ship). Order here.
THREE 2016 CABS
Cabernet pairs so beautifully with the rich hearty meals of winter. We're offering a special on our 2016 Cabernet: 3 bottles for $99. Save $20 before club discounts and just $1 shipping (use coupon code $1ship). Order here.
RED AND WHITE GIFT SPECIAL
For loved ones who are "Rangeland worthy", how about two bottles of fine wine: one 2017 Mistletoe and one 2019 Sauvignon Blanc, for $50 before club discounts and just $1 shipping (use coupon code $1ship). Order here.
BEEF SPECIAL: $1 SHIPPING
Hard-to-shop-for, but important people on your holiday gift list? How about a 10 pound box of grass-fed ground beef ($110) or 20 pounds ($190). Or go all-in for a 25 lb. beef club box of mixed cuts (steaks, roasts, ground and extras, $300). You're giving the gift of health--delicious, nutrient-rich grass-fed beef--and a gift that will be enjoyed well into next year. Club discounts apply. $1 shipping (use coupon code $1ship). We will ship all meat orders in January, after the holiday package rush, but we can send a gift card for you in December. Place your order here.
THANKSGIVING HOURS
We are closed Thanksgiving Day, November 26. We'll be open Friday Novebmer 27 through Monday November 30, 11 to 5, as usual. Our grass-fed hamburger service will shift to Friday November 27 and Saturday the 28th, from 11 to 4, just for the holday weekend. After Thanksgiving, normal Saturday and Sunday burger service will continue through the year end, weather permitting. We are limited to outdoor tasting, by appointment.
CHRISTMAS HOLIDAY HOURS
We are closed Christmas Eve and Christmas Day, and New Year's Eve and New Year's Day. We'll be open for business the rest of the holiday, our regular hours, 11-5 Thursday - Monday. Please make a reservation.
ODE TO HARVEST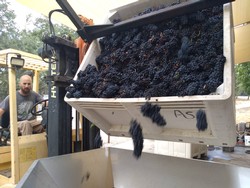 At grape harvest time, my wife Lisa works a couple of days a week helping winemaker Paul and intern Luke sort fruit and clean the winery equipment. The boys work intermittently in great bursts, ebbing and flowing with the ripening waves of fruit. Starting in the pre-dawn and sometimes lasting into the night: they are sampling, picking, trucking, processing, punching down, pressing and barreling down. Lisa also does "the usual": bookkeeping, wine deliveries and cleaning of the greathouse, cleaning my clothes and soothing my ego. She does all that when she is not cooking meals for the crew in the winery or for friends in need or for her husband. This is not an elegy. It's a fond observation.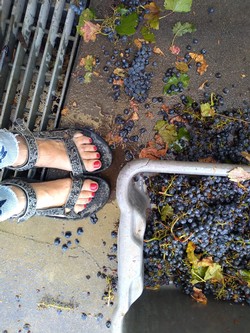 I am too caught up in the business of "digital ranching" to really engage with the dusty boot work of harvest, the greasy tractors and endless tons of sticky fruit. After years of hands-on farming, now I just drop in and kibbitz the operation. I may pull an all-nighter when the hand-picked bins are stacked 25 deep, 1000 pounds at a time and the LED lights flare out over the hilly oak woodland, but that is a rare occurrence anymore. As Head Coach, I mostly try to keep our little team on track with sage advice and the occasional rebuke--while I try to keep my own shit together.
Agriculture is like any other business, but when you are caught up in it, it seems deeper. Even winegrowing (essential work?) carries this aura, this burden, this gift. The life and deathiness of agriculture is inescapable. Of course with livestock, but also with wine. The annual march of vintages. The deep rooted perennial plants. Maybe farming is more nourishing, intoxicating and more punishing than other kinds of work, although I'm sure many soldiers, nurses and others would disagree. Like all forms of devotion, we make it work and make it hurt. We cannot avoid overdoing it. The season requires it. So does our driven nature. Good abuse like this, so meaningful and earth-bound, is truly hard to find.
Harvest is a time of natural culmination and profound gathering. At harvest time I think about my fellow farmers and all their struggles, their mortgages, their children, their heads-in-hands moments and their quiet sunrises. I smile about their fat year surplus. When the fires sweep over the hills, I am singed by their losses. Involuntarily, I brace for my own fiery reckoning. At harvest time, I taste my accumulating years like bones in the savory broth of time.
Comments
Commenting has been turned off.
You know you want to
Sign Up For Our Newsletter
Keep up to date on the latest wine releases, events, and promotions and get 10% off your next order.