August 20, 2021 | Laird Foshay
Rangeland News August 2021
Harvest 2021, Game On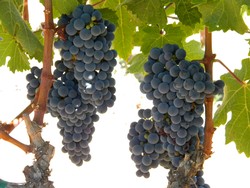 Do you ever feel trampled by the March of Time? Seems like we were just settling into summer, now our 2021 wine harvest has arrived! The Sauvignon Blanc grapes we purchase from Parrish Family Vineyards will be picked next Monday. Red varieties from our Adelaida Springs Ranch estate vineyard will start coming in the first half of September. So begins a 6 to 8 week harvest cycle that usually includes some long, anxious interludes of anticipation punctuated by peak days of overwork. Despite drought conditions, the vines are thriving and the crop looks good. We'll see what else Mother Nature serves us this year.
Wine Special: 10% Off 6+ Bottles of Cabernet
Cabernet Sauvignon comprises half of our 40 acre Adelaida Springs Ranch estate vineyard. Dark, energetic, and complex, Cabernet is the foundation and pivot point for several Rangeland wines, including our:
2017 Limestone Reserve Cabernet (100% Cab), $50
2017 Cabernet Sauvignon (93% Cab), $40
2017 Watershed Bordeaux-style blend (32% Cab), $40, 91 points, Wine Enthusiast
2018 Mistletoe (35% Cab + Syrah and more), 95 points, Sunset International Wine Competion, $29
As autumn nears, we start dreaming about savory, oven braised lamb stews and beef briskets--paired with Cabernet. Enable your dreams with the purchase of any six or more bottles of these Cabernet-based wines and receive 10% off your order (in addition to your club discount) and $1 shipping. You can mix and match. The special runs through September. Order by email.
Introducing Alex Kemp, Rangeland Winemaker
Our former winemaker Paul Hinschberger and his young family have moved to Hood River, Oregon. Paul leaves behind a six year saga of 90+ wine scores and many fond memories for Rangeland's crew and customers.
We are excited to introduce our new winemaker, Alex Kemp, formerly the assistant winemaker at Denner Vineyards. Alex studied wine and viticulture at Cal Poly San Luis Obispo. He is a ten year veteran of Paso harvests, having interned or worked at Eberle, Sextant, Brecon and Alta Colina. He has also worked harvests on a few continents, including Australia, New Zealand, and South America. You will notice his intensity and enthusiasm right away. Welcome aboard Alex for harvest 2021!
Fall Event Schedule
We are planning for fall events, hoping the world continues to right itself. Here's what's on the calendar:
Harvest Festival, October 15-17, 11-5
We'll be serving grass-fed beef and lamb sliders on Saturday and Sunday only from 11 to 4. Charcuterie plates are available every day. We'll be pouring some new wine releases too--maybe even a barrel sample. Make a reservation now as this is always a busy weekend. We look forward to seeing you!
Full Moon Dinner, October 23, 6-9 pm
We'll be hosting another full moon dinner at the Rangeland tasting room. The menu will feature our delicious, homegrown, grass-fed beef and lamb, as well as tasty sausage and smoked meats from J&R Meats. All paired with Rangeland wines, of course. Seating is limited. Buy a ticket here. $100 per guest.
Fall Pick-up Party, Saturday November 13, Noon to 2pm
It's been a couple of years since our last fall pick-up party, and we've missed this annual gathering. We'll be serving a buffet of treats in the winery: our grass-fed beef chili, some delicious charcuterie, grilled lamb, and Lisa's famous cookies, of course. We'll be pouring the Fall Wine Club lineup (more on that later), so you can taste, fall in love, and add to your order when you pick up your shipment. Reservations will be required, and space is limited. Save the date and watch our next newsletter for reservation details.
Comments
Commenting has been turned off.
You know you want to
Sign Up For Our Newsletter
Keep up to date on the latest wine releases, events, and promotions and get 10% off your next order.