September 13, 2019 | Laird Foshay
Rangeland September 2019 News
HARVEST UNDERWAY IN NEW DIGS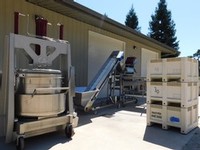 Harvest started last Friday when we received some Sauvignon Blanc to our new winery. Unlike most years, however, we did not pick grapes at our estate vineyard over Labor Day weekend. Mother Nature has a way of reminding us who's in charge. A long wet winter and cool spring, combined with a mild summer, has pushed harvest back a couple of weeks. We'll be picking Merlot and Zinfandel for our 2019 Flora Rose' this week and probably Syrah next week. The Cab will likely follow that soon. Let the games begin!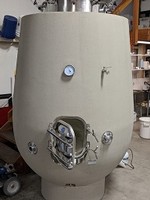 It's a landmark year for us--the first in our new winery--which is just down the hill from our tasting room, past the old barn. We're pleased to be making wine at the same location we are pouring it so you can get a better feel for what we do and how. Winemaker Paul Hinschberger spent the summer outfitting the winery for action: overseeing some new plumbing and electrical, setting up a small laboratory, and $hopping! for equipment, tanks, barrels and supplies to outfit our new home. Paul is especially proud of his "sexy" Italian concrete fermenation and aging tank. While visiting the tasting room this fall, ask if Paul's available to show you our new home. From now to Halloween is a good time to see wine fermenting and other doings in the winery.


MIXED CASE WINE SPECIAL
Order any 12 bottles of wine, and you'll receive 10% off (in addition to your club discount), for a mixed case of your choosing. And we'll ship it you for just $1! It's a perfect time to stock up for the upcoming holiday season. To order cases, please email me, because we have to manually enter the discount to achieve this special price. This deal cannot be combined with other specials. Offer good through September 30, 2019. For a full list of our current and library wines, go here.
ROSÉ CASE SPECIAL
While the weather is still warm, now is the time stock up on our Rosé. It is a wonderful accompaniment to Thanksgiving dinner, fish and poultry in general. It also makes a great, affordable gift. Price is $240 before your club discount with just $1 shipping! Offer good through the September 30. To order, use the coupon code $1SHIP, and go here.
UPCOMING EVENTS
We hope you'll make it to one of our fall events--it's a busy and beautiful time to visit wine country. We look forward to seeing you!
Harvest Festival, Friday October 18 through Sunday, October 20
We'll be open 11-5 for Harvest Festival, which is our favorite...because of the usually wonderful weather and culmination of our farming efforts! On Saturday only, from 12-4, we'll be grilling our famous grass-fed beef burgers at the tasting room and selling lunch plates that include a salad and a Lisa cookie. Because we'll be in the thick of harvest, there may be just-pressed wine or barrel samples to taste, and as always, a stellar lineup of Rangeland wines to savor. We hope to see you.
Rangeland Club Pick Up Party, Saturday November 9, 12 - 2 pm, Save the Date!
Come pick up your wine, beef or lamb boxes and enjoy some treats from the ranch. And some wine of course! We'll be gathering in our new winery, with the scents of harvest all around. As usual, we'll be serving grass-fed beef chili, some delicious lamb dish, as well as charcuterie, healthy sides and some freshly baked cookies. Free to club members, although space is limited. Mark your calendars and be on the lookout for a sign up email in October.
Wreath Workshop, Saturday December 7, 10-12, Save the Date!
Lisa will be leading our second annual wreath workshop--last year's was a sell out! Attendees will learn how to make a wreath (yes, you can do it!) with greens from our ranch, while enjoying a sip of wine or hot cider and some holiday goodies. You'll leave with a lovely fresh handmade wreath AND a bottle of our 2016 Mistletoe. This should really get you in the mood for the holidays! Bring a friend (and your favorite garden clippers if you like) and we'll supply the rest. Have no fear, you do not have to be crafty. Cost is $50, and space is limited, so be on the lookout for an email next month to sign up for this fun morning.
VACATION RENTAL
Our charming 3-bedroom vacation rental has quickly booked for the fall, but have one weekend free in November and two in December. And the new year is wide open for anyone wanting a quiet, peaceful place to read, relax, sip wine and ease into 2020. Winter is a lovely time to visit Paso Robles. To view the calendar for availability, go to rangelandwines.lodgify.com.
Comments
Commenting has been turned off.
You know you want to
Sign Up For Our Newsletter
Keep up to date on the latest wine releases, events, and promotions and get 10% off your next order.