July 20, 2016 | Laird Foshay
Rangeland Wines July 2016 News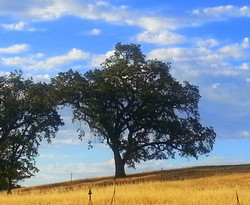 It's summertime on the ranch and the livin' is--busy. Winemaker Paul was married in June and is back from his Italian honeymoon. Wish him congratulations, because now he is busy with crop estimates in the hot vineyard, final arrangement of the leaf canopy for veraison (ripening, which has just begun), topping wines in the barrel and otherwise preparing for harvest. Honeymoon over! Ranch Manager Nathan is busy in the vineyard too and just herded the sheep back from Halter Ranch to finish the summer on our home pastures. He is preparing to brand our calves next week, an all-hands ritual that also involves sorting and treating all of our 150+ head of cattle. Lisa is wrapping-up beef boxing and shipping, once again having achieved that existential goal: she touched all your meat! We all hope to have a quiet week or two in August before our wine harvest begins around Labor Day. We are encouraged by the leafy green vines this year and the healthy, fertile livestock, enjoying the shade of our heritage oaks. We so appreciate your support in making this scenic little miracle possible.
Summer Specials: Dry Wines, Sweet Deals
We are guessing that your wine shelf is getting a little bare, so we are offering a pair of specials that will allow you to enjoy Rangeland wines for the rest of the summer, whether you are sipping Rosé on a warm evening or enjoying a rich Cabernet with your grilled steak. Order online or respond to this email and we'll ship your order with ice packs to keep it fresh. And as always, your wine or meat club discount applies to any purchases, sweetening these killer deals.
2015 Flora Rosé, 3 bottles for $60—Save 10%
Our dry 2015 Flora Rosé is drinking beautifully now. Its crisp acidity and expressive fruit offer a perfect accompaniment to light summer fare—fish, chicken, pasta and salads. We also love it at Thanksgiving—it pairs perfectly with roast turkey. Our Rose' often sells out in August. So order today.
2012 Bordeaux Special, 3 bottles for $110—Save $20
This 3-bottle special includes our 2012 Watershed (Bordeaux blend), 2012 Cabernet Sauvignon, and our 2012 Limestone Reserve Cab. All three are stellar wines, highly rated and will continue to age beautifully in bottle over the next 10 years. Get a head start on holiday shopping and order today!
The Wine Whisperer: Learning to Love Paso Robles
Until I moved to Paso Robles 3 years ago, I did not have the best opinion of this region. I know this sounds bad, but hear me out. The reality is that within the broader wine industry, professionals (many of whom have not actually visited Paso) have a preconceived notion that Paso wine is over-ripe, over-alcoholic, unbalanced and therefore, not worth their time. Not so for consumers, however--typical wine consumers just drink what they like and are less likely to be bogged down by current trends and/or winemaking dogma. Paso wine is delicious and equitably priced for the most part.
I am both a wine consumer and winemaker, so my opinion was formed by my experiences in the industry. Before I moved here, I had worked in Sonoma County, the Willamette Valley in Oregon, in Woodinville and Walla Walla, Washington, and I felt like I had a pretty good grasp on American wine culture. In my mind, Paso Robles was that region too hot and too far south to make great wine, and most of the wines I had from the early 2000's confirmed my theory.
Oh, how wrong I was. Read more.
Beef Boxes and Ground Beef Available
We've finished our annual beef harvest, packed several hundred Beef Club boxes and shipped most of these to customers all over California. After winter rainfall and rich spring pastures, we're pleased with the "grass-fat" quality of our meat. We have sampled a few cuts with great satisfaction.
We have extra 25 lb. club boxes available this year, as well as extra ground beef in 10 or 20 lb. boxes. Each beef club box contains 25 pounds of meat: 6 pounds of steaks, 6 pounds of roasts, 8 pounds of ground, and 5 pounds of extras, like stew meat, kabobs, shanks or short ribs. You don't have to join the club to buy beef; club membership will, however, award you a 20% discount. Our beef sells out every year, so if you've been on the fence about purchasing, now's your chance. Order here.
About Our Annual Beef Harvest
We harvested several dozen steers in late May/early June, when our animals were at the peak of "grass fatness." We use a mobile harvest unit that allows us to keep the cattle on the ranch for their whole lives--the highest standard of humane handling. The carcasses were delivered to J&R Natural Meats in Paso Robles where they were dry aged for 10 to 20 days, and then cut and vacuum packed during a couple of weeks in June. Then it was our turn to box up all the club shares and the extra ground for our customers.
We box the meat one beef at a time, carefully sorting the steaks and roasts in order to make the club boxes as even as possible. We typically get between 9 -14 club boxes per steer, plus several boxes of ground meat, depending on the size of the animal. As each box reaches the 25 pound mark, we add a soup bone or package of marrow bones as a little bonus. Broth made from grass-fed beef bones is beneficial for your joints, skin, intestinal health, and has a detoxifying effect on your entire system.
We often get questions about the various cuts of beef and how to cook them, so here are some tips from our experience and other sources. Read more.
Comments
Commenting has been turned off.
You know you want to
Sign Up For Our Newsletter
Keep up to date on the latest wine releases, events, and promotions and get 10% off your next order.