June 14, 2018 | Laird Foshay
Rangeland Wines June 2018 News and Specials
Beef Club is Coming!
We gathered our cattle recently and, after some good March rainfall and a late spring, the herd is looking fat and healthy. Our annual beef harvest is now underway, the meat is aging on the rail and we should have our club boxes assembled and ready for pick up July 2 at J&R Meats in Paso Robles, Monday to Saturday, 8 to 5. If you would like to pick-up beef at our Templeton tasting room, please make an appointment with at least two days advance notice, so we can have the meat there for you. If you are a shipping customer, we plan to start shipping the week of July 9. You will receive an email about your actual ship date the first week in July. If your shipping information has changed or your credit card needs an update, please login to RangelandWines.com and update your info. If you are not a Beef Club member but would like to place an order you can do that here or send me an email.
Flora Rosé Sale
Our pale, dry 2017 Flora Rosé is the perfect crisp summer companion, and we have an excellent deal on it right now. You can buy six bottles for $100 (retails for $24 per bottle). That's a killer savings of $44 before your club discount. Order two for a full case or as many as you like. It will likely sell out this summer, so get your order in now. If you are able to save wine (or forget where you stored it), we have found that our Rosé is a great accompaniment to Thanksgiving dinner or nice plate of fish this winter. This year's blend is 40% Grenache, 40% Merlot, and 20% Mourvedre. Order here.
Summer Tailgate Wednesdays with a Featured Wine Every Week
If you are fortunate enough to live on the Central Coast, you may already know about the Wednesday concerts in the park in Templeton during the summer. They started June 6 and carry on every Wednesday through August 22, except July 4. Our tasting room will be open every Wednesday from 4:30 to 6:30pm, so you can pick up some wine and sliders or nachos for your picnic in the park. Or you may just want to hang out on our garden patio. We'll be featuring a different wine each week, specially priced. If you're planning a visit to the area, consider arriving on Wednesday to take part in these relaxing summer evenings. We hope to see you there!
Summer Tasting Room Hours
Now through August 22, our summer tasting room hours will be:
Wednesdays, 4:30 - 6:30 pm, grass-fed beef sliders and nachos available for sale
Thurs - Sat, 11 - 5,

Grass-fed beef sliders and nachos available Friday and Saturday, 12-4

Sundays, 11-3, kitchen closed, but grab and go case and grocery store open
Spring: Flingin' and Flailin'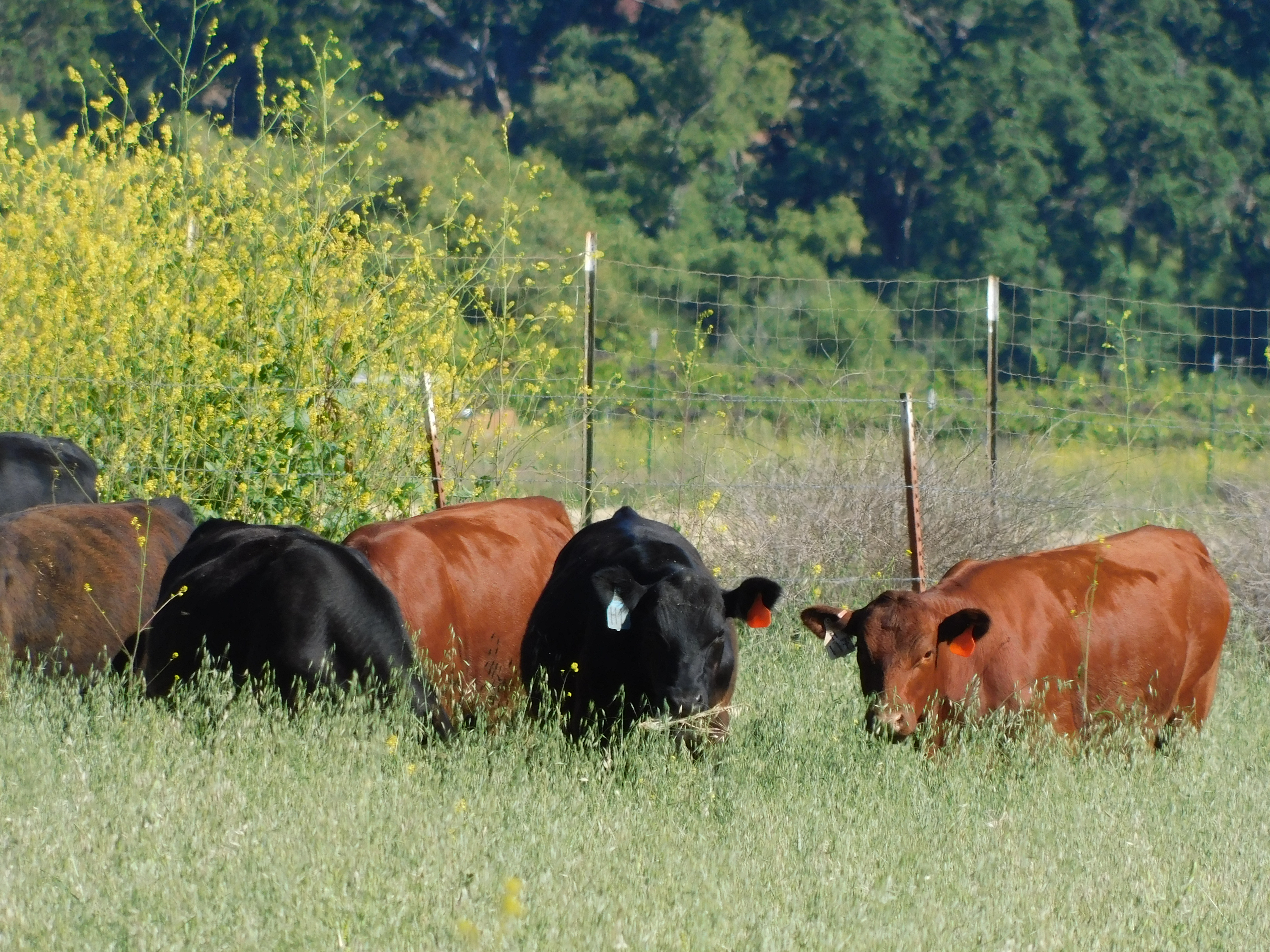 There is always something to do on the ranch but spring is a an especially busy as well as beautiful time. The beauty peaks around June 1, when the vineyard is in bloom and the subtle but heady scent of the grape flowers mingles with the heat and is really intoxicating. There is not too much time to smell the flowers however, as our little team is engaged in a swirling mix of tasks that keep them constantly moving.
Vineyard manager Patrick has managed the labor crews through 40 acres of shoot thinning, and has spent countless hours mowing and tilling on the tractor.
Winemaker Paul has been running the irrigation sets and sussing out the early season, when he's not tending or selling the wine. Paul also supervised the May bottling of our exciting 2016 vintage with our fantastic volunteer crew--they will do anything for free wine and a lunch!
Ranch Manager Dane has gathered the cattle and sorted the fatties for harvest. We also moved 40 yearlings to a leased pasture on Vineyard Drive. Not to mention the sheep and guardian doggies, which require steady movement and husbandry.
On the commerce side of things, where you get to enjoy what we do as customers, there are wine club orders, pickup parties, festivals and holidays to fill the calendar. Tasting Room manager Hayli Macomber, our newest team member, handles all that with energy and aplomb.
The manager title around here is obviously honorary, since these four talented young people are working hands-on most of the time. People often ask Lisa and I what our favorite part of the job is. The answer is always the same: variety. We try to roll with busy seasons and keep it all moving forward. Sometimes it's a bit much but we try to keep a sense of humor. We are so gratified to be living with nature and providing you with fine wine and food. Your support is really appreciated here.
Comments
Commenting has been turned off.
You know you want to
Sign Up For Our Newsletter
Keep up to date on the latest wine releases, events, and promotions and get 10% off your next order.