January 20, 2016 | Laird Foshay
Rangeland Wines January 2016 News
Rangeland Library Vertical Tasting and Luncheon February 13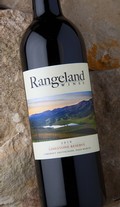 We've been impressed with some older Rangeland Wines lately, so we are excited to announce our first ever vertical tasting and special sale of Rangeland library wines on Saturday, February 13. We will start at 11 am with a sit down seminar at the ranch headquarters. Winemaker Paul Hinschberger and owner Laird Foshay will guide you through samples of our estate-grown Cabernet Sauvignon-based wines from 2007 to 2011. We'll also taste a couple of other varieties from our cellar and you'll get a glass of library wine to enjoy with your meal. Our lunch buffet will follow, featuring estate grown, grass-fed beef and lamb Bourguignonne pie (you can have both!), with veggies, cheeses and some baked goodies.
The wines are very rare (just a few cases each), so seating and sales quantities will be limited. Library wines will be priced at $75 each, with a 3 bottle special price of $200. Club discounts will apply. The wines will be available at the event and also on our website afterwards, for those of you who can't attend. Tickets for the event are $50 (includes tasting, lunch and a glass of one our library wines), before club discount. We look forward to seeing you on the 13th!
Purchase tickets now to reserve your place.
Ground Beef Shipping Special: Free for 20lb Ground Beef Orders
We are offering free shipping on any 20 pound box of ground beef ordered through March 1, and only $10 shipping for 10 pound boxes of ground beef, while supplies last. For those of you who regularly buy our beef and have it shipped, it's a great opportunity to stock up. It should help stave off your cravings until the beef club becomes available in June.
Order meats here.
Beef and Lamb Clubs Open for New Members
Although we are sold out of last year's Beef and Lamb Club boxes, we are accepting signups for 2016. Our first Lamb Club shipment this year will be in March, in time for Easter. Our Beef Club will ship in July, as usual.
Sign up for clubs here.
Lamb Whisperer?
(Inaugural blog entry by winemaker Paul Hinschberger)
One of the many reasons I love my job is that I rarely have to do the same thing two days in a row. Whether I'm in the cellar, filing government paperwork, or herding sheep--most days I don't know what excitement awaits me. My official title at Rangeland is Winemaker. For some, this might conjure up an image of me swirling a glass of cabernet all day and mumbling pompous comments about the wine's nuances of purple petunias and tiger sweat. Others might think that I just sit in my office and write work-orders for my inferiors to complete. In reality, because we are a small winery, I am also the assistant winemaker, cellar worker, and intern/peon. I wash the barrels, clean the drains and I even harvest my own tiger sweat. On top of my cellar duties, I also help out on the ranch with cows, sheep, vineyard projects and basically whatever Laird or Nathan tell me to do. So although my task list may not seem as glamorous as most people's expectations, I prefer to have some grit in my job description--even if that means shoveling sheep excrement. Read more.
Vintage Paso (Zinfandel and more) March 18-20
We'll be open, by appointment only, during Vintage Paso (formerly the Zinfandel Festival). We'll have some Zinfandel on special, and hope to see you during the weekend. Make an appointment any time Friday March 18 – Sunday March 20, from 11 am-5 pm. We'll be serving our famous grass-fed beef and lamb sliders on Saturday only. We look forward to seeing you then!
Rangeland Field Day Saturday April 23
Save the date and keep an eye out for the official announcement about our favorite spring party. Also, you can see all of our 2016 event calendar here.
Comments
Commenting has been turned off.
You know you want to
Sign Up For Our Newsletter
Keep up to date on the latest wine releases, events, and promotions and get 10% off your next order.