March 15, 2016 | Laird Foshay
Rangeland Wines March 2016 News
Vintage Paso: Zinfandel+, March 18-20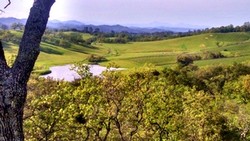 We are open by appointment only during the Zin Fest this Friday-Sunday, March 18-20, from 11-5. On Saturday only (March 19), we'll be serving our famous grass-fed beef and lamb sliders while they last. Please make an appointment, and let us know when you plan to visit. We'll be pouring several wines, including our delicious 2013 Zinfandel, and are offering a couple of excellent specials.
Vertical Selection Wine Specials
Just introduced for the festival weekend, we are offering a Zinfandel vertical 3-pack (2011, 2012, & 2013) for $99, a $26 savings over the list price for these wines. Club member discounts apply—a really amazing deal for these rare wines. We've only got a few cases of 2011 and 2012 Zinfandel left in our cellar. Grab them while you can! Order here.
We're also offering a first ever Cabernet vertical selection, 3 bottles for $199—2007, 2008 and 2009 Rangeland Cabernet Sauvignon. These are some of the ageworthy wines that we tasted at our library tasting event in February. They are still showing good fruitiness and developing a nicely resolved suavity after years in the bottle. Your wine club discount applies and again, we are down to just a few cases each of these early Rangeland Wines, so order now.
Field Day April 23
Our annual Field Day is coming up fast: April 23, from 12 to 3pm. We'll start with a BBQ lunch of J&R sausages, grass-fed beef and lamb sliders, side dishes and desserts. We're excited about our band this year—the Central Coast's own Bear Market Riot, a power folk duo that blends folk, blues and pop. They will get your toes tapping! Of course we'll be serving Rangeland Wines (as well as non-alcoholic beverages). Livestock, including calves and lambs will be on display and we'll have an end of day ranch tour. Event and tour space is limited, so purchase tickets ($50 each before club discount) now if you want to attend.
Mother Nature's Whipsaw
January was quite wet here, with more than 9 inces of rain. It seemd like El Nino was kicking into gear, then a very warm and dry February caused our drought-sensitivity meter to light up. Now March is shaping up to be a rainy month, with 7 inches of rain in the last two weeks. Our current total for the year is almost 25 inches, approaching our normal 30 inches (fifteen year average). It's not an El Nino kind of total (50+ inches historically) but the rains are suffcient and well timed for a good year, agriculturally.
The rain has done wonders for the countryside (all green!) and for our spirits, which were admitedly ground down by four years of drought pressure. Our lake, which we use to irrigate the vineyard, is nearly full. The streams and springs, many of which have been dry for years, are flowing throughout the ranch. We've had over 100 baby lambs since January and expect 60+ calves through April, a nice bounceback after the drought-suppressed fertility we've experienced. Our cattle and sheep are clearly enjoying the rich green grasses and cool spring weather.
The Wine Whisperer: In Like a Lion, Out Like a Lamb
Spring is a magical time of year here on the ranch: green grass is in abundance, all the vines are pruned and looking dapper, baby lambs are frolicking around like kids in a Chuck E. Cheese, and of course, budbreak is just starting in the vineyard.
During the (not so) long, (not so) cold winter in Paso Robles, the grape vines go into dormancy where they can store up their energy, uptake water and get ready for another year of producing delicious grapes. The vines aren't "asleep" exactly, but taking a kind of "staycation" between the grueling previous harvest and the upcoming growing season. This dormant state is not unlike a troubled poet who holes up in a secluded cabin, waiting for inspiration to snap her out of her writer's block blues. Budbreak­—when leaves first sprout on the vines—is the humble beginnings of what eventually will be, to stay with the previous metaphor, bottled poetry. (Click here to continue reading Paul's blog.)
Lamb, Wine and Beef Clubs
We are starting to ship our spring Lamb Club now. You can join the Lamb Club now and receive your first box in May. The Lamb Club is a twice yearly shipment (spring and fall) of 20 pounds of lamb including: a rack, loin chops, shoulder & sirloin chops, 2 leg roasts, shanks, riblets, stew meat, and a couple pounds of ground lamb. If you haven't tried our tender, flavorful lamb, you're missing out. Join the club today!
Our spring wine club will ship April 26 and will be available for pickup starting at Field Day, April 23. Here are the wines we are planning to include in this release:
2015 Rose' (new vintage)
2012 GSM (almost all gone)
2012 Watershed
2012 Cabernet
2012 Limestone Reserve Cabernet
2013 Cabernet (new release)
Please update your billing and shipping information, if necessary, at www.RangelandWines.com. All you need is your email address and you can update your password to login. Also please let us know by email if you'd like to customize your spring shipment.
The Beef Club shipment is still scheduled for July and we have room avaialble in the club. Sign up here. We still have ground beef avaible in 10 lb and 20 lb boxes. Order here.
Comments
Commenting has been turned off.
You know you want to
Sign Up For Our Newsletter
Keep up to date on the latest wine releases, events, and promotions and get 10% off your next order.