October 27, 2017 | Laird Foshay
Rangeland Wines October 2017 News
Fall 2017 Wine Club
We've got a great line-up for our fall wine club, laddering wines from the 2013 to 2016 vintages. There's a Cabernet vertical (2013 and 2014) which offers an interesting comparison. Both wines were grown during the historic drought but the newly released 2014 Cabernet is already more drinkable and fruity, if less textured than the powerfully tannic 2013. Also included is our nicely balanced 2016 Chardonnay (unless you've requested reds-only), which would be a wonderful companion to your Thanksgiving dinner.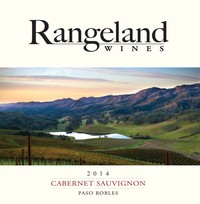 The wine club will be shipping the week of November 13, and available for pick up beginning November 9. Here's what you'll be receiving:
2013 Cabernet Sauvignon
2013 Watershed
2014 Cabernet Sauvignon
2014 Petite Sirah
2015 Mistletoe
2016 Chardonnay
As always, if you'd like to customize your wine club you can do so by email. And if you need to update your billing and/or shipping information, you can do it online at www.RangelandWines.com. All you need is your email address (which serves as your user name) and you can retrieve your password to login. Please let us know by November 6.
New Rangeland Tasting Room Opens November 2
We are excited to announce the opening of our first ever tasting room, located in charming and historic downtown Templeton! We'll be in the northwest corner of Nature's Touch Nursery and Harvest, at 225 S. Main. We'll have a tasting bar indoors and outside seating for tasting in a nice garden setting, as weather permits. Initially, our hours will be Thursday - Saturday, 11 am - 5 pm. These hours may expand as demand grows. We're pleased to share the space and have been welcomed into this family business with open arms. Nature's Touch owner Melanie Blankenship was the first person to purchase and sell our grass-fed beef, way back in 2010. Nature's Touch has a commercial kitchen, so we're expecting that once we get rolling, we'll be able to serve grass-fed beef and lamb sliders every weekend.
Pick-Up Party Saturday November 11, 1 to 4 pm
Our favorite party of the year is at our new Templeton tasting room. We love to pour wines and share good local food with our loyal customers--and you'll be among the first to enjoy our new location. All wine, beef and lamb club members are welcome to attend with a guest. We will be serving up our grass-fed chili as well as J&R sausages and Adelaida Springs Ranch grass-fed beef and lamb kabobs cooked on an oakwood grill. And we'll have salads and sides made by Nature's Touch. Don't worry, there will be cookies by Lisa! You can pick up your wine or meat club, and we'll have some barrel samples from the 2017 harvest for you to taste. We'll also have Beef Club boxes and ground beef/lamb boxes available for purchase. RSVP soon, as attendance is limited. Only two attendees per club membership please. We look forward to seeing you!
Fall Lamb Club
The fall Lamb Club should be available beginning at the pickup party November 11. You can also pick-up at J&R in Paso starting November 13, or we will ship that week. Our lamb supply is tight so we are not sure whether we'll have extra lamb shares for sale. We'll announce availability if we do.
Harvest: Heat, Lull, Freeze, Rain
We finished picking on Thursday, October 19 and woke up to the first hard rain shower of the fall on Friday morning. This vintage was also marked by extreme heat that reached 110 degrees in late August and a frosty morning last week that zapped some the of the unpicked, low-lying vineyards in Paso Robles. Thankfully our Adelaida Springs Ranch estate vineyard was undamaged, since it sits at the very top of the Jack Creek watershed, allowing cold air to drain freely. The heat took a toll at the beginning of the harvest, however, shrivelling maybe 10 percent of the fruit, baking our team and frazzling nerves as some our early varieties (Merlot, Syrah, Grenache) poured into the winery around Labor Day. Then the weather cooled off and some timely irrigation refreshed the vines and stalled sugar development. So we had a September lull for a couple of weeks. Come October, harvest revved-up to a more normally intense pattern, with a steady stream of fruit over the last few weeks. We had a good crop, reduced by the heat spike but more than double the drought years of 2014 and 2015. Fruit flavors and fermentation aromas from vintage 2017 are generally outstanding. My thanks to winemaker Paul HInschberger, vineyard manager Patrick Hamilton and harvest intern Lindsay Reed. Also to the dozen or so contract laborers who helped us pick 90 tons of grapes by hand. And not least of all to my wife Lisa, who picked, processed, cooked meals and wrote checks at a furious pace through the whole season. We count our blessings and send our best wishes and sympathies north to the fire stressed vintners and residents of Napa and Sonoma, et al, remembering our own near-miss from the Chimney Fire of 2016.
Comments
Commenting has been turned off.
You know you want to
Sign Up For Our Newsletter
Keep up to date on the latest wine releases, events, and promotions and get 10% off your next order.