August 28, 2018 | Laird Foshay
August 2018 News and Specials
Mixed Case Special: 10% Off + $1 Shipping
If you are low on your favorite Rangeland Wines, now is a good time to restock. We are offering 10% off (in addition to your club discount), for any 12 bottle case of wine--your selection. And we'll ship it to you for just $1. For example, if you are an Estate Wine Club member and you purchase a case, you get 30% off and save $34 on the shipping too. To order cases, please email me, because we have to manually enter the discount to achieve this special price. This deal cannot be combined with other specials. This deal is valid until September 30, 2018. For a full list of our current and library wines, go to www.Rangelandwines.com/wines.
Chilled Wines for HOT Weather
Record heat recently has us reaching for a chilled glass of our beautiful 2017 Flora Rosé or our newly released 2017 Sauvignon Blanc. We still have a special on the Rosé (6 bottles for $100) but our stock is down to the last pallet, so order now.
The 2017 Sauvignon Blanc ($30), our first ever, has become an instant favorite. This crisp white combines floral aromas and subtle, exotic fruit flavors in a refreshingly delicate package--just 12.9% alcohol. Put a few bottles in your mixed case or order separately.
Beef Boxes in Stock
We have some additional beef club boxes this year, available to all. If you are going paleo or just love flaveo, you gotta have this nutient dense superfood. Beef, wine or lamb club discounts apply to this purchase: that's $200 for club members, $250 for non-club members. The 25-pound box contains 6 pounds of steaks, 6 pounds of roasts, 8 pounds of ground, and 5 pounds of extras (think stew, kabobs, shanks or shortribs). We even toss in a soup bone or marrow bone package after reaching the 25 pounds. It only takes up about 1 cubic foot in your freezer. To order a beef box, click here.
Rangeland Barrels for Sale
Be the only one on your block to own a fine, French oak wine barrel. We have some used wine barrels for sale, $50 each with a Rangeland logo branded on the head, $40 without. They must be picked-up at our Templeton tasting room. Update: we sold all of our barrels.
Doggy Dayz of Summer: About That Heat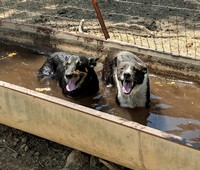 After a cool spring, record heat descended on Paso Robles and much of California in July. It has been over 100 degrees in Paso Robles for the last two weeks, with peak heat of as much as 110. Despite the heat stress, the vines and livestock seem to be holding up pretty well. We branded our calves without (much) harm to man or beast. Our grapes are showing some color, so harvest will likely kick off around Labor Day, as usual. Our people are also proving adaptable: starting extra early, wearing hats and staying hydrated on that good Adelaida Springs water. They drink the occasional beer, invoking that old saying, "It takes a lot of beer to make good wine." We installed air conditioning in the tasting room and added misters and more shade on the patio. The ranch dogs are taking frequent baths in the water troughs, the lake and even the swimming pool. While we are by no means exempt from the threat of wildfire, we use the grazing sheep and cattle to minimize the property risk and reduce the potential intensity of a wildland fire. We are doing our part to farm sustainably and store some carbon in healthy soil instead of the atmosphere. Let's hope we can all make progress on this climate change thing. It's important not to confuse mere weather with the broad trends in the climate, but I think we are standing before a sign, etched in fire on a global scale. It says: WARNING!
Comments
Commenting has been turned off.
You know you want to
Sign Up For Our Newsletter
Keep up to date on the latest wine releases, events, and promotions and get 10% off your next order.